Exclude a product from appearing in a widget
Master Rule: none (this rule is not dependent on any other variables)
Recommendation Rule: "Unit price" "Greater than or equals" "0"
Exclusions: insert the Sku of the product/ products to be excluded
Before starting you need:
The Sku of the product/ products to be excluded
Which widget you would like to apply this rule to
Enter the Episerver Personalization interface
Click "Merchandising" followed by "Create a new campaign"

1. Details page
Name the campaign - anything which will help you remember what the campaign is doing eg. exclude product Sku from Prod Alts
Location - this is the page type the rule will appear on (you can drill down further later on e.g. if you wish to target a specific products widget not just product pages)
Widget - if you have multiple widgets on the site you must target which specific widget you would like the rule to apply to. Again you can target which panel the rule will apply to later
Go to step 2.

2. Master rules page
Master rules are optional based on what pages you are looking to target with this rule.
As this rule is to apply to ALL product pages (i.e. no product page widget should display a certain product), then no master rule is needed.
Go to step 3.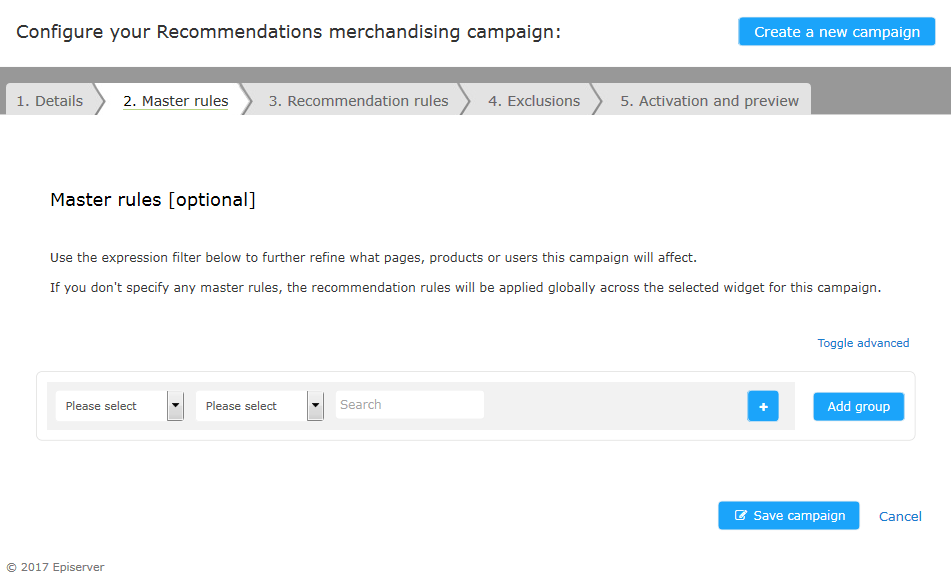 3. Recommendations rules page
We need to put a rule in place to hang the exclusion off. This rule will have no real effect as it is the next screen that we enter the products for exclusion.
The rule we shall enter will simply be to ensure the criteria is always met.
Click the "Edit Expression" button, you will be presented with the options to choose the rule.
Add the below rule to ensure the criteria is always met
Unit Price - greater than or equals - 0
Product source = default (uses the existing personalization strategies configured in the widget)
Click Apply to all to add the rule to all positions in the widget.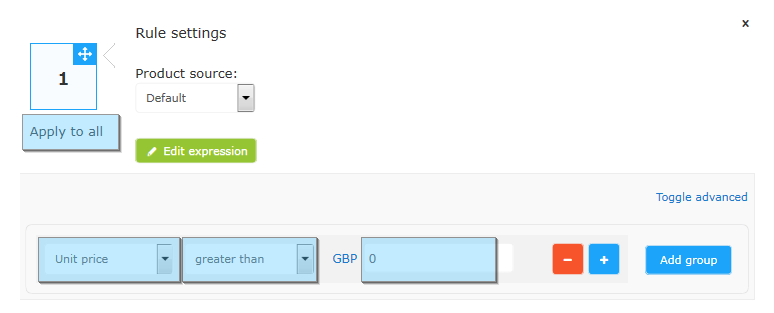 Once the above is set up go to step 4, the exclusions page. You can also click "Save Campaign" at this point, before moving to the next step.
4. Exclusions page
Insert a product Sku code or title to search for products and click on all products that you wish to be excluded from the widget.
Save campaign.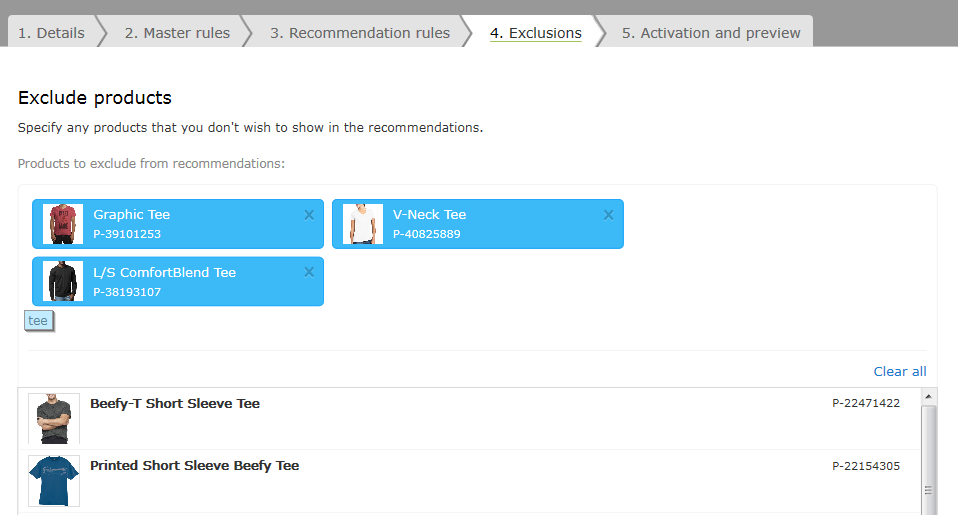 Activating the Rule
Once the campaign is saved, by returning to the home screen the campaign can be seen in the list.
To put this live on the site, click the "Play" button. To deactivate / pause the campaign click again.
The rule will be live on the site within a few minutes.