Optimizely's Vendor Managed Inventory (VMI) offers a reporting feature so you can view metrics for products in each location. The Reporting page automatically displays results for the first location. Use the Location drop-down list to choose a different one.

You can view the following metrics:
All Products

– Shows all products based on the selected location.

Below Minimum

– Shows products below the minimum quantity set by the VMI Admin based on the last inventory count recorded.

Slow Moving

– Shows which products are not moving quickly based on the number ordered compared to the previous number of visits. Configurable.

Example use case: A VMI Admin can review these products to see if there is an issue preventing them from being ordered more regularly or replace these items with other products that might move faster.

Fast Moving

– Shows which products are moving quickly based on the number of times inventory has reached minimum quantity in a certain amount of visits to the location.
Use the drop-down list to select which metric to view.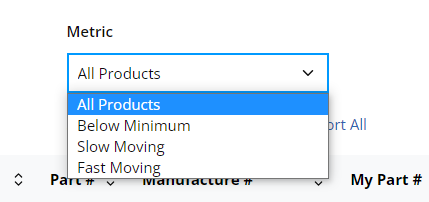 You can also click the Filter icon to filter products and use the Location drop-down list to change which location you are viewing metrics for.
These metrics help you make the best business decisions for what to keep in-stock, what to prioritize reordering, and what to reduce where necessary.
Dashboard
The dashboard provides a quick way for you to see important metrics and click to specific reports.

Click on a tile (such as Below Minimum) to see the report for that metric.
Export reports to CSV
Go to Reporting.
Select your metric.
Select the products to export.
Click Export Selected or Export All.
The system exports a CSV file with the same information as the Reporting page that you can use.