Description
This article describes an error that occurs for version of 8.7SP2 and earlier when running the SearchServerExpressInstall.exe. In the documentation you will see the following:
IMPORTANT: If your server uses Windows 7, the only supported Search provider is Search Server Express.
In this case, first install Ektron then install the version of Search Server Express available from C:\Program Files\Ektron\CMS400vxx\Utilities\SearchServer\
SearchServerExpressInstall.exe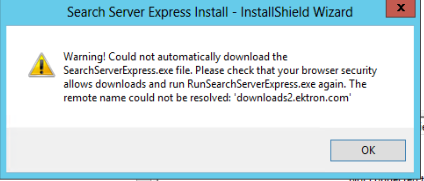 Steps
The file requested in that step is the installer for Microsoft Search Server 2010 Express. Unfortunately, the "Download Setup File" does not work anymore because the URL provided is no longer valid.
Customers can download the installer manually at https://www.microsoft.com/en-us/download/confirmation.aspx?id=18914 and choose the option "Use a local setup file" to continue.