Description
The following error can occur when registering a site with Ektron's implementation of Microsoft Search Server.
Failed to connect to the CMS server. Please verify the following and try again.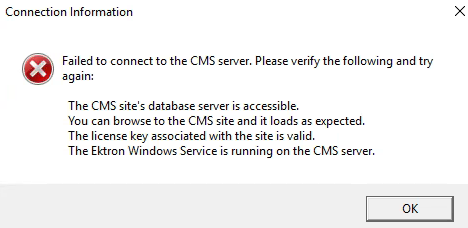 Steps
There are some steps along with the error message.
The CMS site's database server is accessible.
You can browse to the CMS site and it loads as expected.
The license key associated with the site is valid.
The Ektron Windows Service is running on the CMS server.
In addition to the above steps, check the following.
Does communication work from the search server to the CMS server over port 8732. Test by doing the following.

Remote onto the search server.
Run powershell as an administrator.
Run this command


Test-Netconnection -Computer <CMSServerName> -Port 8732