Overview
You can add a direct mail channel to your campaigns with Poplar. This integration allows you to further expand your omnichannel approach and get your message across to your customers in a tangible form. You can sync ODP segments and customer data into Poplar to target them with beautifully designed, personalized postcards or letters.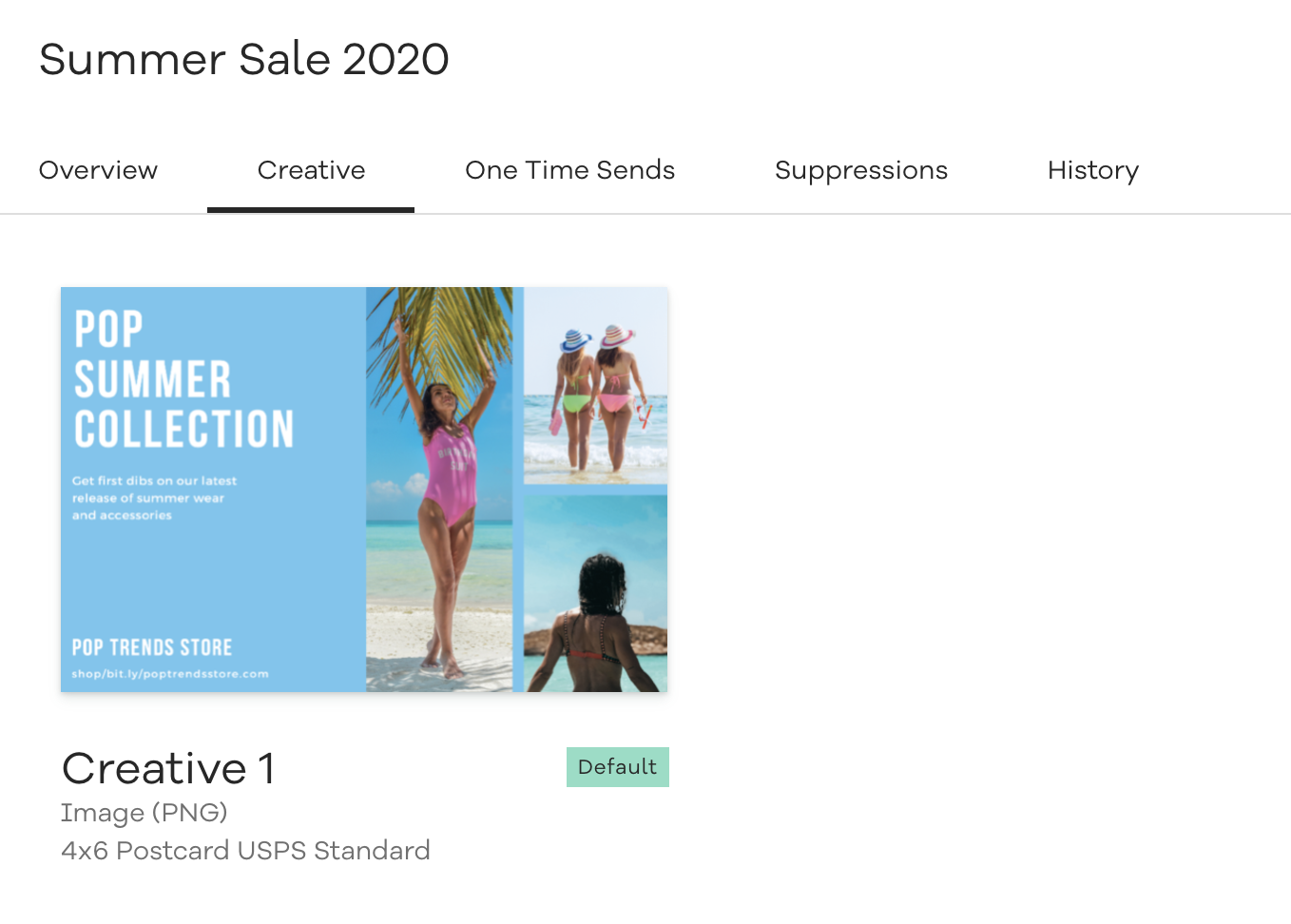 Configuration
Step 1: Create a campaign in Poplar
Log into Poplar and create a new campaign. You will create and manage all the content and creative for your campaign here. ODP will provide the segment and the dynamic content that you can sync to Poplar using Merge Tags. You can learn more about personalizing your content in Poplar's support article on custom merge tags and Liquid templates.


You can only sync active Poplar campaigns to ODP, so make sure the campaign's status is Active.

Step 2: Create new ODP campaigns
Create a new one-time, transactional, or behavioral campaign in ODP. Under Enrollment, select or create the segment you want to sync to Poplar and target with direct mail. Click Apply.


You can only reach customers who have opted-in to email communications, even if you are using the address for targeting.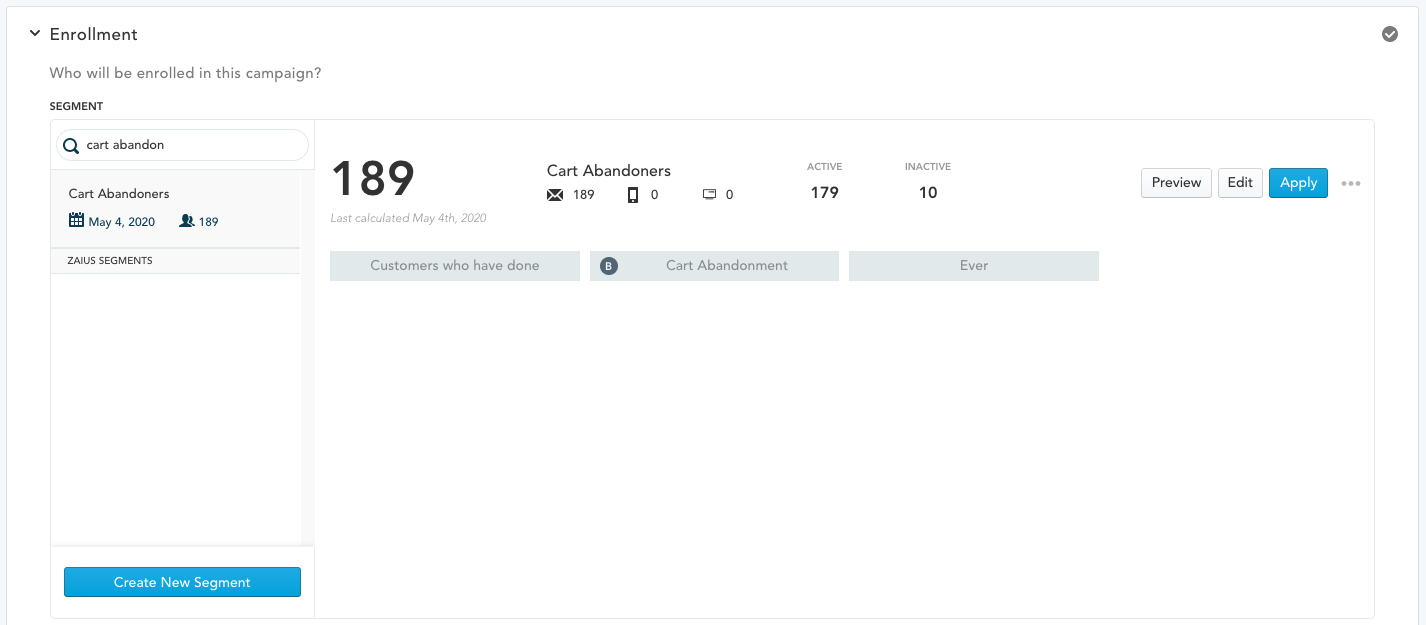 Step 3: Add Poplar as a channel to an ODP campaign
You can add Poplar as a new touchpoint to a campaign.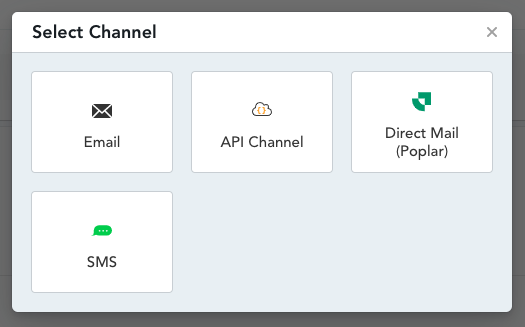 Or, you can make your campaign omnichannel and add direct mail to an existing touchpoint in a campaign.

Step 4: Choose your Poplar campaign
Under Target, select your Poplar campaign.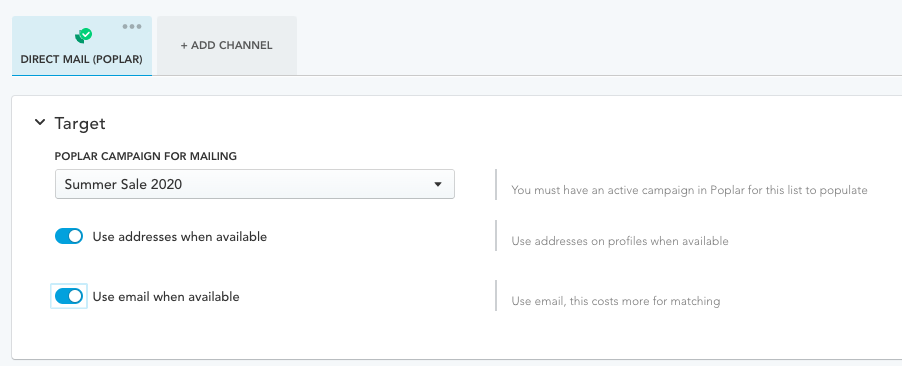 Step 5: Choose targeting method
Your targeting method has cost implications in Poplar. If you enable Use addresses when available and Use email when available, ODP sends all data available for a consumer. If you choose to send only email information, Poplar runs the emails through address matching, which has additional costs.
Step 6: Personalize your campaign
Toggle on Merge Tags to send any customer data available in ODP to Poplar for personalization and dynamic content. This includes information such as your customer's name, their loyalty points, and the product type they are interested in.
Quick tip: We recommend you keep personalized product recommendations as product type/category and avoid mentioning specific products. For example, if your customer has a bikini top in their cart, you should simply refer to their cart-abandoned item by its product category, "swimwear."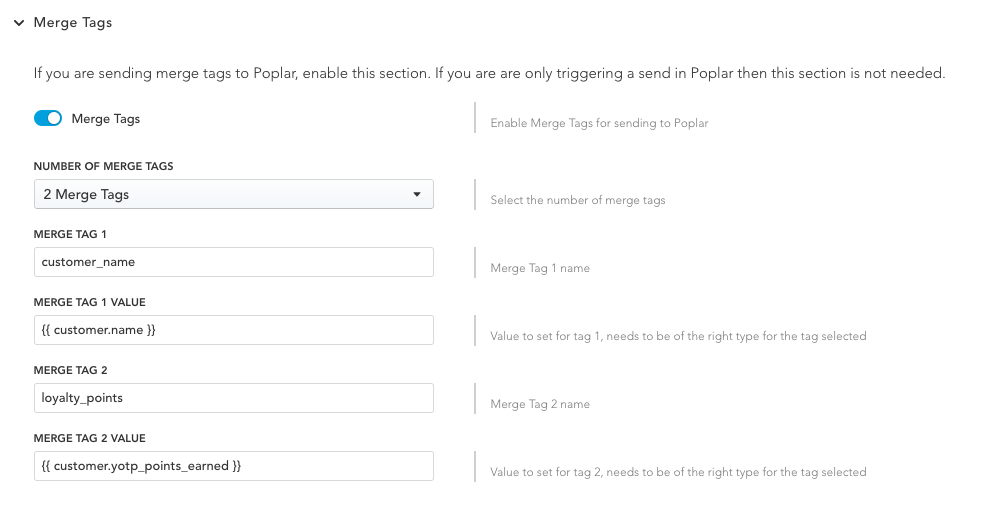 If you choose not to send Merge Tags to Poplar, ODP only syncs the targeted segment to Poplar.
Step 7: Preview your API call
Click Preview.


"Test sends" are not available on this channel as they would incur costs.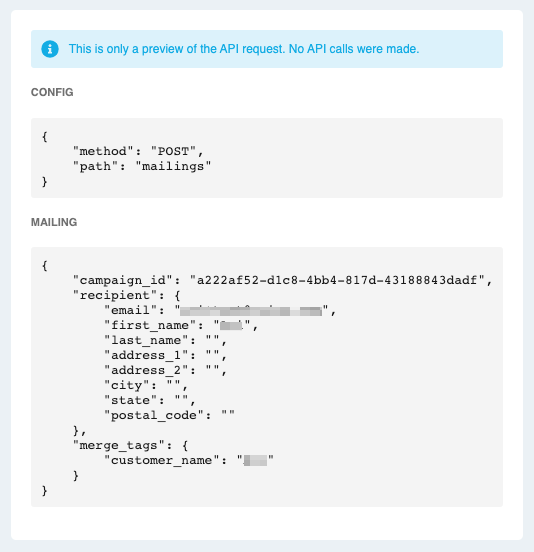 When you are ready, click Go Live to sync your segment and Merge Tags to Poplar.
Requirements
Create an account with Poplar in order to use this channel. All costs for this channel are managed within Poplar.