A segment is a subset of your customers described by who they are or what they have done. The following principles help you build a segment.
Who is a customer? – A customer can have specific attributes, insights, and observations denoting who they are, such as email, likelihood of ordering, and acquisition source.
What has the customer done in the past? – A customer can have different engagements with your business (known as behaviors), such as ordering, opening email, and visiting your website.
Does the customer belong to another segment or list? – You can re-use any segments or lists you have built.
Does the customer match an existing filter? – You can reference an existing filter.
Create a segment
Go to Customers > Segments > + Segment > Create New Segment.
Enter a name for the segment in the Untitled Segment field.
Click Select and select who you want in the segment.

Click Select and select what you want the customers to have done.

Click At least 1 time and select how many times a customer should do the action.

Click In the last 7 days and select when you want the customer actions to have occurred.

Click Done.

Click Save to save the segment.
Recreate an example segment
When you create a segment, you can use the And operator and the Or operator to make your segment more complex and targeted. The following example reviews how these options can build on each other to create a more robust segment.
Following an edit, select Preview to update the segment's current size and information. Edits to the segment do not update this information automatically.
The initial segment expression lets you establish the foundation of your subset of customers. In this example, a small boutique retailer decided to celebrate the holidays with a special event in Boston. At the highest level, the retailer would like to target their Boston customers.

The And operator lets you use multiple rules. In this example, the retailer wants to contact their most engaged Boston customers–the ones who have opened an email within the last 3 months. The retailer also removes any campaigns concerning sales, applying a Where

filter to the Customers who have done rule.

The Or operator provides a completely separate rule. In this example, the retailer's audience is too small to make the event financially feasible, so the target audience is expanded to all engaged customers from Massachusetts.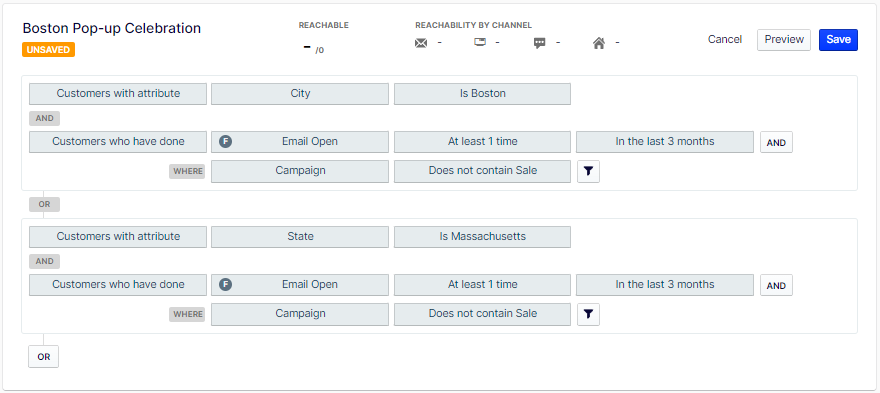 Segment metrics update after you preview or save a segment. The following example shows metrics for At least 1 Order.

Total reachable segment size, including anonymous and known customers – Anyone who meets your segment criteria. This number can include customers without contact information, anonymous website shoppers, or unreachable/opted-out customers who cannot receive marketing communications.
Reachable customers by channel – The number of customers in the segment who would receive a message through each channel if sent now. The customer has to be both reachable (physically able to get a message) and consented/opted-in (either implicitly or explicitly). A customer can be represented in more than one channel or not represented at all if they are not reachable in these ways.
Apply a segment
After a segment is saved, you can apply it to campaigns, profiles, lifecycles, and reports.
Campaigns
Go to Activation > Engage, and create a new One-Time or Behavioral campaign or edit an existing campaign.

Select a campaign (which you can modify to create a unique campaign) or click Create From Scratch.

Open Enrollment.

Click Edit if you want to customize the segment and click Save when done.

Expand Enrollment Rules if you want to modify those.

Expand Touchpoints and edit the existing touchpoint, or add new ones to customize your message.

Use the breadcrumbs to get back to editing the segment.

Click Save and Go Live with the campaign.
Profiles
Go to Customers > Profiles > + Segment.
Select the segment you want.

Click Apply. The profiles of customers included in the segment displays.
Lifecycles
Go to Customers > Lifecycles > Any Segment.
Select a segment via the Segment search.

Information updates display.
Reports
Go to Company > Reports.
Click New Report (or edit an existing report).
Click + Segment and select the segment you want.

Click Apply to view the report. (A new date range was selected for this example.) The report's information updates.

Click Save if you want to keep this version of the report for future review.
Edit a segment
Go to Customers > Segments.
Click a segment you want to edit.
Click Edit.

Make your changes and click Save.
Delete a segment
Go to Customers > Segments.
Click a segment that you want to delete.
Select the options menu (...) > Delete.
Click Yes, delete it to confirm.