Note:
You must have Optimizely Journey Orchestration (OJO) to send campaigns through the following channels: email, web push, app push, SMS, MMS. For questions about OJO, reach out to your Customer Success Manager or
support@optimizely.com
.
Overview
Measuring campaign performance shows what channels and content work for your messages and where you need to make improvements. Optimizely Data Platform (ODP) provides you with a comprehensive view of your campaign performance metrics across all channels on the Campaign Performance Page. The reports help you make data-driven decisions for your marketing strategy.
Get an overview report for all campaign performance across all channels. The All Channels Overview Report accounts for the metrics of all channel types available in your account, including email, app push, web push, web modal, web embed, API channel, Optimizely channel, SMS, and direct mail with Poplar.
See campaign performance over time.

The graphs and the campaign performance table in your reports make it easy to understand how your campaigns have been doing over periods of time.

Export your campaign performance metrics to a CSV file to further evaluate your data outside ODP.
How to use the reports
Go to your Campaign Performance Reports from Campaigns > Performance.

1. Channel selector
By default, the page shows performance for All Channels. Use the drop-down to view metrics for an individual channel installed in your account.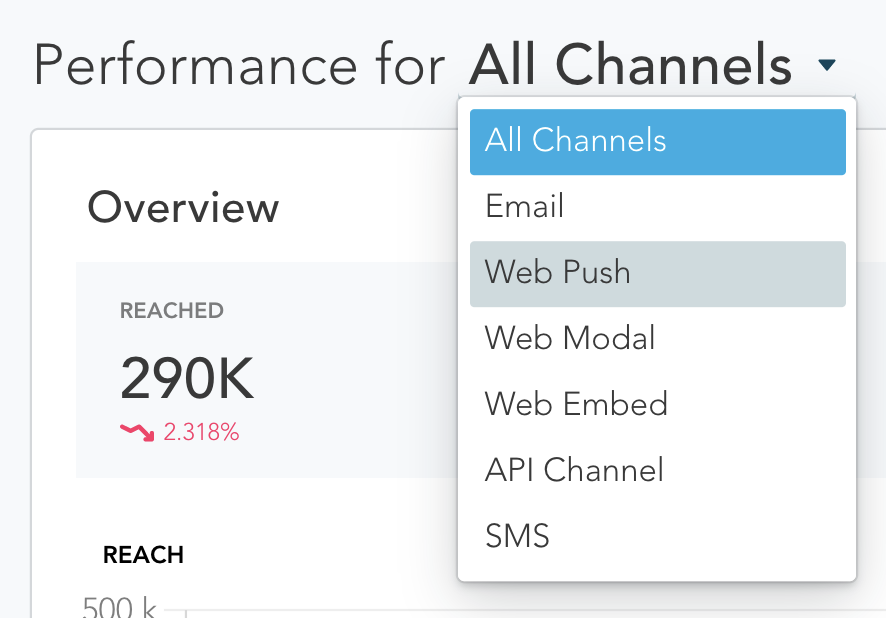 2. Report type selector
Selecting a channel displays the Overview Report first. You can pick other reports from the drop-down. The availability of the reports in the drop-down depends on the selected channel. For example, Inbox Deliverability only shows for the email channel.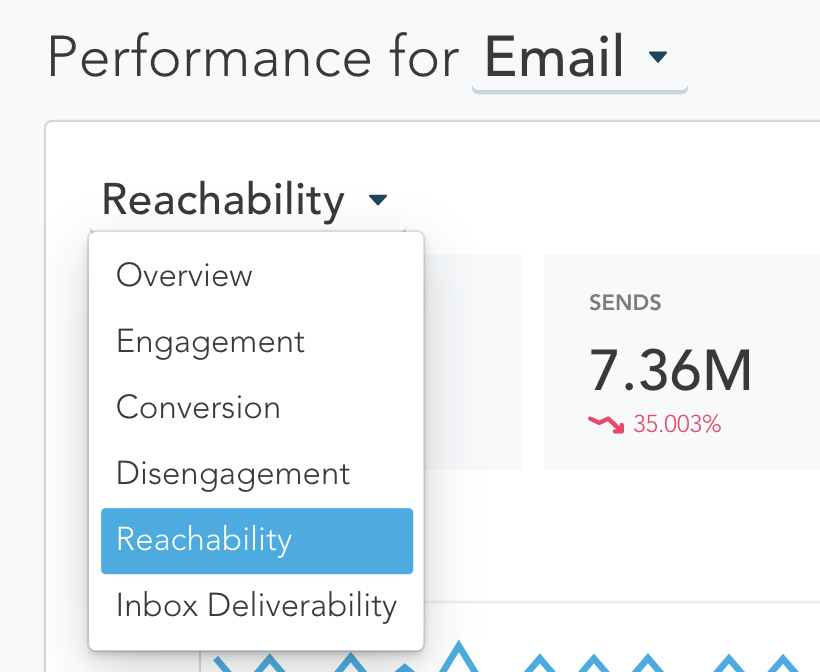 3. Filters
Apply filters to your report to narrow the types of campaigns you are analyzing. You can filter by Schedule Type, Campaign Group, and Campaign Tag, and apply as many filters to your analysis as you wish to view the performance of specific types of campaigns. Filters affect the aggregate metrics, the charts displayed, and the campaigns listed in the campaign performance table.
4. Date range selector
The date range selector defaults to showing your campaign performance over the past 13 weeks. Use the selector to change your date range to All Time, Past 7 days, Past 4 weeks, or set a custom range.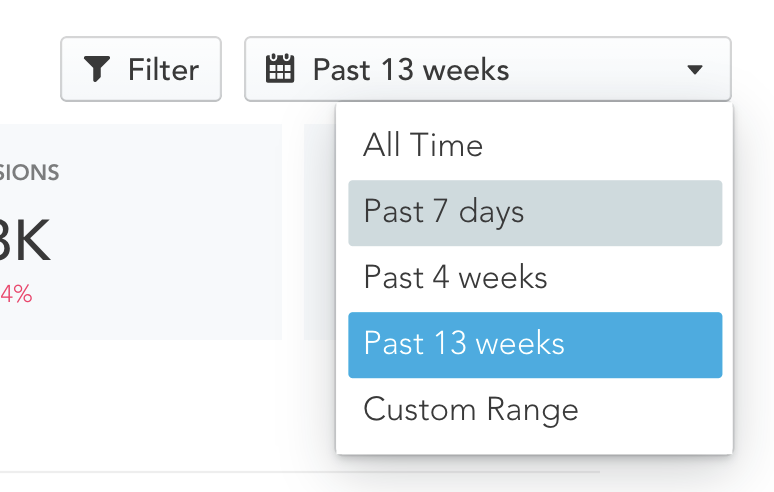 5. Aggregate performance metrics tiles
These tiles show the aggregate metrics for your campaigns, depending on the channel and report type selected. You can hover over the tiles to see specific numbers.
The tiles also indicate trends to inform you how your campaign has been performing over time. The trends are calculated based on the time specified in the date range selector and compare your campaign performance to the values from the previous time period of the same length. For instance, if you are looking at campaign performance for the past 13 weeks, the trends show how your metrics compare to your metrics from 14 - 26 weeks ago.

Interpreting the overview metrics
Reached – The number of people who were sent at least one campaign
Engaged – The percentage of those people who engaged with at least one campaign through engagement-related events, like opens and clicks for email
Disengaged – The percentage of those people who interacted with a campaign through acts of disengagement (like opt-outs in emails)
Converted – The percentage of people who were reached

and

converted (per our attribution model)
Revenue – The amount of money generated by the sent campaigns
6. Charts and legend for selected channel and report type
The graphs can help you understand campaign performance over time. The chart displays campaign performance metrics for the selected channel and report types within the specific date range. If you applied any filters to your analysis, they affect your charts. You can hover over the graphs to see specific data points.
You also have the option to change the timeframe grouping of your chart and view campaign performance over time by days, weeks, or months. To switch timeframe grouping, click on your desired timeframe.
The legend can help you understand what metrics the graphs are representing.
We recommend taking screenshots of these charts to include in executive reports or presentations on campaign performance.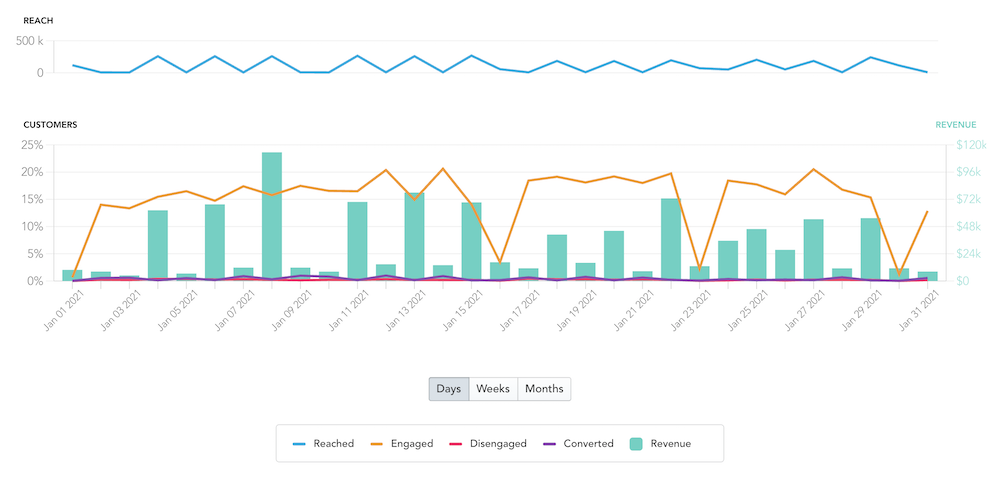 7. Campaign performance table
This table displays all of your sent campaigns. The list is affected by the channel and report type you selected, the date range, and any filters and searches you applied.
You can see each campaign's corresponding performance metrics. The default All Channels Overview Report displays metrics for # Reached, % Engaged, % Disengaged, % Converted, # Conversions, and Revenue. Use Channels to quickly identify on which channel(s) each campaign was sent.

Excluding the All Channels Overview Report, the channel and report type you select determine the type of metrics shown. For example, SMS Conversion has columns for # Sends, % Conversion, Revenue, Avg. Order Value, and Revenue per Send. Email Reachability has columns for # Qualified, # Sends, % Delivered, # Aborts, % Hard Bounces, and % Soft Bounces.
Use the carets to sort your campaigns.
8. Campaign search
Use the search box to narrow what campaigns' metrics you are analyzing in the campaign performance table. This capability is useful when you have several campaigns but want to compare and contrast only campaigns that share a keyword.

Filtering the campaign list does not affect the campaign performance chart. For example, you could filter for campaigns containing "Sale" in their names, but the charts still display all campaign performance.
9. Export
Click on Export to export any available report in a CSV format for additional analysis outside ODP. Check the boxes next to the channels or individual reports for exporting. All checked items appear at the top of the window, indicating that you already selected them and will be part of your exported file.