Note:
You must have Optimizely Journey Orchestration (OJO) to access the Preference Centers settings and to send campaigns through the following channels: Email, Web Push, App Push, SMS, MMS. For questions about OJO, reach out to your customer success manager or
support@optimizely.com
.
Overview
This guide will help you configure your preference center to collect the contact preferences of your customers.
Main preference center setup
Although you can have multiple preference centers, companies usually have one primary preference center. You should already have a preference center called Main that is configured correctly:
Collect/change email address
Manage subscriptions to the 'Newsletter' list
Manage global opt-outs of all marketing
Find this preference center by going to Settings > Preference Centers.
Add your branding to the preference center
Drag and drop your logo to add your branding to the preference center.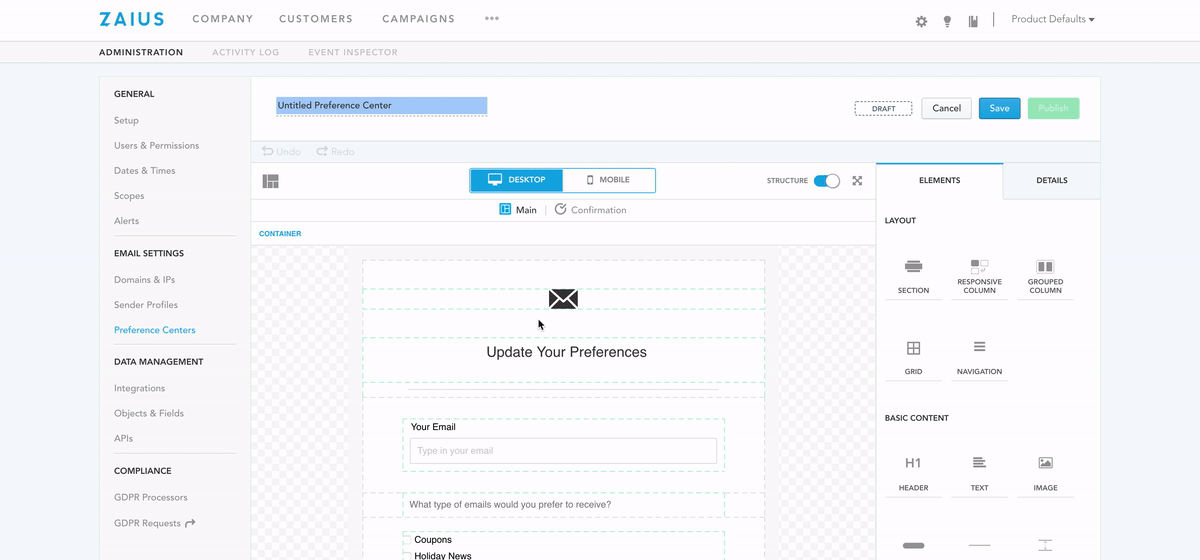 You can customize the preference center more or update it later.
Publish your preference center
Publish the preference center once you have made your changes by choosing a subdomain below and clicking Publish. Publishing can take up to 15 minutes.
The subdomain will host the preference center. If you want it to be on your own domain, review our documentation on custom preference center domains.