A browse abandonment campaign engages customers that are midway in the purchase funnel to bring them back into the buying cycle and foster a conversion.
Example
If someone views an item but does not add it to their cart before leaving the site, you should remind them of their previous interests and tempt them to make the purchase. Even if the buyer does not end up purchasing, it entices your audience back onto your site. The more time these individuals spend on your website, the more likely they are to purchase in the future.
Configure the campaign
If you are using one of our out-of-the-box e-commerce integrations, you can generate a browse abandonment campaign and its associated content with a recipe. If you are not utilizing one of the out-of-the-box solutions, you need to create the browse abandonment campaign from scratch.
Use a recipe
Go to Campaigns > Create New Campaign > Behavioral.
Select Browse Abandonment if integrated with a compatible third-party app.
Configure the campaign's Enrollment settings and touchpoints.

You must customize the touchpoints

, including each touchpoint's design, content, and sender profile.
Save the changes and Go Live when ready.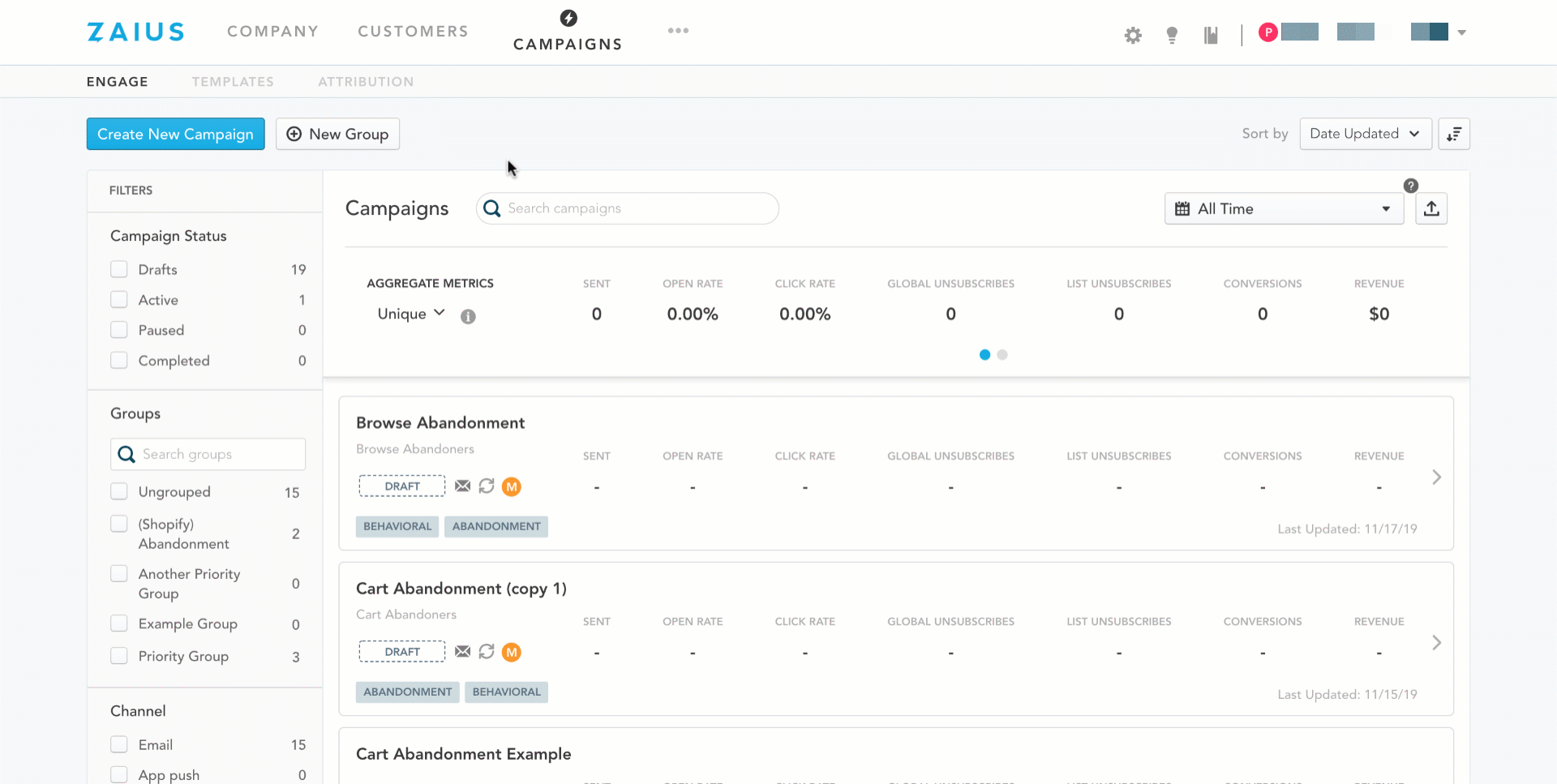 Create from scratch
Before creating the campaign, you need to create your browse abandonment behavior.
Click the ellipses.
Select Behaviors > New Behavior.
Provide a name for the behavior.
Add the desired steps. You can view the default steps used by the Optimizely recipe below.
Click Save.
Once you have created the behavior, use these steps to create the browse abandonment campaign:
Go to Campaigns > Create New Campaign > Behavioral.
Under Enrollment, select Create New Segment.
Create a browse abandonment segment using the previously created behavior. The segment expression should be a combination of have done something, the browse abandonment behavior, and a timeframe. An example based on the default recipe can be seen below.

Refine your audience further by using the Enrollment Rules to constrain the campaign to individuals who have not matched the campaign in the last week

Click the existing touchpoint to create the campaign's content. Include your brand's header, footer, and a dynamic grid referencing the Products Content Feed and browse abandonment behavior as its source.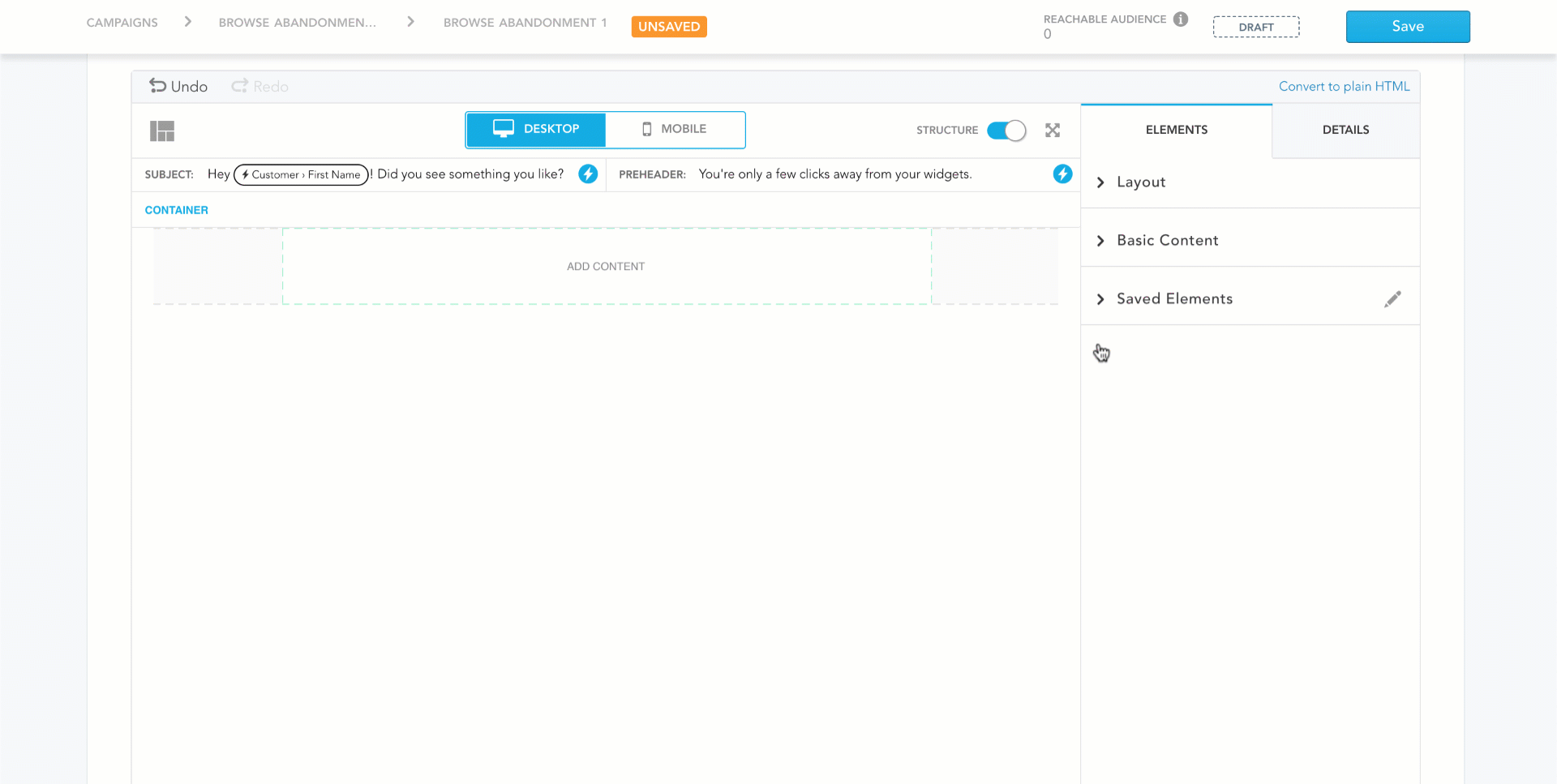 Click Save.
Now that you have one touchpoint, you can create a series of messages that encourage the customer to convert. Each additional touchpoint should create a sense of urgency while reducing friction for the recipient, such as additional product information or time-sensitive discounts.
Preview and test the campaign to ensure it meets your expectations.
Go Live when the campaign is customer ready.
Preview and test the campaign
The preview function allows you to review the touchpoint on-screen, while the test function allows you to send a test through the touchpoint channel.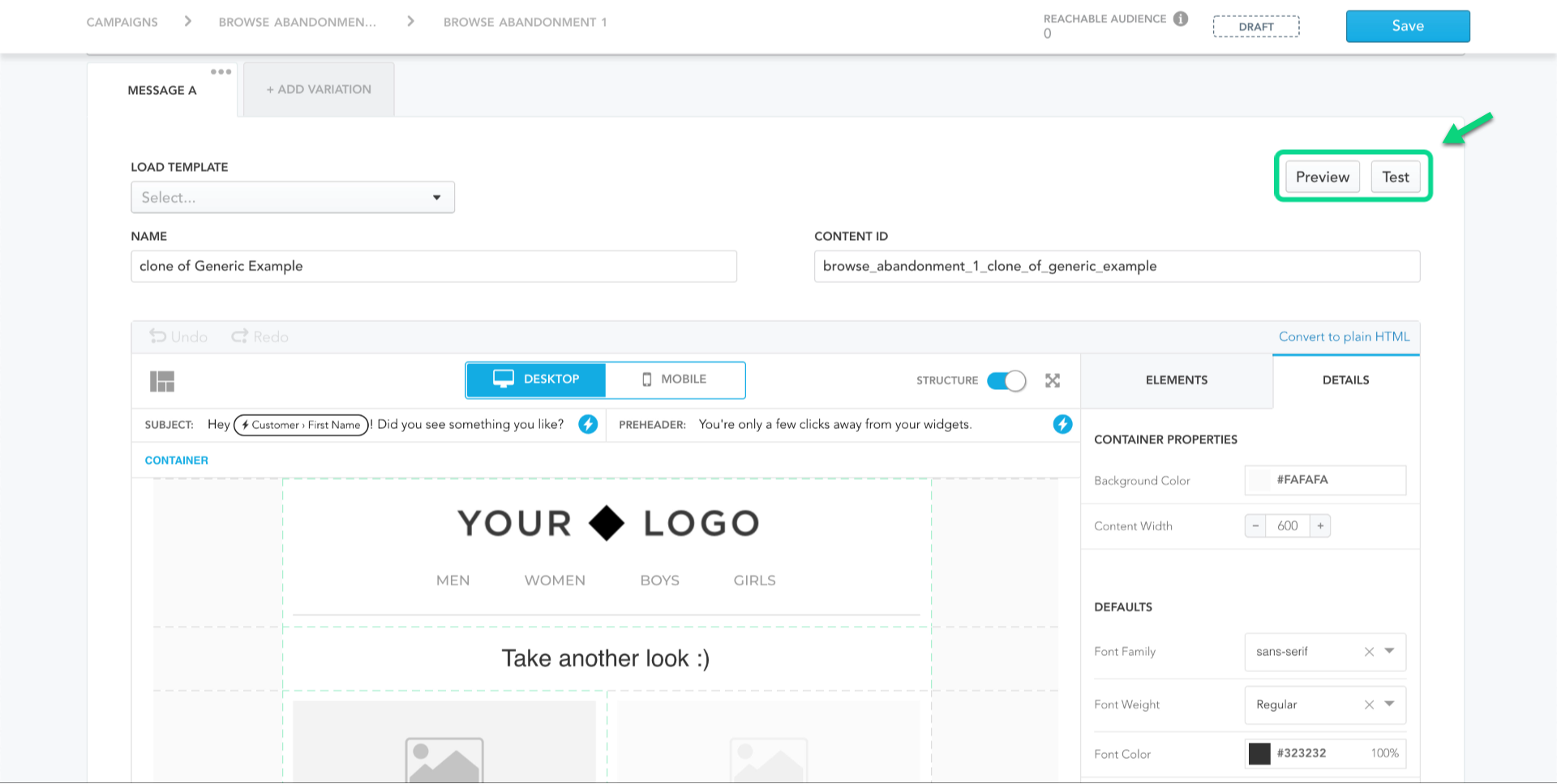 Go Live
Select the campaign's name from the breadcrumb menu.
Click Save to ensure all touchpoints are up-to-date.
Click Go Live.