Table of Contents
This topic describes how to:
Link experiments to ideas in Program Management
Record the results of your experiment for visibility across the team
View linked experiments
Optimizely Program Management enables teams to collaborate on experiment ideas. At a certain point during the execution of an idea, your team will build it as an actual experiment in Optimizely and link it back to the original idea.
By linking experiments, you create a searchable archive of experiments in Program Management that is visible to the entire team. Linked experiments also feed into program-level reporting, so you can monitor program velocity, win rates, and more.
Link an experiment
To link an experiment to an idea in Optimizely, first create either a Web experiment, Full Stack (legacy, pre flags) or Full Stack 2.0 - Flags in a project that the team has access to in Program Management.
Full Stack legacy projects were those created before February 2021.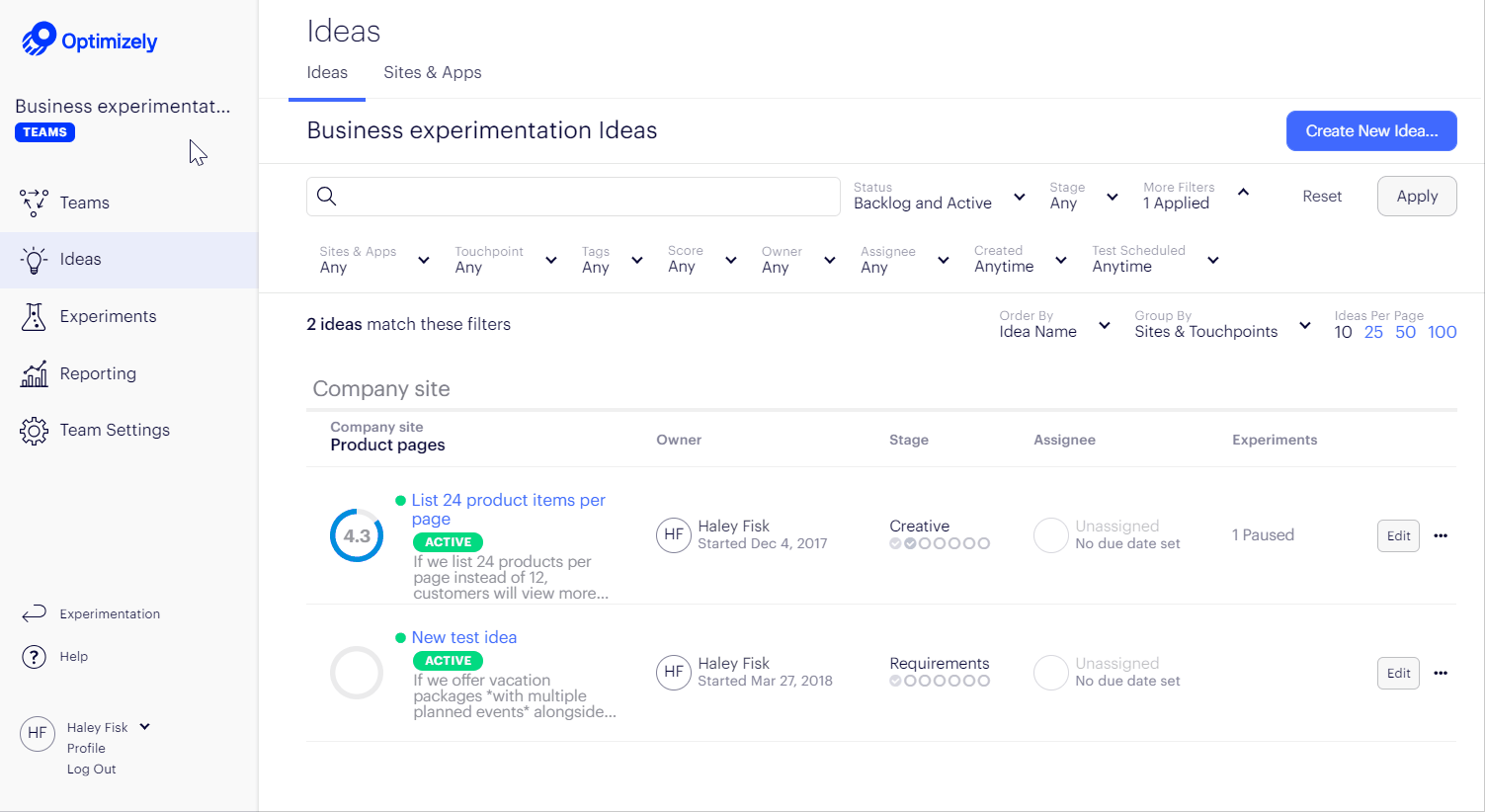 In Program Management, navigate to your team.

Find the idea to which you want to link. Click the idea name to open the idea.

In the left sidebar, navigate to Experiments. Select Link Experiment.

Search for the experiment by experiment name or ID and select it.

Click Link.
Great! You have linked an Optimizely experiment to your idea in program management. Now you can view the experiment details in program management.
Program management syncs with your Optimizely projects once per hour. You may experience a delay of up to one hour before new experiments are available to link and experiment updates appear in program management.
Record results
In program management, you can manually annotate the results for each variation in a linked experiment:
Not analyzed

Won

Lost

Inconclusive
Use it to take notes on your results analysis, observations from segmentation, and other patterns for a historical program reference. These results also contribute to the Reported Win Rate module on your Program Reporting page. (A separate Inferred Win Rate is also pulled automatically.)
To record experiment results: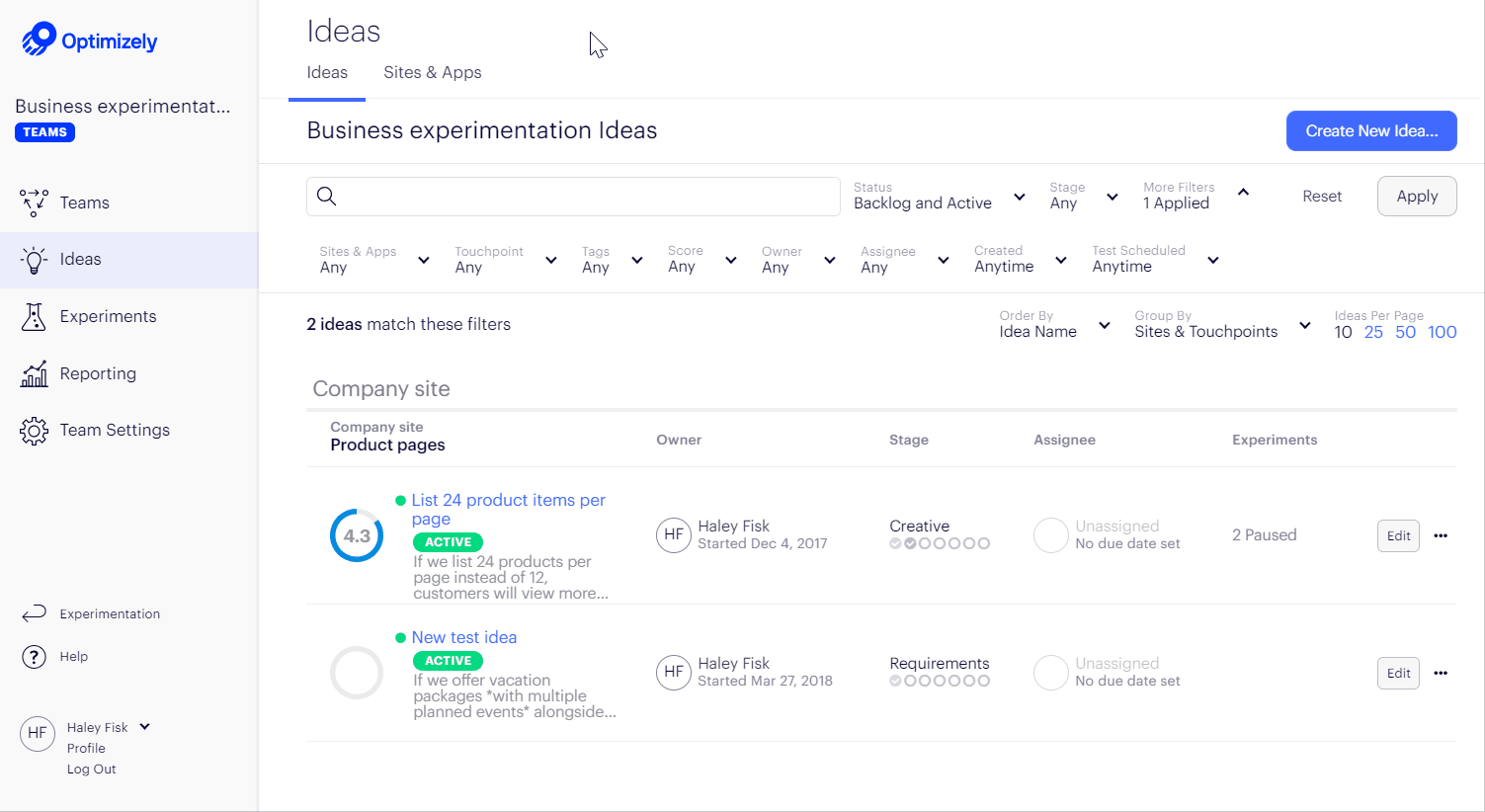 Navigate to Idea Details > Experiments.

Select View Results.

In the top navigation bar, click Record Results & Add Notes.

Add experiment results, document experiment learnings in the Notes field, and add the implementation date.
Optimizely automatically saves your notes as you make them.
View linked experiments
In program management, the Experiments tab lets you view, sort, and filter a team's linked experiments. Search and filter based on status, stage, sites and apps, touchpoints, tags, scores, teammates, test schedule, and more.
To search, select Experiments from the team dashboard: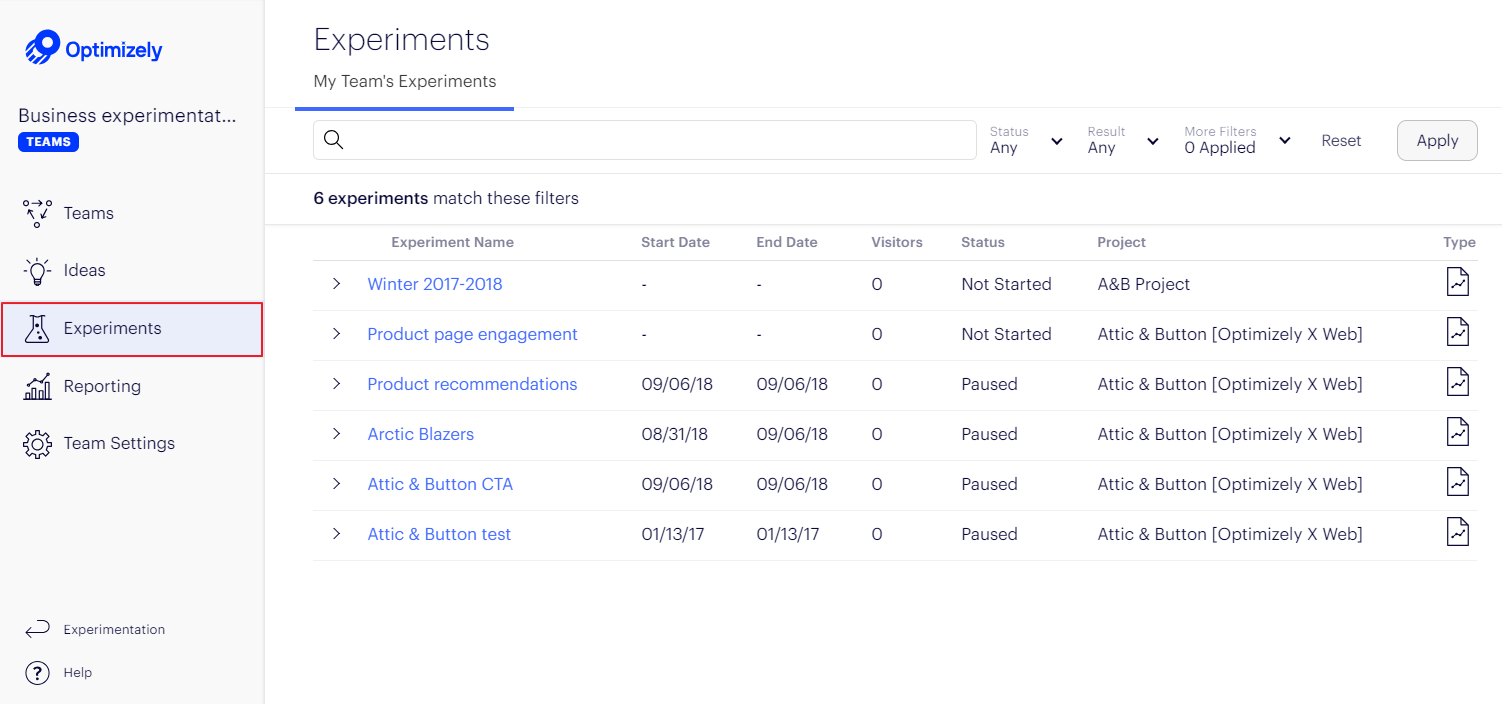 FAQs
What do I do if my experiment or personalization campaign does not show up in search results?
Check that the project that the experiment or campaign lives in is mapped to this team. Optimizely queries all projects that are included in the team. Navigate to Team Settings to view the projects included in the team.

Check that the experiment has not been archived; archived experiments do not show in this list. If you want to link an archived experiment, unarchive it and search again. It may take up to an hour for the experiment to show up.

If the experiment is new (or recently unarchived), wait an hour and try again. Optimizely syncs experiment and campaign data hourly.
I cannot link a listed experiment or campaign.
Please check the following if you cannot link a specific experiment or campaign:
Make sure it is not already linked to a different idea. You can only link an experiment or campaign to a single idea. Optimizely uses experiment starts and results to produce program level reporting. We only allow linking to a single idea to ensure that program reporting des not overrepresent velocity and win rates.

You have the right permissions to link experiments.