This topic describes what to do if you find discrepancies between Google analytics and universal Analytics.
You can integrate Optimizely with a variety of commonly used analytics platforms. After you set up an integration and implement it correctly, you can expect to see similar counts of unique users in Optimizely and your chosen analytics platform.
Tip:
For more information, see our implementation guides:
When working with integrations, you may notice issues or discrepancies, such as:
The data you see in Optimizely doesn't match the data you see in your analytics platform

You don't see data from Optimizely being passed into your analytics platform
Small variations in unique user counts are normal, even if your integration is set up properly. This is because different platforms often define "unique visitors" differently.
However, larger discrepancies are usually due to an implementation issue or a data Issue. either the implementation is not set up correctly, or you are comparing disparate sets of data.
To rule out implementation issues, check our support articles for your chosen analytics platform. If you've ruled out implementation issues, you may be encountering a data issue. For help with data issues, please read on.
Compare reports in Optimizely and your analytics platform
You should integrate Optimizely and your analytics platform. This way, your analytics reports are filtered by visitors who are bucketed into an Optimizely experiment, and both reports track the same group of visitors.
Optimizely and your analytics platform are each optimized for different metrics. When you integrate the two, you ensure that only visitors from an Optimizely experiment appear in a particular custom report. However, the metrics you see in your analytics platform look different from Optimizely's Results page. In particular, Optimizely looks only at unique visitors, while your analytics platform can count session, pageviews, unique pageviews, entrances, and other metrics.
For example, a single visitor may visit your Optimizely experiment several times. Each time she does, she will trigger another unique pageview and another session. In Optimizely, you'll still see this as one visitor. In other words, Optimizely deduplicates visitors and conversions. Your analytics platform probably does not deduplicate visitors and conversions.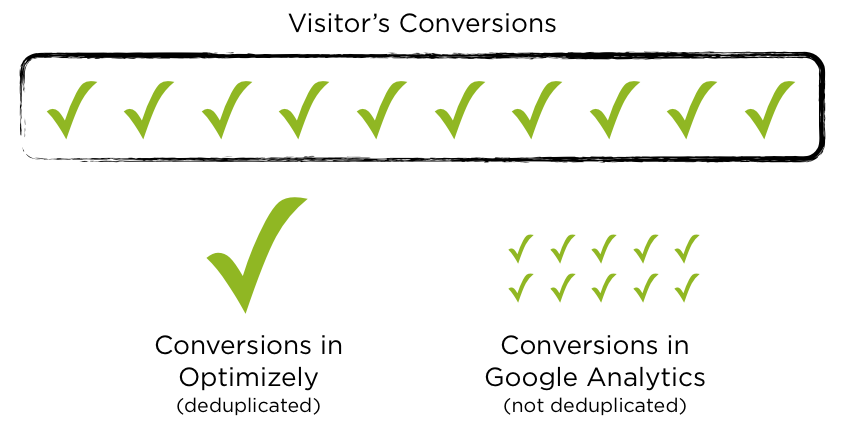 In many cases, this difference in behavior between platforms causes the discrepancies you may see in unique visitor counts. If not, consider these other common sources of discrepancies:
Is your Optimizely experiment running? Analytics integrations collect data only when experiments are running on the page.

Are you tracking visitors to the same set of URLs in both Optimizely and your analytics platform? For example, if your analytics platform tracks visitors site-wide but your Optimizely experiment is only running on your landing page, you'll see higher visitor counts in your analytics platform.

Are you filtering the types of visitors shown in Optimizely and your chosen analytics platform in the same way? For example, if you have an audience that excludes mobile visitors to your Optimizely experiment, but you are not using an equivalent filter on your analytics platform, you will almost certainly see significant visitor count differences between the two.

Are you filtering using a custom date range? Certain platforms display visitors across custom date ranges in different ways. Optimizely displays only new visitors to your experiment on the dates selected, whereas other platforms may show you both new and returning visitors on the dates selected.

Are you looking at session-based or user-based metrics in your analytics platforms? By default, Optimizely visitors and conversions are counted at the user level. This means that all visitors and conversions are counted throughout the lifetime of your experiment rather than on a per-session basis. Some analytics platforms count visitors or conversions on a per-session basis instead.

Does your traffic allocation match in Optimizely and your analytics platform? Allocating traffic differently between platforms is a common source of data discrepancies.
Metric definitions
These definitions may help you understand how your data aligns between Optimizely and Google Analytics:
Unique visitors (Optimizely): The number of unique visitors who were exposed to your experiment (this is based on visitors who received the optimizelyEndUserID cookie).

User (Universal Analytics): The metric that is the closest match to Optimizely's unique visitors metric. If you believe you have repeat visitors to your site, be sure to add the "user" metric to your report in Google Analytics so you can align your analytics data with your Optimizely data as closely as possible.

Pageviews (Universal Analytics): A count of each time a visitor loads and views a particular page. Each time a page loads, the Google Analytics code embedded within the page counts the instance. These instances are then summed to describe the total traffic for any specific page. The generic pageview count will include every time a page is loaded, including reloads by the same visitor.

Sessions (Universal Analytics): A session includes visits to a site and the pages loaded in a specific period. Google Analytics sessions expire after 30 minutes of inactivity by default, although a Google Analytics administrator can set the expiration to any value between 1 minute and 4 hours.

Unique pageviews (Universal Analytics): A pageview count that only includes new pageviews during a single session. Page reloads are not counted in the "unique pageview" metric, so it will always be equal to or less than the number of overall pageviews. Unique pageviews are different from the general "pageviews" metric in Google Analytics (described above).
Initial troubleshooting for data issues
When troubleshooting data issues in Google Analytics integrations, start by checking the following:
Make sure that the slot number you use for an Optimizely experiment is not used by another experiment or other tracking activities. Otherwise, the experiment and variation names may overwrite each other.
Further troubleshooting for data issues
If the initial troubleshooting items appear correct, the next sections will help you troubleshoot your GA or UA integration, whether you are using a standard or customized implementation.
Issue. You see visitors on the Optimizely Results page but no data in Google Analytics
Affects. Universal Analytics
Symptoms: You see visitors and conversions on the Optimizely Results page, but they don't seem to be getting passed through to Google Analytics.
Root cause. There are two possible root causes for this Issue.
The integration may not be enabled in the experiment

The Optimizely snippet is not positioned correctly on the page
Solution.
Make sure that the appropriate integration is enabled (UA) on your Optimizely home page.

Within each experiment where you want to track data, navigate to Options > Integrations > Google Analytics or Universal Analytics. Make sure that Track Experiment is checked and that you've selected a custom variable or dimension number. Don't worry about Custom Tracker unless you're using a custom event tracker other than the default.

Make sure that the Optimizely snippet is in the <head> tag of your page, before the Google Analytics tracking call.
Issue. Counts from a direct or referral traffic source are too high
Affects: Redirect experiments in Universal Analytics
Symptoms: In redirect experiments, counts for an organic (search) traffic source may be too low, and counts for direct or referral traffic are too high.
Root cause: When a redirect occurs in Optimizely with the UA integration enabled, Optimizely gets the document.referrer value from the original Page and calls the ga('set','referrer'); function when the visitor lands on the redirect Page to maintain the original referrer. This works well on landing pages, but if there is a redirect on any page deeper into your site, it strips the visitor's original session referrer and replaces it with the last page the visitor saw. This inflates the direct or referral traffic source counts for your GA, UA, and AdWords reports.
Additionally, redirecting visitors outside of the "Redirect" change in the visual editor may also experience this issue. For example, redirects via Variation Javascript will not benefit from the referrer overrides that the out of the Box integrations provides.
Solution: Enable the Out of the Box Universal Analytics integration or follow this link if your UA is implemented via Google Tag Manager.
Issue. Metrics in UA showing fewer conversions than Optimizely
Affects: All Experiment types
Symptom: Optimizely results page shows more conversions, especially down funnel conversions than in Universal Analytics.
Root cause: Optimizely's results page is user scoped so it will continue to attribute events to a visitor event if they do not activate an experiment at a later session. Our UA integration sends data via a custom dimension. Custom Dimensions in UA can be either hit, session, product, or user scope. Click here for more info on custom dimensions. Using a custom dimension scope other than "user" will require the experiment to activate in order for UA to attribute events.
Solution: Change the custom dimension you reserved for Optimizely to "User" scope and ensure that no other running experiments are utilizing the same custom dimension.
Advanced troubleshooting for data issues
If you still having an issue with your Optimizely-Google Analytics integration, please take a look at our Discrepancies in third-party data article.