This topic describes how to:
File a ticket for help with Optimizely Experimentation experiments and campaigns
Add key information so Optimizely's Technical Support Engineers can provide helpful resources and a timely resolution to your issue
We work hard to make Optimizely Experimentation seamless and delightful, but technology doesn't always work the way you expect. The Optimizely Support team can help with anything from basic setup to complex integrations.
There are three ways to file a support ticket:
Within the app:
Click on help -> Create a ticket

Within the Knowledge Base:
Click on "Submit a ticket"

Via Email:
support@optimizely.com
From the Optimizely Experimentation app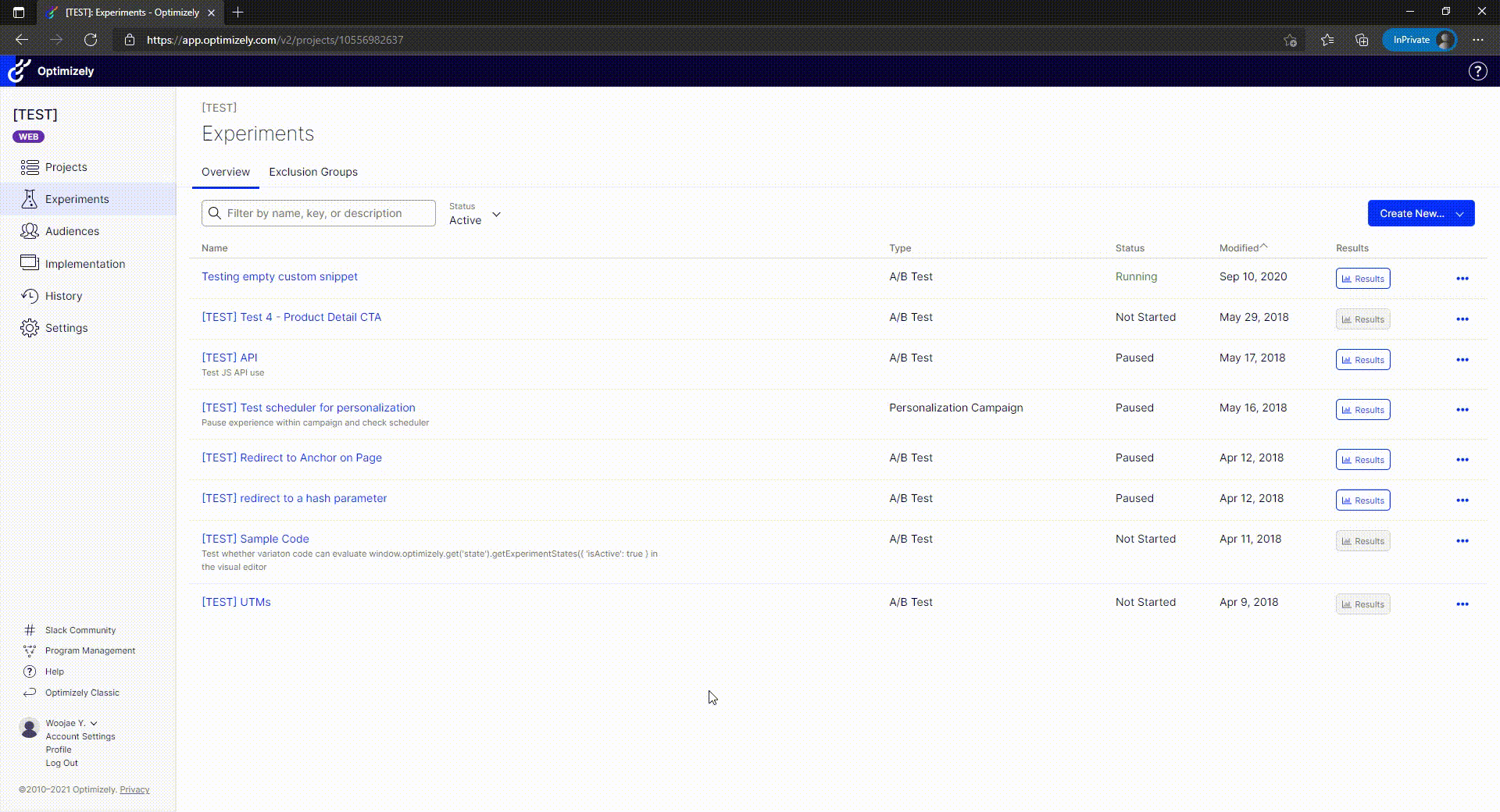 When filing a support ticket, it will help if you provide your Project and Experiment/Campaign IDs. Here's where to find the IDs.
Optimizely Experimentation offers two support plans: Standard and Priority. Learn more about the plans.
What can Support help me with?
Optimizely's Support team can help you with any question related to Optimizely Experimentation products. This includes:
Guidance on experiment or campaign setup
Debugging or troubleshooting experiments or campaigns that behave unexpectedly
Resolving bugs or outages
Discussing Optimizely Experimentation technical documentation
The Optimizely Support team is not able to provide ongoing development resources for customers, including requests to:
Write, review or debug customer code (includes custom integrations)
Set up experiments for you
Act as a QA team to review a test for you
Generate hypotheses or ideate on your behalf
Export Optimizely Experimentation event data on your behalf
If you're looking for continuous development support, please check out our Partners. Optimizely Certified Solutions Partners can help with writing custom code, QA, experiment setup, and optimization strategy principles amongst other things. We're happy to help you find the right partner for your needs.
How can I expedite a resolution?
Please include the following in your support ticket to help our team provide a timely and effective resolution:
A comprehensive description of the issue
A description of the business impact is described in detail
An experiment or project ID
Diagnostic details to help expedite analysis and identification of critical errors (screenshots, or steps to reproduce)
You can also do any of the following to ensure optimal resolution times:
Reply timely to support updates
Request phone support when appropriate, if it's included with your plan
Request screen sharing sessions (web conferences) as appropriate
Monitor changes in SR status and severity
Communicate changes in severity
Escalate concerns for critical issues (below)
View existing tickets
Click on Help to open the Optimizely Experimentation Help Center
Click on View tickets
Select a ticket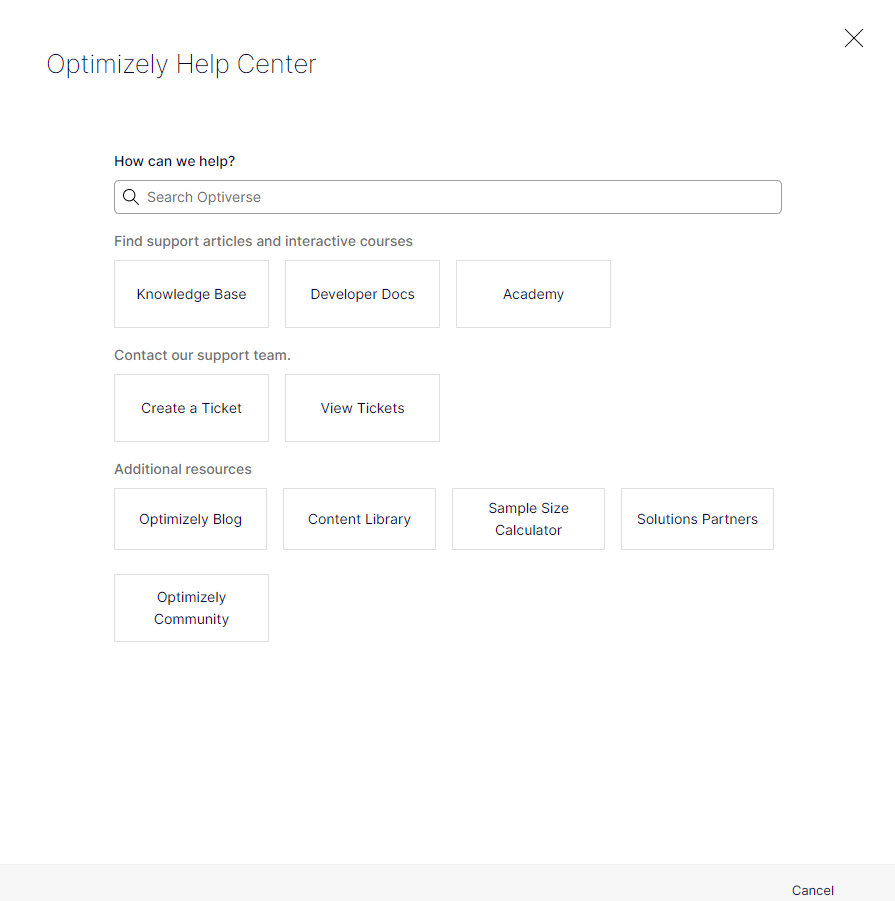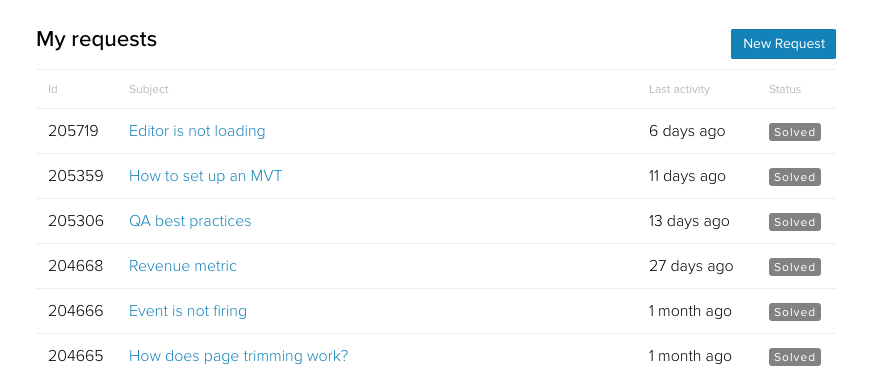 Are you having issues logging into our Zendesk Help Center?
If you've emailed us before you will need to reset your password for Zendesk.

Zendesk and Optimizely Experimentation do not share logins currently. It is possible that you may need to create an account in our Zendesk Help Center if you've never contacted us before.
You don't need to create an account or log into Zendesk (support.optimizely.com) to create support ticket requests, but in order to view the tickets you must log in.