This topic describes how to:
Figure out why you see no traffic on your Results page
Figure out why you see zero visitors in a certain variation
Check that visitors are entering your experiment
Are you experiencing any of the following issues? Use this article to troubleshoot your experiment setup.
You are not seeing any traffic on the Results page, even an hour or two after you launch the experiment

You are not seeing visitors in a certain variation on your Results page
Here's when this article may not be for you:
1. Check the snippet and experiment status
Before you begin this troubleshooting process, quickly make sure that the Optimizely Web Experimentation Snippet is on your page, as high as possible in the <head>tag, and that there is only one Optimizely Web Experimentation Snippet on the page.
Optimizely Web Experimentation works best when installed directly in the <head>tag of every page you would like to test. Having more than one Optimizely Web Experimentation Snippet on the page, even if it's for a different project, can create complications.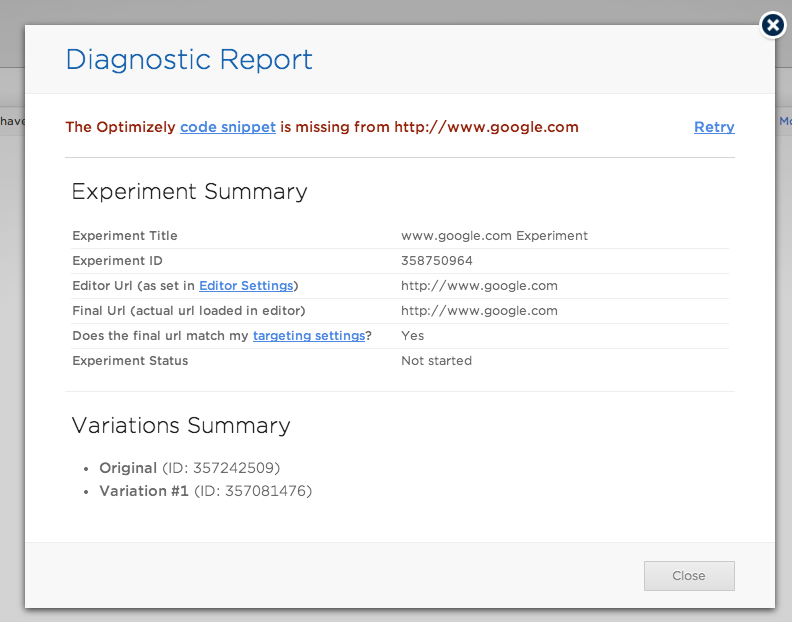 2. Check targeting issues
Next, verify that your targeting conditions are set correctly: audience conditions, URL Targeting conditions, or traffic allocation. Double-check each of these in Optimizely Web Experimentation for obvious errors that would be preventing you from seeing the experiment.
First, test your URL Targeting conditions.
Once you have done that, try the following:
Use the Optimizely Web Experimentation Log. This is will show you all of Optimizely Web Experimentation's actions and decisions.
Append the ?optimizely_log=info query parameter to your URL to read the log. Then, reload the page.

Filter the log by your Experiment ID. Paste your Experiment ID into the search field:



Check whether the log reveals any Condition errors -- in other words, that you failed to match URL, Audience, or Traffic Allocation conditions.

If you have failed conditions, and you don't think you should be failing them, there is a problem with your URL Targeting, Audience, or Traffic Allocation configuration. You will need to change them in Optimizely Web Experimentation.

If you passed the conditions but you are still not seeing your experiment, move on to the next section on other issues.
In Optimizely Web Experimentation, we have updated the client so you must append the optimizely_log parameter, then reload the page to see the log. This minimizes the logging overhead for visitors and pageviews that don't request the log.
Still having trouble? Please reach out to your technical support manager or file a support ticket for assistance.