Optimizely Configured Commerce sites are composed of multiple web pages. These pages are named for their purpose/function, for example, the Product List page, displays a list of products for sale on your site within a given category.
Configured Commerce includes functionality to create a new page within a website. Common uses for these pages are to create landing pages, FAQ's, or other pages that are not built in templates within Configured Commerce.
There are two varieties of Content Pages that exist. One Content Page type is used for pages that supplement pages such as About Us and have a navigation menu. These Content Pages will appear in the applicable left navigation menu. The other page type will not appear in any navigation menus at all and have no links to it in the site automatically. These pages would have to be linked to manually.
New content pages are created using the Content Management System (CMS). These pages appear in the Content Tree. During page creation the content editor or content admin determines how the page appears in the navigation.
Configured Commerce standard web pages
Your Configured Commerce web site contains the following standard web pages:
AboutUs
ContactUs
InvoiceHistoryDetail
OrderConfirmation
RequestRMA
Settings
AboutUsLeftNav
ContentManagedLeftNav
MyAccount
OrderGrid
RequisitionConfirmation
SignIn
Addresses
Dashboard
MyAccountLefNav
OrderHistory
RequisitionIndex
TellAFriend
BudgetManagement
Footer
MyContractItems
OrderHistoryDetail
RequisitionItemDetail
UserAdministration
Cart
ForgotPassord
News
ProductList
ReviewAndPay
UserSetup
CategoryLeftNav
Header
OrderAddress
Produclietail
SavedOrderDetail
UserSetupShipTo
CategoryDetail
Home
OrderApproval
QuickOder
SavedOrders
Wishlist
CompareProducts
InvoiceHistory
OrderApprovalDetail
RequestAQuote
SearchResults
Although some of these items (such as the header and footer) are not technically a web page, they are implemented as different units of the website and are therefore found in the Web Pages list.
The example below shows the Home page, sandwiched between the Header and Footer: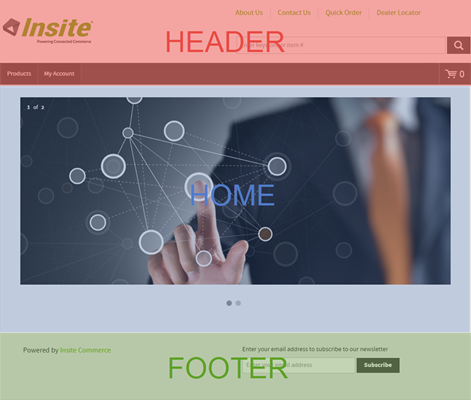 The site's header and footer encapsulates all of pages within your site and provide customers with a familiar and navigable site.
Additional static web pages may be added for additional, custom content.