Optimizely's Commerce Analytics (B2B) is a powerful tool for measuring and monitoring the success of your B2B ecommerce business. It provides a set of prescriptive dashboards that allow you to take a deeper look into the orders and usage of your site and compiles data from three sources: your Configured Commerce site, Google Analytics (with Google Tag Manager), and your ERP.
Is this product right for me?
Targeted at the B2B ecommerce manager
B2B Analytics is targeted at the ecommerce manager of a B2B manufacturer or distributor. The product provides a holistic view of your commerce business with offline order data, online order data, and user behavior tracking accessible in one place. The product allows users to analyze the underlying order or customer data, providing a level of detail that is rare in commerce analytics products.
Examples use cases solved with this product
With B2B Analytics, you can easily see trends in customer engagement and disengagement, abandoned carts, and ordering shifts.
Customer Disengagement – Quickly identify customers whose buying behaviors have changed, such as a customer who usually purchases a product each month and then stops.
Abandoned Carts – Get a holistic view of online abandoned carts, including the view of customer completed transactions through other business channels. For example, a customer starts placing orders and seeks sales assistance to select the right item. The order is then completed through traditional channels.
Ordering Shifts from Traditional to Online Channels – See if customers or products that have been historically purchased through traditional channels have migrated to online channels, and gain a deeper understanding of cost-to-serve.
Online Promotions – Track the success of marketing merchandising and promotions, including dollars generated and number of orders placed.
What makes the Analytics product unique?
B2B-specific design
Commerce Analytics (B2B) is designed specifically for the B2B context, making it unique from competitors that are often focused on B2C use cases. Some of the adjustments included in the product that support B2B clients are:
User data is aggregated at the customer level for a complete customer profile.
Consideration of the multi-channel sales and product research process of the B2B industry is made in the design of the dashboards, with both online and offline data available.
The calculation of some KPIs have been adjusted to reflect the B2B context.
The product tracks the penetration of the commerce business from offline to online ordering to unlock digital potential.
Multiple data sources
Additionally, B2B Analytics integrates data from your ERP (offline order data), Google Analytics (user behavior tracking), and the ecommerce instance (ecommerce order data), providing a single source for commerce data across your organization.
Easy start-up and no maintenance requirements
The product includes preconfigured dashboards that allow for easy start-up, requiring little analytics experience. The product is a fully managed SaaS application requiring no engineering support. As the product grows, existing clients will get instant access to new dashboards and features.
How does B2B Analytics work?
Frontend
The frontend visualization of B2B Analytics is driven by Google's Looker product. You can use this visualization to learn about the underlying order or customer data. The data is organized at the order-line level, rather than the order-header level, allowing for product-specific analysis. Shipping, tax, and other order lines that are tied to the order header are not included in aggregate totals.
Backend
B2B Analytics pulls all order history and online order data from the data tables in the Admin Console of the Configured Commerce instance.
The primary tables that are referenced are OrderHistory, OrderHistoryLine, OrderLine, and Customer Order. Secondary tables that are referenced are Customer, Product, Category, CategoryProduct, Website, Salesperson, and CustomProperties.
Access the Website
Once an account has been created, you will receive an email to activate your account and create a password. You can then log into B2B Analytics at https://analytics.insitecloud.net
Navigate Dashboards and Looks
Once logged in to B2B Analytics, you will see the following:
The dashboard presented in three groups: Orders, Marketing, and Digital Analytics.
Links to the B2B Analytics support, documentation, and training resources.
The settings menu, which can be hidden by clicking the More Options icon.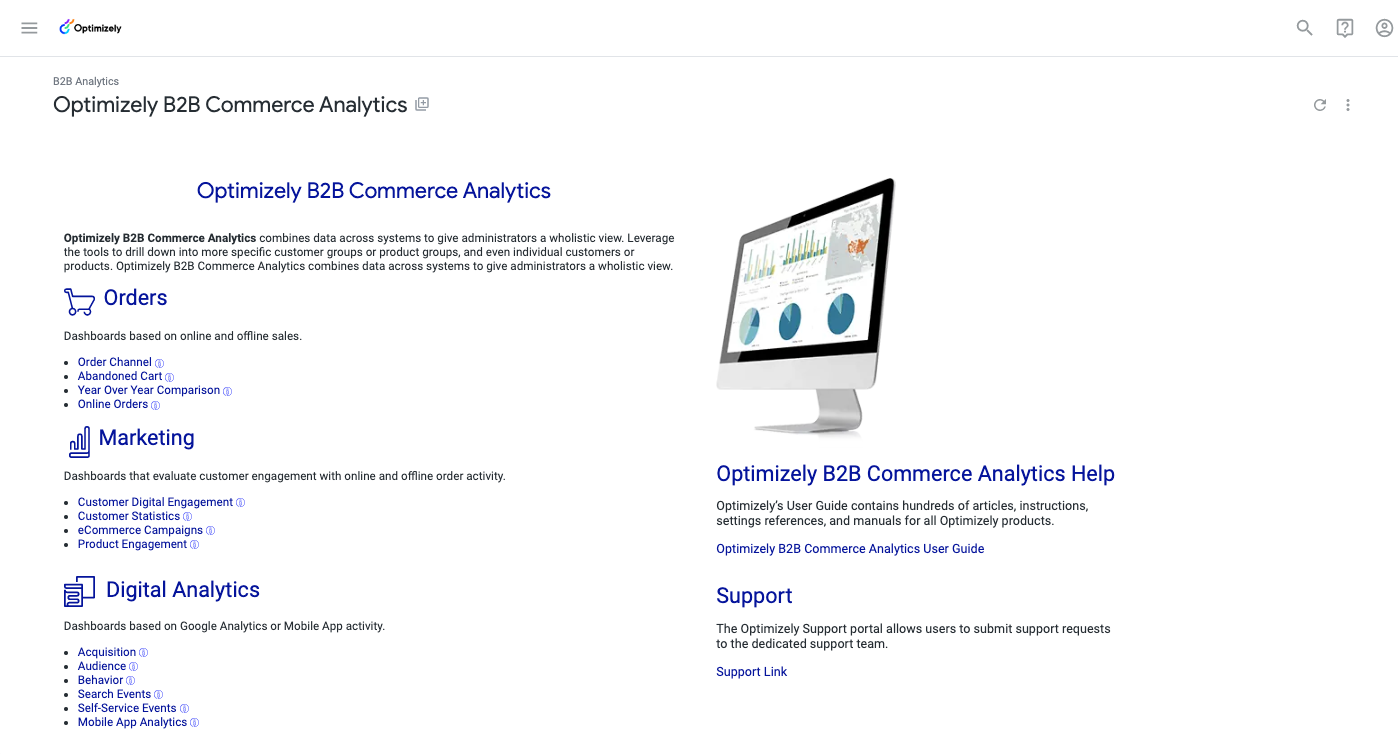 To view a dashboard, click on the name of the dashboard. To learn more about the dashboard, hover over the information icon to view a fly-out with an overview of the dashboard.
From any page, you can click on the Menu icon to return to the homepage.
Overview of available dashboards
Orders
Order Channel – A dashboard with combined online and offline sales, order counts, and products counts. You can view by customer, date order channel, customer groups, and products groups.
Abandoned Cart – A holistic view on the analysis of abandoned carts and items not purchased after abandoning (either online or offline) wit the ability to isolate customer or product groups for more analysis.
Year Over Year Comparison – Multi-year sales history comparing months across years that looks at sales dollars, order counts, and product counts. View by customer, date, order source, customer groups, and product groups.

Online Orders – Online order activity, order counts and product counts. View by customer, date, website, customer groups, and product groups. Does not account for any subsequent updates after order submission.
Marketing
Customer Digital Engagement (Strategic Dashboard) – Compares digitally-engaged customers (customers that have logged in to the website or placed an order online) with offline-only customers. Engagement is available for the previous 23 months, rolled up at the month level.
Customer Statistics – Shows all customers by aggregating sales data from the last 12 months plus the prior two calendar years, split by order source and the last date ordered. Identifies Year-To-Date (YTD) and Year-over-Year (YOY) sales by comparing up to the same month/day from prior two years along with how many days in the past was their most recent order (either offline or online).
Ecommerce Campaigns – Shows all promotions set up in Configured Commerce and looks at the sales dollars and order counts attributed to the promotions.
Product Engagement – Looks at products purchased repeatedly and identifies the specific customer and product combinations that may have fallen off the normal purchase frequency.
Digital Analytics
Acquisition – Displays where web traffic originates from (direct, organic, and so on) and shows any referral websites.
Audience – Looks at when (day of week), from where (geo map), and how (desktop/mobile) people are reaching your website.
Behavior – Looks at searches conducted on your website and top pages viewed.
Search Events – Displays detailed searches conducted on your website, the most popular recently-used search terms, and the number of times an item is searched with search result counts (including zero results). Also identifies autocorrected searches with the original keyed search and the autocorrected search.
Self-Service Events – Looks at self-service activity on your website with aggregation on how often self-service is used and the number of customers utilizing self-service.
Mobile App Analytics – Looks at overall mobile app activity (search, self-service, transactions, views, and so on).
All dashboards are based on the current calendar year plus up to two prior calendar years, if applicable.