This topic is intended for administrators and developers with administration access rights in Optimizely.
Shipping is the physical delivery of product to e-commerce customers. You can configure shipping methods and providers. Optimizely Customized Commerce Cloud provides the following shipping gateways:
Generic Gateway – Fixed shipping rate
Weight/Jurisdiction – Gateway (base price + additional fee that is calculated based on the weight and shipping location)
To create a customized shipping gateway, see Shipping gateways and providers in the developer guide.
Create a shipping method by opening Customized Commerce Manager and going to Administration > Order System > Shipping.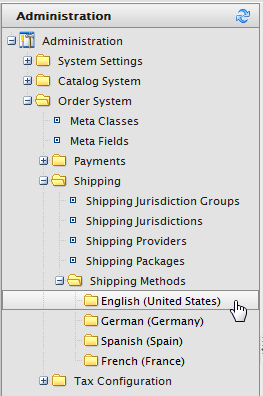 A developer can also create customized shipping gateways, see this article for technical details.
Open the Administration view and select Shipping to work with shipping functionality.