This topic is for administrators and developers with administration access rights in Google Analytics.
This topic describes the Google Analytics integration with Optimizely Campaign that allows for the allocation of mailing recipients and website visitors, to use the evaluation capabilities of Google Analytics to measure the results of mailing campaigns. The Google Analytics integration offers a central platform for the evaluation of online campaigns, as click rates recorded by Optimizely Campaign can be evaluated alongside financial success of campaigns.
Setting up the integration
You need a Google Analytics user account to access the Google Analytics interface. To set up the integration in your client, contact customer support. No mailing setting adjustments are needed, all mailing data is automatically transferred to Google Analytics.
Transferring data
The integration uses an automatic, generic link extension which adds parameters used by Google Analytics for the allocation of campaigns to links used in the mailing. Google Analytics uses cookies to identify returning visitors. Recipients who initially accessed the website via an mailing campaign, are identified as mailing campaign visitors also when returning via the website.
Using the link extension, global shipping data is transferred to your Google Analytics account after dispatch of a mailing. You can view and influence the data aggregation analysis in Google Analytics.
These parameters are used for link extension and data transfer:
utm_source
utm_medium
utm_campaign
utm_term
utm_content
Use these standard parameters to automatically transfer data, for example:
Date of creation
Mailing ID
Mailing name
Mailing description
Mailing type
Recipient list fields
Examples:
To transfer the mailing type Newsletter to Google Analytics, use the utm_source parameter.
To transfer the mailing type, use the utm_medium parameter, and for the mailing name, the utm_campaign parameter.
You can also combine two data sets and transfer them together using one standard parameter. The mailing name and the corresponding creation date can for example be combined using the utm_campaign parameter. For other combinations and more information, contact Optimizely customer support.
Viewing data in Google Analytics
Open Google Analytics and select Aquisition > Campaigns > All Campaigns.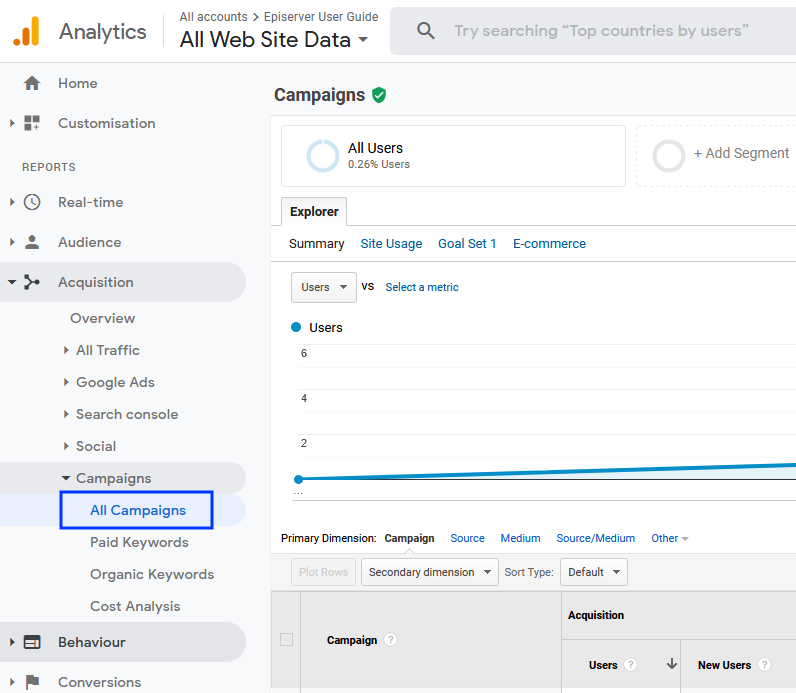 Under All Campaigns, all campaigns are listed by campaign name. Click the campaign title to view available values in order of time. Website hits generated by a mailing are labeled by source and medium.
For a better overview, you can sort the data by source (for example, newsletter), medium (for example, email), source/medium ( for example, newsletter/email) or other criteria.