Deprecated
Visitor Intelligence is deprecated and no longer supported. For migration options to Optimizely Data Platform (ODP), contact your sales representative or customer success manager.
A segment is collection of user profiles that you can use to target website content and optimize your online campaigns. For example, you can create a segment for visitors that have previously responded to a campaign and display a loyalty discount code for returning visitors only; see personalize content and using visitor groups.
Segments are dynamic. If you create a segment with the criteria visitors from Sweden, two visits within the last fortnight, the profiles change as new visitors view the site and previous visitors do not return.
The Segments view shows recently created segments, and segments labeled as your favorites. To designate a segment as a favorite, select the star icon

. You can search and filter segments.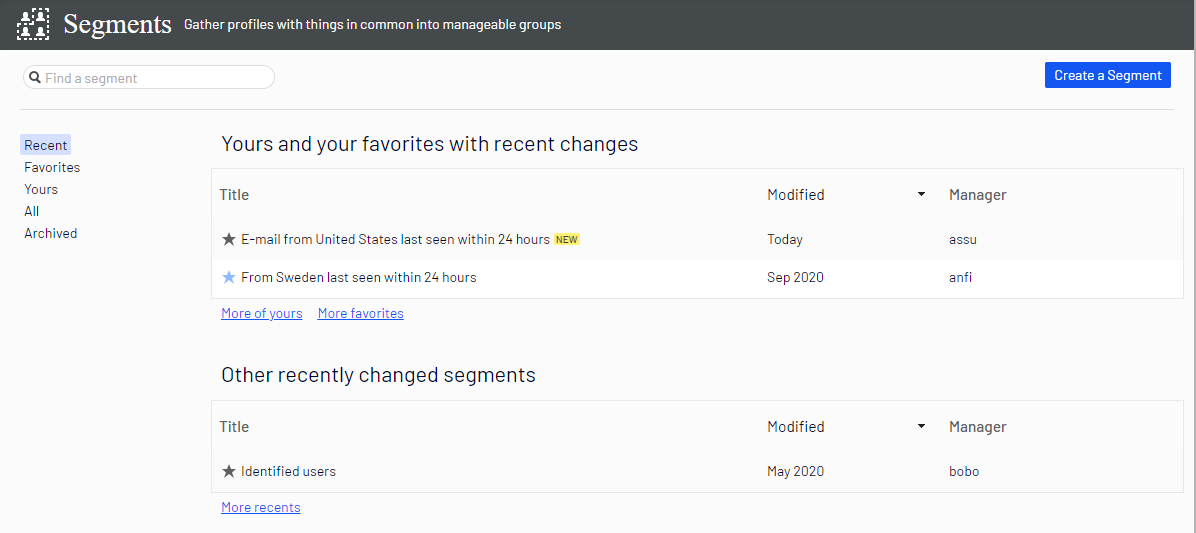 Create a segment by filtering visitor profile data
You can create a segment by filtering visitor activity and historical data.
In the Profiles view, select the filters you want from the Contact, Last Seen, Country, and Visitor Group columns.

Click Save as segment.... The Create a Segment From Filter dialog box appears.

Enter a name for the segment, or accept the filled-in value.
Select Available in visitor groups if you want the segment to be used in visitor groups.
Click Create. The new segment appears in the Segments view.
Create a segment based on filter definition
Using filter definitions lets you create advanced segments based on visitor activity, historical data, and profile data. For example:
visitors who have bought specific product during a specified time period,
users who have ever opened any campaign email, or
visitors with abandoned carts today.
Optimizely Visitor Intelligence comes with a default set of shared filter definitions based on best practices of using track events in common scenarios, but developers can also create customized filter definitions specifically for your website. In the user interface, you will see the shared (built-in) filter definitions that are compatible with the Optimizely products you have installed, and also those that have been customized for your website. For more information on how to create customized filter definitions and also a list of all available shared definitions, see Optimizely World.
You can create segments based on these reusable filter definitions and tracked statistics from visitor groups. The images in this section are examples, and your user interface may look different.
In Segments view, click Create a Segment. The Segment filters view appears. On the right side are categories that you can expand to see the shared and customized filters available for your website.

Select a filter definition from one of the categories. Its parameters appear in the view.
Fill in the parameters as applicable.
You can add a time and occurrence filter to further limit the matching profiles in the segment.
Time – The time filter lets you combine an event with a time range, such as "Customers who spent more than $100 within the last 7 days". For filter definitions based on events, the time when the event occurred is used. For filter definitions based on profile data, the Last Seen property in the profiles is used. If you set specific dates, the times used are 00:00:00 on the start day, and 23:59:59 on the end day. If you set number of days, for example, within the last 7 days, the segments includes matching profiles from 00:00:00 on the start day up until now.

You can set the following time frames under First visit:

anytime – A time range is not specified.
between – Between a specific start and end date.
before – Before a specific date.
after – After a specific date.
within the last – Within the last number of days.


Occurrence

This type of filter only works on event filter segments where the occurrence of profiles is countable. You will get a warning message ("Warning: This filter may include an aggregation. Adding occurrence parameter can return incorrect results.") when a filter definition does not support an occurrence filter.

You can specify the following type of occurrences under Occurrence:

equal – Occurrence equals the specified value exactly. For example, "equal 3 times" can filter out customers who have placed exactly 3 orders and include those in the segment.
more than or equal – Occurrence is more than or equal to the specified value. For example, the occurrence filter "more than or equal 3 times" can filter out customers who placed 3 or more orders and include those in the segment.
less than or equal – Occurrence is at least once and less than or equal to the specified value. For example, "less than or equal 3 times" can filter out all customers who have placed 1, 2, or 3 orders and include those in the segment.


Click Preview to see which profiles the filter affects.

Up to 1000 profiles that match the filter criteria are displayed in the Preview of profiles view.

Give the new segment a name and description and click Save.

The segment is saved and added to the Segments view.

After you create a segment based on events data, a cache of matching profiles is built for the new segment. This cache is refreshed daily.
Edit a segment
You can edit the attributes of a segment from its context menu in the Segments view. You can also click the individual segment to modify it attributes. Optimizely Visitor Intelligence automatically saves actions you make. If you have pending changes in your draft, click Apply changes.
Title – Edit the title of the segment.
Description – Enter a description about the segment.

You can apply additional attributes through the Actions menu.

Archive – Select this option to remove the segment from the Segments view. Refresh the screen to update the list. You can deselect this option in the Archive view to restore the segment to the Segments view.
Available in visitor groups – Use this segment in visitor groups.
Manager – Choose the person you want to be responsible for managing this segment.
Duplicate – Create a copy of the segment that you can modify to create a new segment.
Use a segment as a visitor group
When you create a segment, you can make it available to visitor groups in Optimizely CMS. Once available there, you can set up a visitor group that uses this segment as a criterion and then personalize your website content for this visitor group specifically.
You need administration rights to set up new visitor groups.
For example, if you want to use the Black Friday traffic segment that you created in the previous example, follow these steps:
Make sure that you set Available in visitor groups for the segment you want to use as a visitor group. This is so it shows up in the Member of Segment criteria.
In the top menu, go to CMS > Visitor groups and click Create to create a new visitor group.
Drag the Member of Segment criterion from the Insight Criteria tab in the pane on the right and drop it into the Drop new criterion here.

Select the segment you want from the Segment Membership drop-down list.
Name the visitor group and add other criteria if necessary, and then save the visitor group.

Personalize the content as described in the CMS Visitor groups topic and select your new visitor group from the list. See also Personalization.
Use a segment as a target group in Optimizely Campaign
If you have Optimizely Campaign, you can use segments from Optimizely Visitor Intelligence as target groups for your campaigns in Smart Campaigns and Marketing Automation. See Use marketing segments as target groups for mailing campaigns.