Optimizely Feature Experimentation
Optimizely Full Stack (Legacy)
Optimizely Web Experimentation
Optimizely Performance Edge
To access your billing information, go to Account Settings > Plan after logging in to Optimizely Experimentation.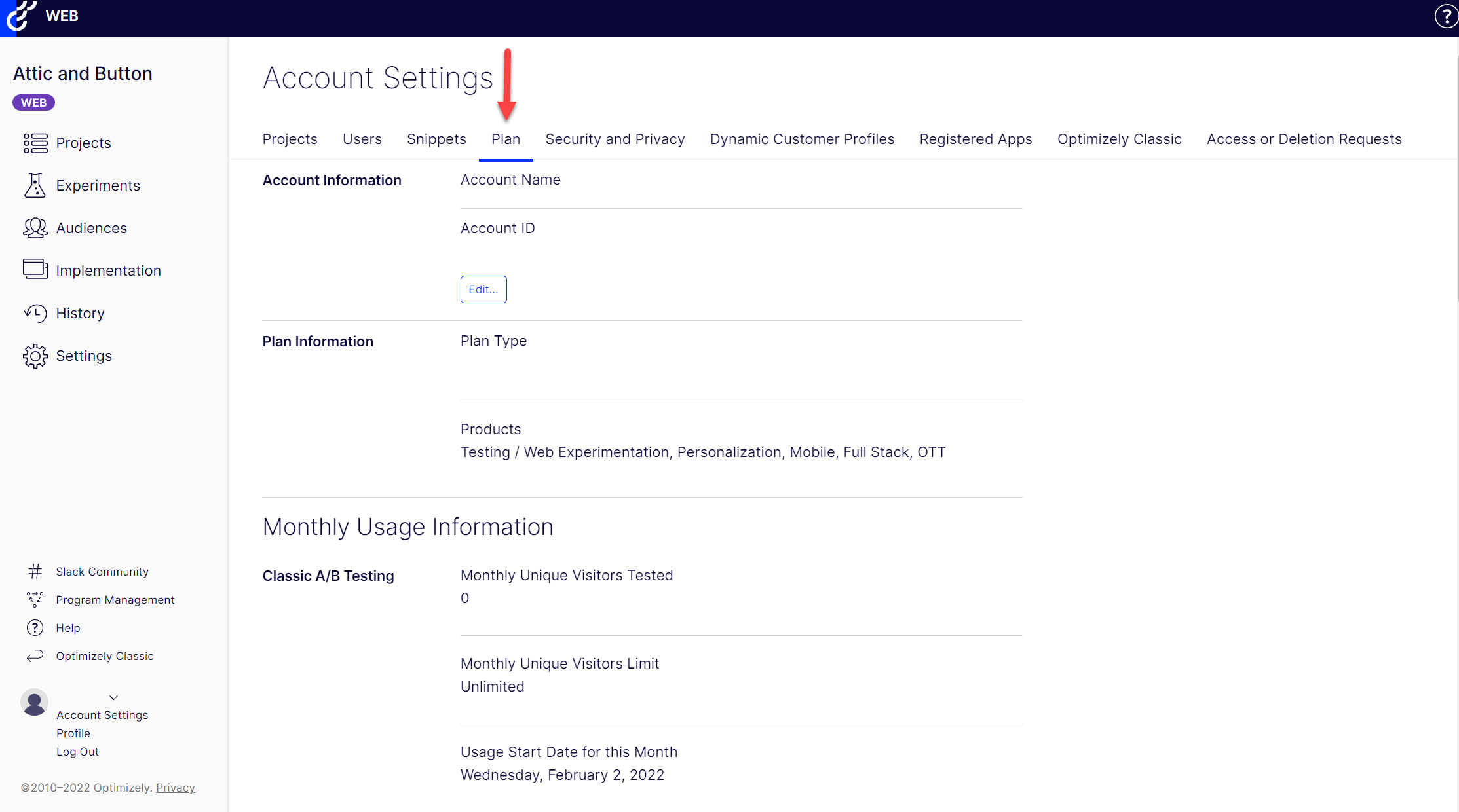 Click Save Settings when you are finished making changes to your account settings.
Account billing
You must be an administrator to access billing information.
From the Account tab, you can access billing information by clicking Plan & Billing. An overview of your plan information displays including billing contact details, payment methods, and your billing history. You can change your payment method details.
Your account is billed based on either impressions or monthly unique visitors (MUVS).
Retrieve invoices
The bottom section of the Billing window lists your invoices. View an invoice by clicking the number of the one you wish to see. Click PDF to download an invoice. If you do not see the invoices you want, you click All Invoices.
Sales tax
Optimizely Experimentation has a legal obligation to collect sales tax for some customers based upon their local jurisdiction and the product or service type being purchased. Optimizely Experimentation uses the billing address for each account to determine applicable sales tax. Each of our services were reviewed independently, and tax due is dependent on a number of different factors, including service type purchased, service address, applicable tax jurisdiction, and local tax laws.
Beginning July 1, 2015, applicable sales tax is applied on a separate line item on invoices.
Optimizely Experimentation collects sales or use tax only for invoices generated after July 1, 2015. All invoices from prior periods are not affected regardless of the payment terms or billing frequency of your account.
If you believe you are exempt from sales or use tax, email your appropriate exempt-sales certification to accounting@optimizely.com.
Cancel an account
To cancel an annual account, contact your Customer Success Manager.
If you are on a legacy (Gold, Silver, or Bronze) plan, you can cancel your subscription at any time by clicking Cancel in the top section of the Billing window.
If you are not looking to cancel your account, but rather to remove a collaborator from your account, see Manage collaborators.
If you are not on a free starter plan, contact your Customer Success Manager to discuss the terms of your contract.