Only customers onboarded prior to July 15, 2022 have access to the Campaigns page and the following Account Settings pages: Sender Profiles, Domains & IPs and Preference Centers.
This article describes Apple's Mail Privacy Protection and its affect on email campaigns in Optimizely Data Platform (ODP).
Apple's Mail Privacy Protection
Apple's Mail Privacy Protection (MPP) is an optional setting for the Apple Mail app which lets users hide their email open activity and their IP address. These settings were made available to Apple users on September 9, 2021 running iOS 15 or later and MacOS 12 or later.
Enable MPP in Apple's products
When an iOS, iPadOS, or Mac OSX user first opens their Apple Mail app, the app displays a prompt with the following options: Protect Mail activity or Don't protect Mail activity. The user is required to select one of these options, and neither are pre-selected.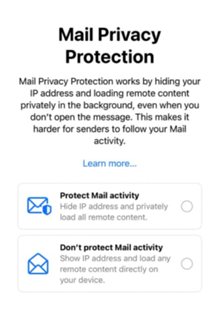 If initially, a user did not select Protect Mail activity, the user can enable it at any point by opening their Apple Mail app and going to Settings > Mail > Privacy Protection and selecting Protect Mail activity.
MPP's impact on email campaigns
When an Apple user enables MPP, any email received in the Apple Mail app has the images pre-loaded before the message is opened, including open tracking pixels, which renders open data from these users unreliable. Since Apple is automatically downloading remote content in the background when an email is received in the Apple Mail app, this registers as an email open in your ODP email campaigns, which will inflate your open rates.
Additionally, recipients' IP addresses are hidden, which makes location data collected on the email open events unreliable. This impact should not be as noticeable as ODP collects location data in other ways, such as website behavior and orders.
The scope of MPP's impact
This change does not impact all Apple users in your database. For MPP to have any impact, the email recipient needs to meet the following criteria:
Uses an Apple device
Actively uses the Apple Mail app as their primary inbox (whether they use an Apple mail service or have connected another inbox, like Gmail, to their Apple Mail app)
Has iOS 15 or later/MacOS 12 or later installed
Has opted in to Mail Privacy Protection (MPP)
According to Litmus, Apple Mail accounts for about 54% of global email client market share and as of February 2022, 65% of iOS users have updated their devices to iOS15. If MPP opt-in rates match the 96% opt-in rate of Apple's App Tracking Transparency opt-in launched in spring 2021, that would mean about 50% of your US email list and 34% of your global email lists will eventually use MPP.
React to the impact of MPP
These changes may lead you to believe that open rates should be ignored as a performance metric moving forward. While open rates will certainly be less accurate, you should not ignore them because they are a strong directional performance indicator of deliverability, subject line, and segmentation strategy.
Refocus on click rates as your primary performance indicator. Click-throughs are the most accurate indicator of whether the recipient took action. A click represents both that your subject line was relevant and led the customer to open the email, but also that your email content and layout led the recipient to your intended CTA, and that your offer/exchange was relevant to the audience you targeted with your segment.
Think about your email attribution strategy. In ODP, you can use the Attribution tool in the Campaigns section (talk to your CSM or our support team if you do not see it) to generate many different attribution models. For instance, you could look at a model that attributes a website visit or order within 3 hours of an email being sent to the recipient. Or you can create a click-to-order attribution report which only looks at visits or orders that resulted from a campaign click.
Think about your definition of an engaged contact. Most definitions of engaged contacts take into account email engagement (for example, opens and clicks), but engagement goes far beyond email activity. Use indicators such as site visit, order, service ticket logged, SMS click, loyalty points activity, etc. in your engagement segmentation as all of these represent actions people have taken with your brand.
You can still use email opens as an engagement indicator for users who do not use the Apple Mail app. An example of what your segmentation might look like in this case is shown below:

Personalization and experimentation matter more than ever to increase clicks. If you are not leveraging extensive automation and personalization, you are missing out on significant opportunities to improve your email program performance. ODP has easy to use, enterprise ready personalization features that allow you to create delightful experiences for your customers. Key elements to personalize your program include:
Segmenting your sends – Make a best guess on matching the content, offer, and subject line with the segment to which you are sending. This will almost always increase open, click, and conversion rates.
Personalizing your subject line with relevance – Use customer attributes or attributes from products the recipient interacted with (for example, name or brand).
Using segment driven or triggered automation – The timing of your send in relation to some threshold met or action taken is critical in driving relevance with prospects and customers.
Using campaign enrollment rules – A campaign may result in less engagement from customers if they receive too many emails from you. You can use campaign enrollment rules to ensure you are not sending too many communications to your contacts.
Email still generates the best ROI for marketers but anticipate more changes as consumers continue to favor more stringent privacy. As such, it is important to optimize and implement other similarly effective channels like SMS/MMS marketing, segmented social/search advertising, segmented direct mail, and personalized on-site experiences.
Create segments of customers in ODP who do not have MPP enabled
A conservative way to identify a segment of customers who do not use an email app with MPP is to create a segment like the following:

This will identify customers who use other email apps on Apple devices (such as the Gmail app). However, it will also capture users with Apple devices who have MPP enabled.
The following steps provide a more accurate way to build a segment that identifies customers who have MPP enabled:
Select the options menu (...) > Filters.

Click Create New Filter.
Create a filter with the following settings and then click Save:

Now you can create a segment using your new filter:
Optimizely is working to implement new features to better assist with Apple's Mail Privacy Protection, so stay tuned for updates!