When your social accounts are connected, you can publish and share your content to each of your channels, directly from the Optimizely Content Marketing Platform (CMP).
Connect a social account (LinkedIn)
Go to your avatar > Social Accounts.
Locate the LinkedIn Account section and click Sync Account.

Sign in to LinkedIn.

Your account is listed under that social channel. You can add multiple social accounts.
The process is the same for other social accounts. You are asked to log in to your account after clicking sync account. After logging in, that account is added and is available under that social account.


Your social accounts appear in the Add Channel dropdown under the Publishing tab.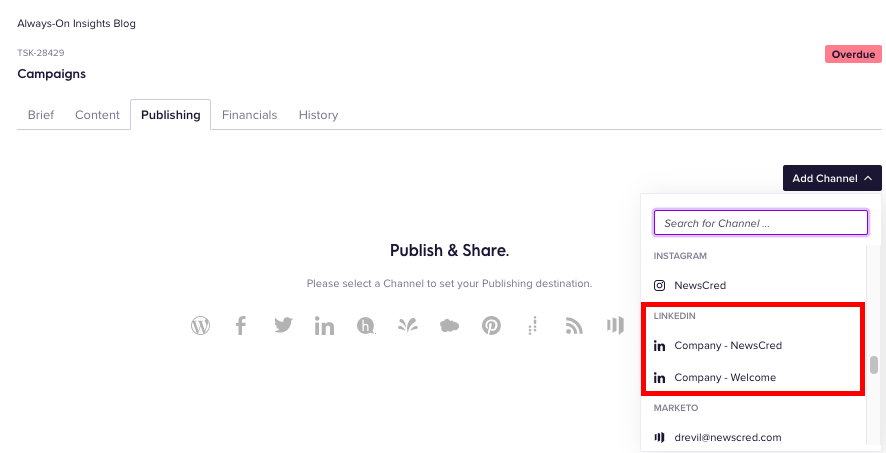 Enable or disable a channel
Use the toggle to enable and disable a channel from CMP so users can share contents to that channel instead of deleting it.
Disable channel

Enable Channel

When a channel is disabled, it is not available for publishing.
Re-sync your LinkedIn social account
After a certain period, the connection that lets CMP publish to LinkedIn will expire, which is an expected behavior. LinkedIn does this for a variety of security and technical reasons. When this happens, you will have to re-sync the account.
How to re-sync a LinkedIn account
Make sure that you are logged into the correct LinkedIn account in your browser.

Log in to the CMP in another browser tab, and select your avatar > Integrations > Website, CMS & Feed.

Locate the LinkedIn Account section and click Sync Account.