Sprinklr is a social media management platform that helps teams quickly and easily disseminate content across all brand channels and markets. By integrating Welcome with Sprinklr, users are able to leverage the content created in the Content Management Platform (CMP) and distribute it across all of their customer touch points globally.
In this article, you will learn:
Purpose and benefits of the integration
The integration with Sprinklr was built to help users work more efficiently and reach to a wider set of audiences quickly, eliminating the need to copy/paste and reassemble packaged posts in Sprinklr. Specifically, the integration allows users to:
Create and approve social copy in the CMP
Set scheduling dates/times and publish the finalized, packaged posts to Sprinklr via API
Publish directly to the correct channel or appear in Sprinklr as a draft post, ready for a separate team to distribute and optimize
To establish the connection from CMP to your Sprinklr account, you will need the following:
Admin access to the Welcome CMP
Access to your Sprinklr account
Valid Social accounts added on Sprinklr
How to add Sprinklr and social accounts
Go to Social Accounts from My Settings, click on "Add Platform"and select Sprinklr from the list of platforms in the dropdown. Click on "Connect".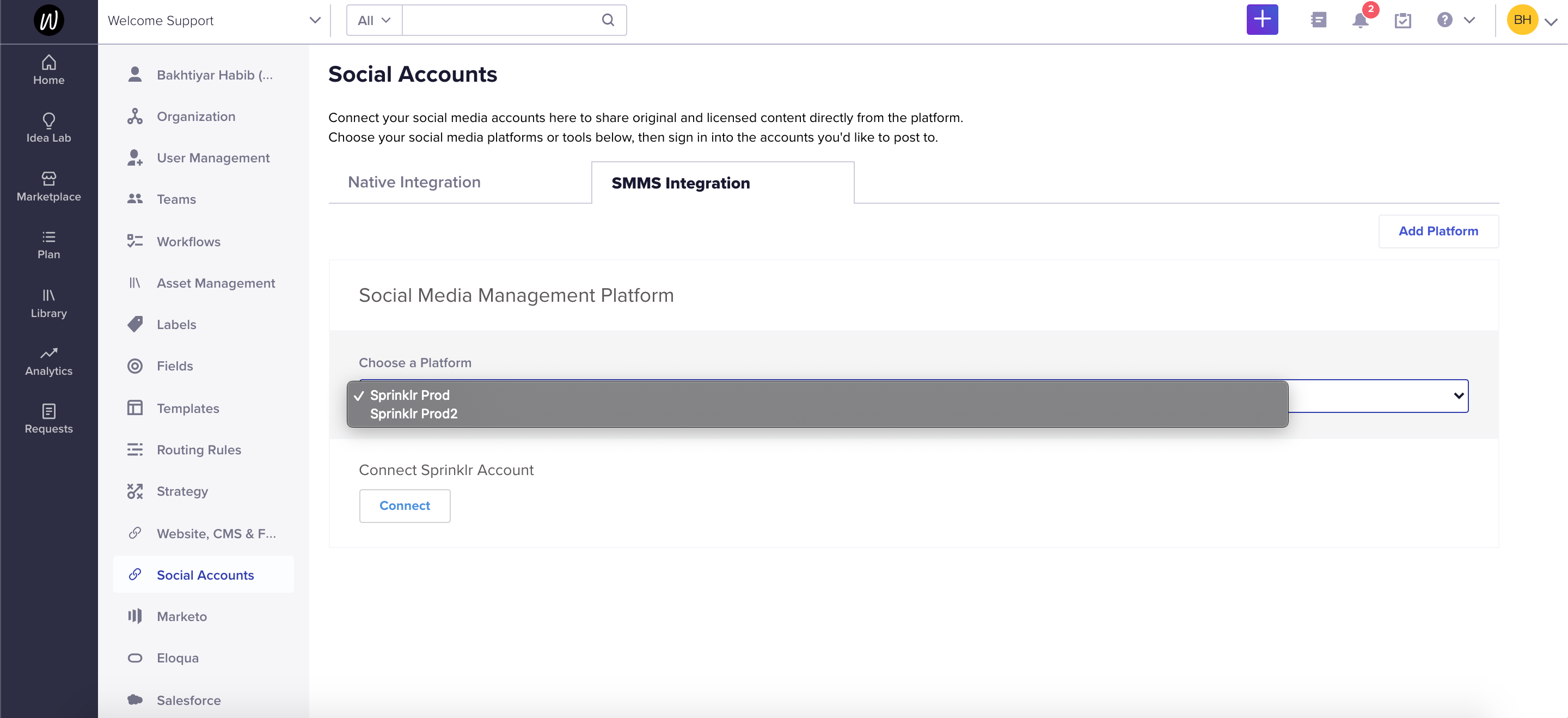 This will open a new modal (shown below) requesting permission to access your Sprinklr application: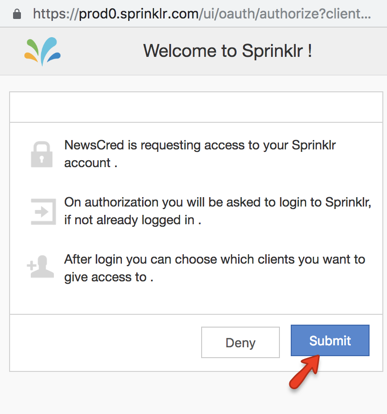 Click on Submit to allow the adding of your account and enter your account details.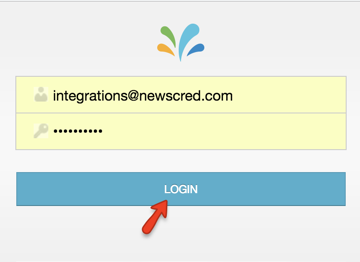 After entering your account credentials, you will be prompted to select your client application within Sprinklr, as shown below.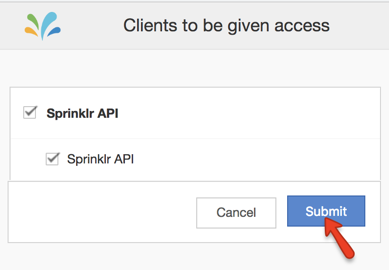 You will need to select your client and click on submit successfully. This adds your Sprinklr account with CMP and redirects to the home page of your CMP instance.
If you have already added Social accounts (facebook, twitter, etc.) within your Sprinklr, you should now be able to see all those under SMMS tab of Social Accounts.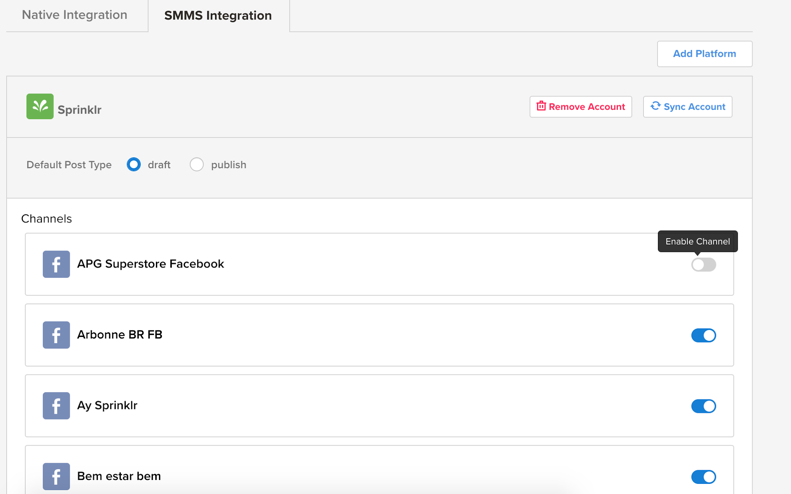 If you do not want all of these channels to appear as a destination for each publishing task, you can disable by clicking the toggle button for enable/disable.
Sync Account: "Sync Account" fetches the latest list of your social accounts from Sprinklr. If someone added/deleted an account from Sprinklr application and you don't see it reflecting in CMP, please click on the sync account to make sure it's all refreshed.
Default Post Type: Users can set the "Default Post Type" as "draft" or "publish". Once it is set, by default the "Send as Draft" option within the post will remain checked/unchecked (as set). But, if you want to override the default selection for a specific post, you can do it by unchecking/checking the "Send as Draft" within the post itself. Please note here, the account synching feature respects the previously chosen post type.
Which Channels Are Supported
The Welcome and Sprinklr Integration are supported in the following channels:
FACEBOOK
TWITTER
LINKEDIN
YOUTUBE
INSTAGRAM
TUMBLR
PINTEREST
SINA_WEIBO
RENREN
TENCENT_WEIBO
GOOGLE_PLUS
FLICKR
FOURSQUARE
SLIDESHARE
VK
How to Post to Sprinklr
A post to Sprinklr contains a text message, a choice of campaigns, an optional attachment and an option to schedule the date/time of posting.
Campaign
A post in Sprinklr is always attached with a choice of "Campaign". Select the Sprinklr campaign you would like your post to be associated from the dropdown list. If this list is empty and you have campaigns in your Sprinklr account, you may need to sync your account under settings. Please note: adding a campaign to this list will create the campaign in sprinklr.
Draft Post
By selecting the "Send as Draft", the post will be published only to the planner (calendar) of Sprinklr as a draft, which can be edited and scheduled to publish per the user's explicit approval.
Direct/Live Post
If the "Send as Draft" is not selected, the post will be directly published to the end destination/social channel without needing any manual action from the Sprinklr side. This will also be reflected in the Sprinklr planner.
Types of Attachments
You can attach:
A link,
An image,
No attachment (by default)
Schedule
The user needs to click on the "Edit Scheduling" to publish the post at the desired schedule, otherwise the post is published immediately to Sprinklr (or, to the selected social channel if not draft post) upon clicking on "Publish".
How to Publish to a Social Channel through Sprinklr
Steps
Go to the "Publishing" tab of your workflow, select 'Add Channel' and click on the drop down of desired social channel icon. From this list, you can select your desired social channel with the Sprinklr icon.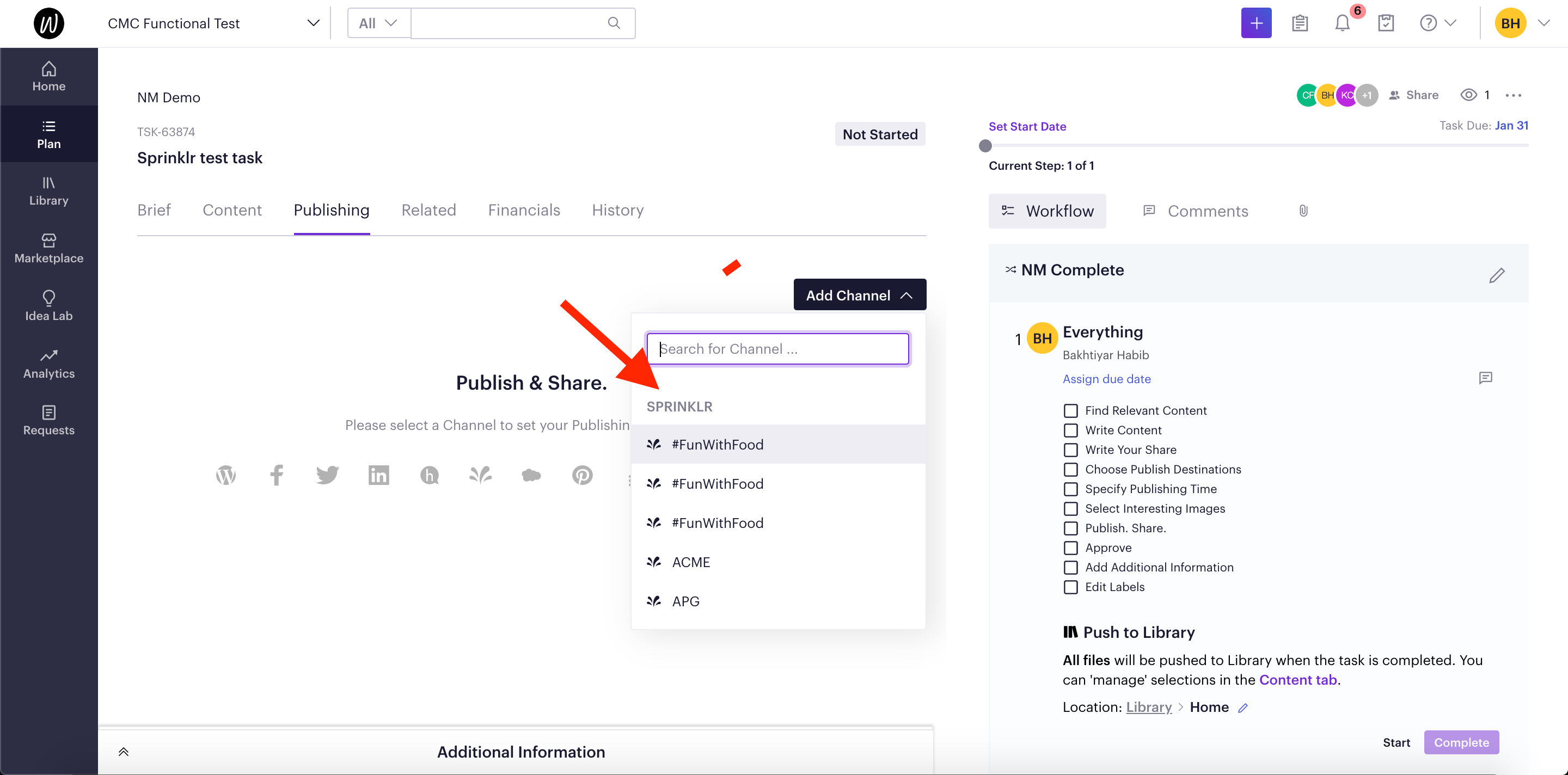 A widget with the icon of Sprinklr and of the selected social channel opens up like following: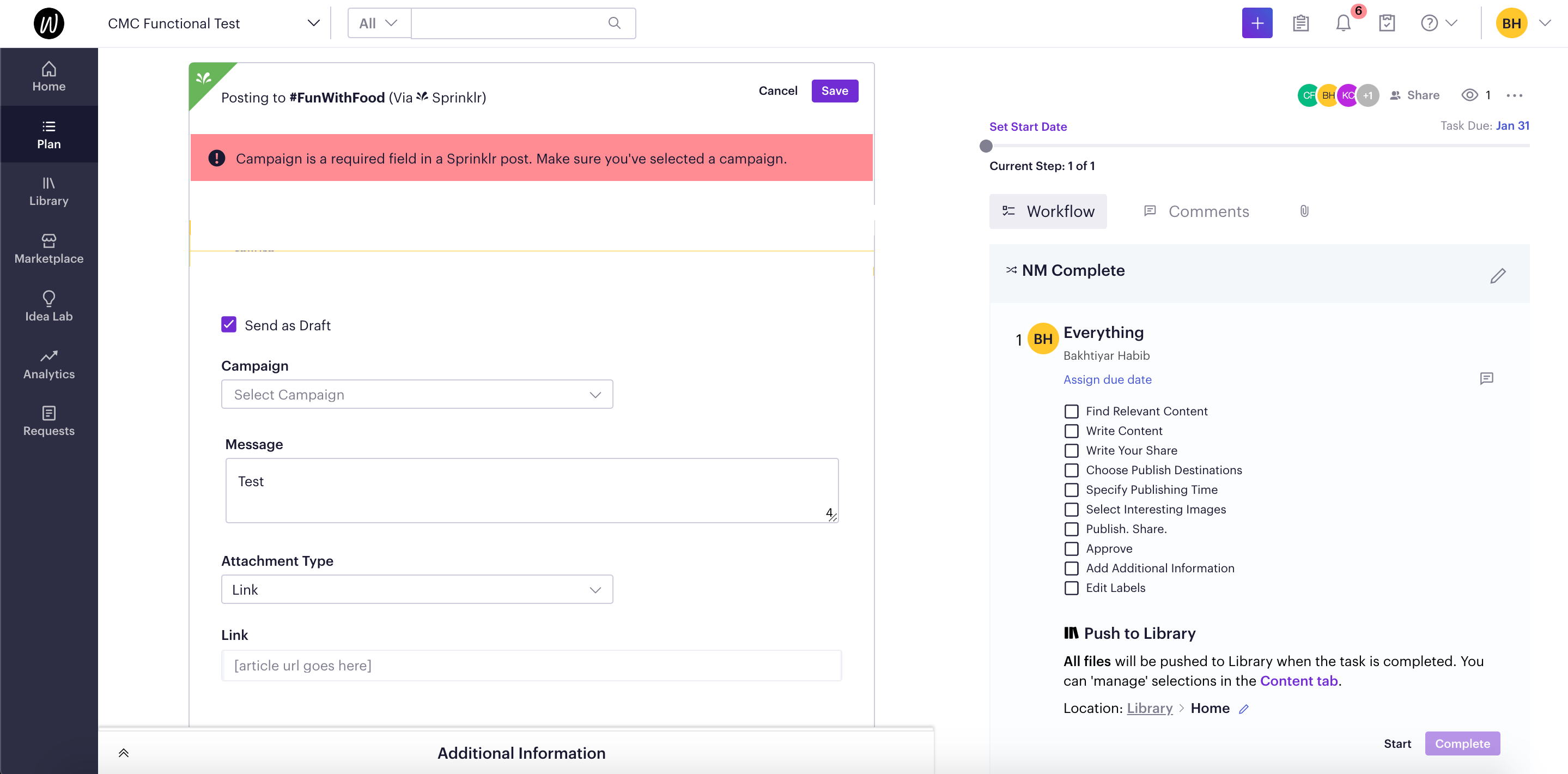 As shown above, a campaign needs to be selected from amongst your desired campaign of Sprinklr from the dropdown menu, or you can also add your own campaign which will create the campaign in Sprinklr. If you want to post as draft, select Send as Draft to save the post as a draft in Sprinklr. In the message text-box, it is required to include a message related to the post, and you may add any attachments related to the post. There are two attachment types: 1) link - allows a link to a posted article. 2) image - add a single image to the post
Users can also click on "Edit Scheduling" if publishing is desired for a later time. Finally, complete the workflow by clicking on publish/share as per the workflow. Users will get immediate notification of the publication on the task page.
Important Note: To publish an article through Sprinklr to any social channel, it is required to either choose a published article or make sure to publish the article to any website.
Filter Sprinklr Posts on the CMP Calendar
Once you choose to publish/share on a Sprinklr post, the post will appear on the publishing calendar of CMP. By applying a "Channel" filter on either "Sprinklr" (for all posts through Sprinklr), or on a specific social channel, it will surface those posts on the publishing calendar.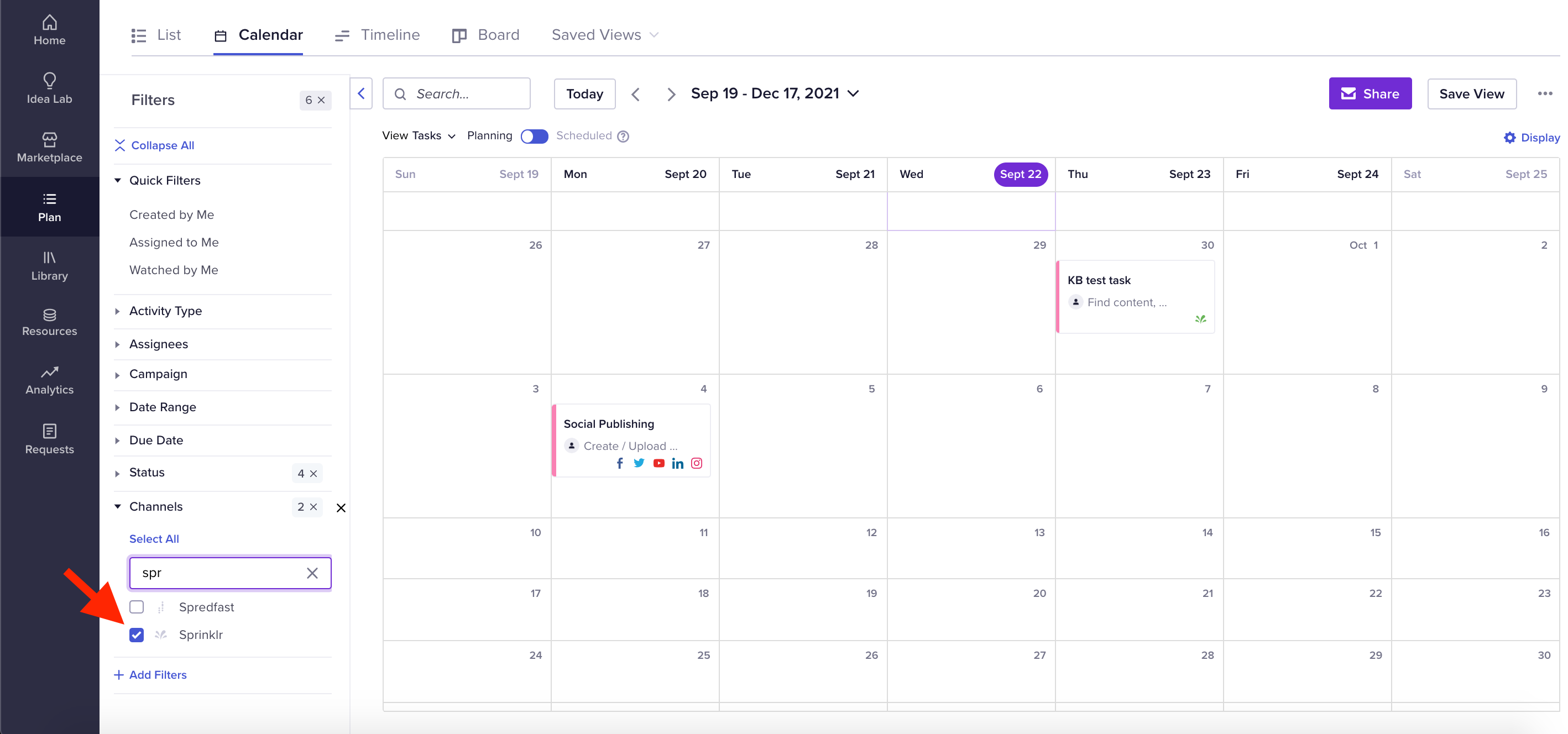 Post CMP Labels to Sprinklr Custom Fields
Users can use the labels on the task page and expect them to be carried over to Sprinklr together with the message. If there is no Sprinklr custom field already existing with the same name of the CMP label, our post will create it in Sprinklr with the provided value(s). In case, there is already an existing Sprinklr custom field matching the name of the CMP label, our post will transfer it with the value(s) provided. Please note here, if the CMP labels carry additional values than what is defined in an existing Sprinklr custom field, post will update the set of values in Sprinklr.
Example of using the CMP labels (passed as Custom Fields and surfaced) as Properties of Sprinklr message: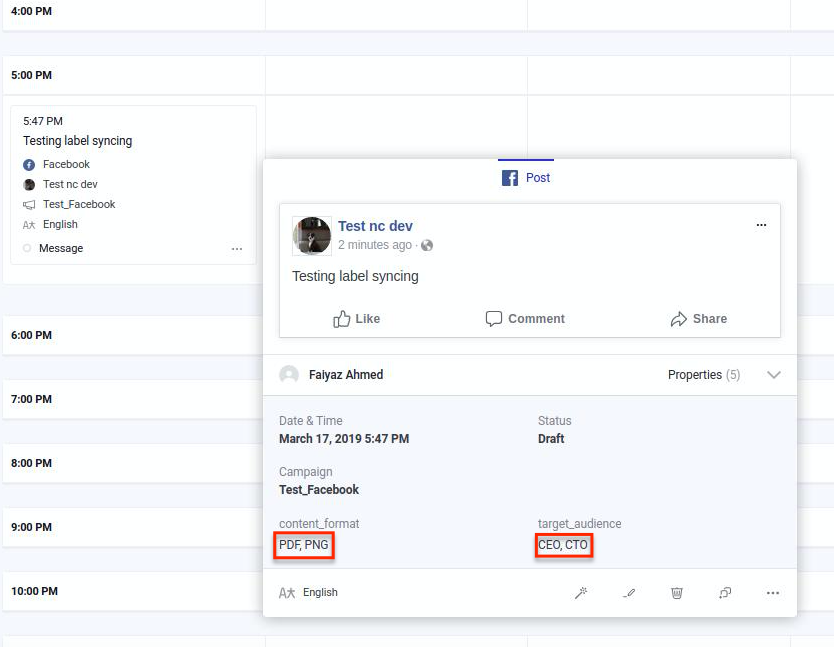 Questions? Contact support@welcomesoftware.com.