Your marketing team needs to ensure consistency with your brand across your content and assets, and that any released assets are compliant with brand and regulatory requirements. Compliance checker lets you import your brand guidelines to manage asset compliance and create alerts to changes that may need to be made before an asset is approved for use.
Import brand guidelines
Go to your avatar > Brand Compliance. The Brand Compliance view displays categories and descriptions.
Click Download Sample CSV and enter your brand guidelines in the CSV file.

Complete the spreadsheet with the Categories, Sub-Categories/Criteria, and Descriptions you want assets to comply with. You can include font, color scheme, or terminology requirements, to name a few. The more detailed your spreadsheet is, the easier it will be for your team to review content for compliance.

Remove the instruction text after editing and before uploading your final CSV file for the Brand Compliance check in the platform.

| | |
| --- | --- |
| Heading | Description |
| Category | The headline category for the next group of rules, such as Photography. You can repeat this across multiple rows when there are multiple rules to be checked in this category. |
| Sub Category / Criteria | The Item/Rule (such as width) to be applied in the parent category. Within a parent category of Photography, you're likely to have multiple rules of how photographs should be handled and therefore would require multiple rows in the import file. |
| Description | A description of the rules for this sub-category. For example, for a sub-category of width your description might be All imagery needs to be supplied in a width of 600 pixels. The description is sent in the notification to the asset creator if you reject an asset. |

Click Import in the Brand Compliance view to load your completed file. (Only Admin users can do this.)
Apply brand compliance to a workflow
After you import the brand compliance CSV file, you can apply it to any workflow.
On a Workflows tab, select Enable creative assets approval.
Use the compliance checklist
To ensure an asset is complaint, select the task and click Review Compliance. A panel on the right displays which is populated with brand compliance requirements.

Check the asset items that are in compliance. Optionally enter a comment.
Approve assets or request changes
After completing the checklist, you can Approve the checklist or Request Changes. The asset creator is notified when an asset is approved or needs changes.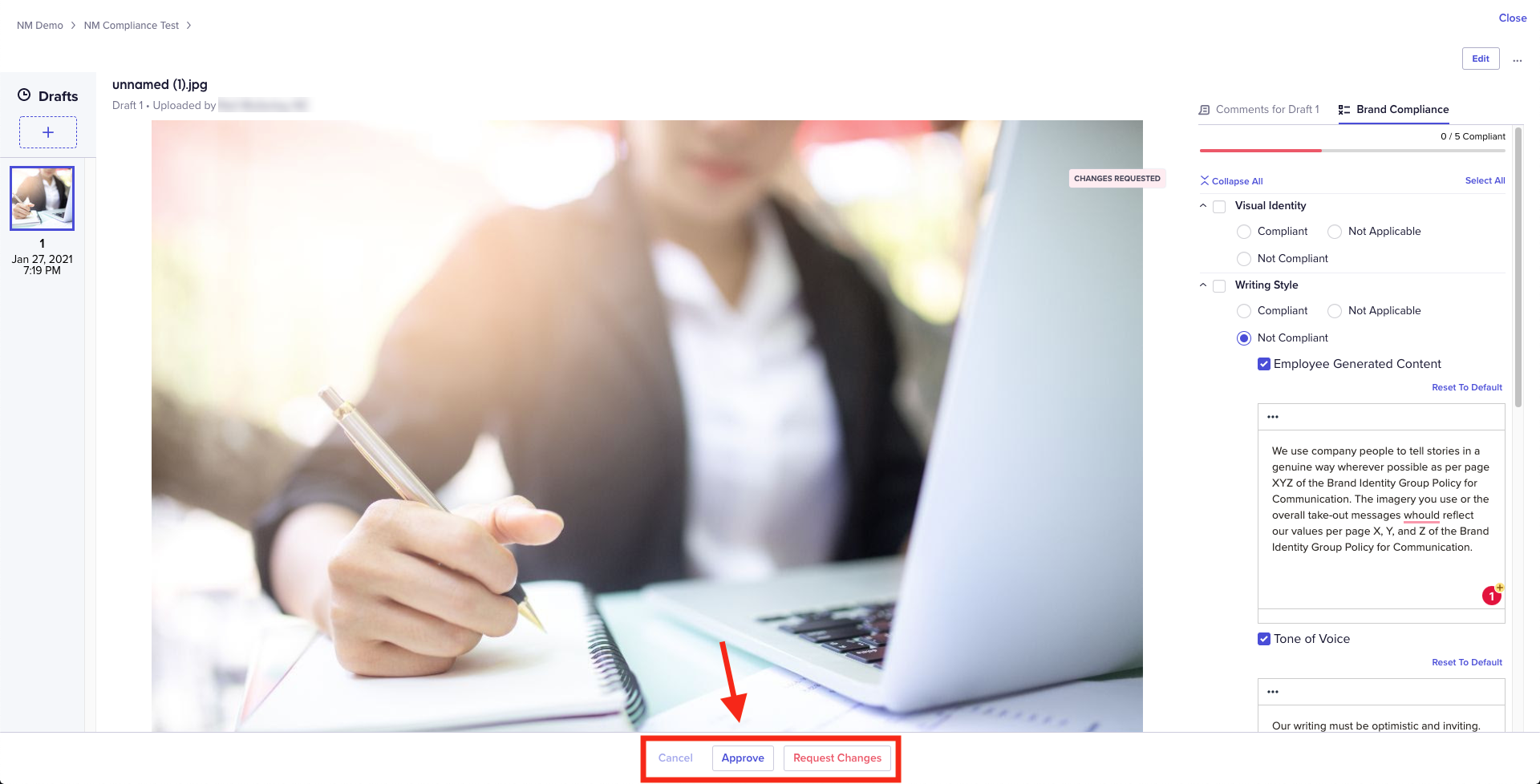 Compliant assets display an Approved status in the Content tab.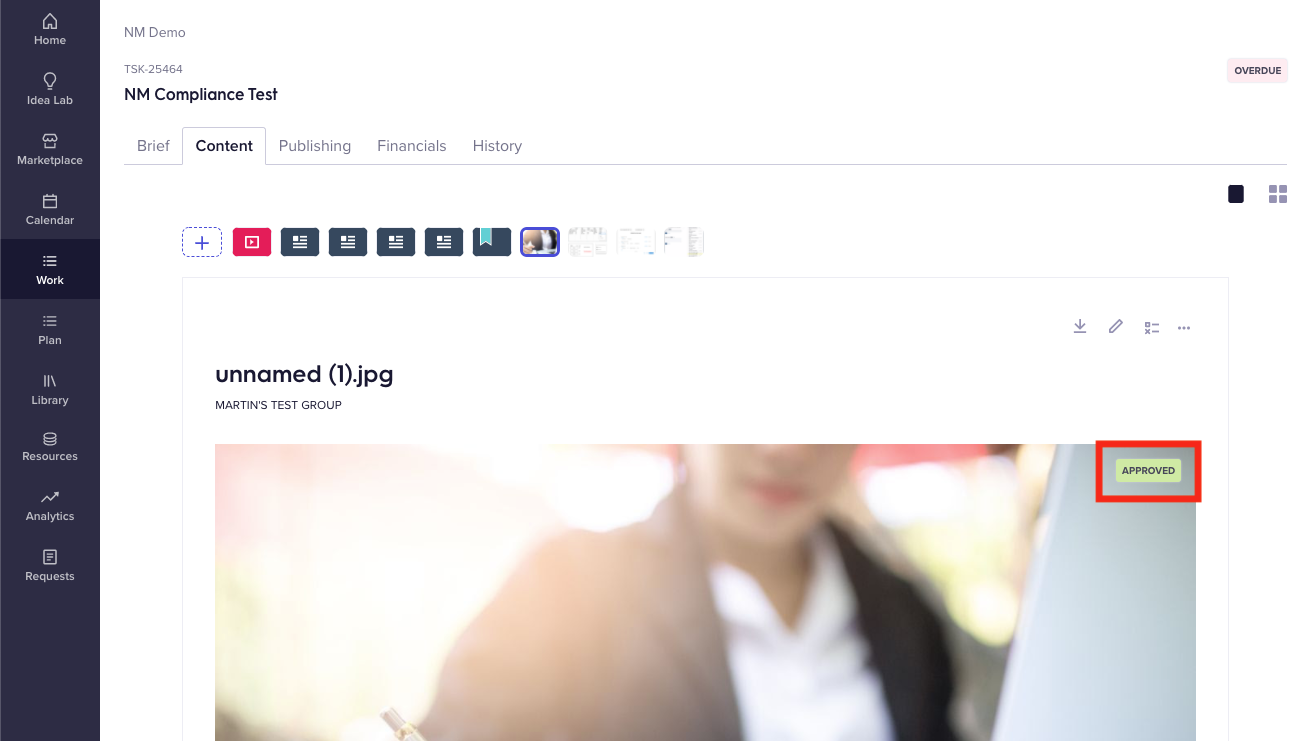 If an asset is not compliant, Changes Requested status is displayed.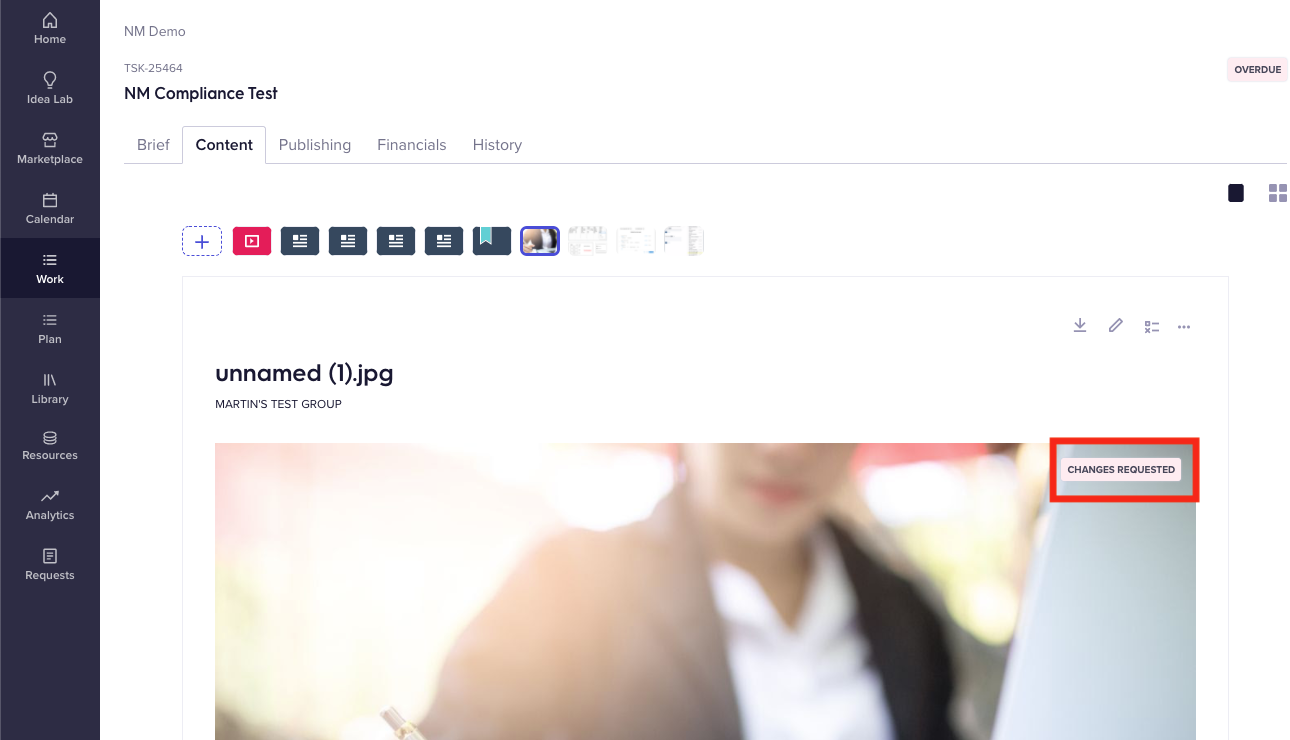 Review assets in bulk
You can select multiple assets to review at once, and approve or request changes for them simultaneously.
Switch the Grid view within a task, and click Review Compliance.

Select the assets you want to review for brand compliance.
Review selected assets with the compliance checklist to the right of your screen. You can optionally make comments, notes, or reviews for each item.
Click Approve Selected or Request Changes For Selected. The asset creators are notified when an asset is approved or needs changes.