Content Optimizer, the CMP's built-in writing assistant, helps marketing teams quantify content quality and ensure that all digital copy — whether for articles, landing pages, newsletters, or another use — is optimized for relevancy, readability, and search ranking. Content Optimizer currently fully supports 7 languages, including English, Spanish, Dutch, French, German, Italian, and Russian. Partial language support exists for Portuguese, Catalan, Polish, Swedish and Hungarian.
In this article, you will learn how to:
Navigate to Content Optimizer
To access the CMP's Content Optimizer feature, you will first have to open the text editor in a task page. To open CMP's text editor in a task page, click on the "Edit" button as shown below: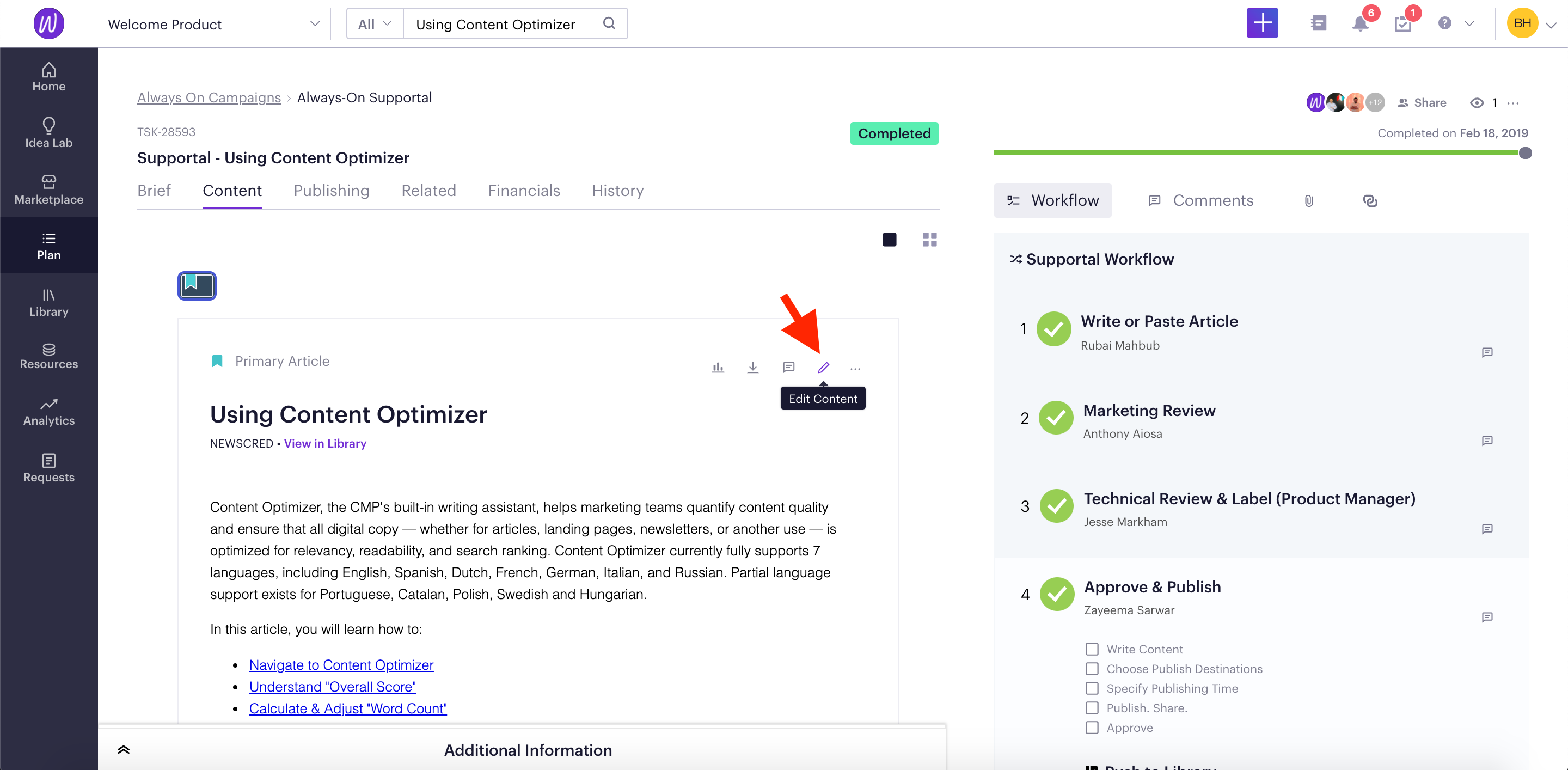 Please note: If an article has not been inserted/added to a CMP task already, then the text editor can be accessed by selecting the "Start Writing" option in the Content tab.
After opening the text editor, click on the "Optimizer" tab:
Understanding "Overall Score"
The first metric in the Content Optimizer panel is the "Overall Score", located at the top. This value is an aggregated calculation — it takes into account all of the other criteria (detailed below) in order to provide an overall assessment of your content from 0-10.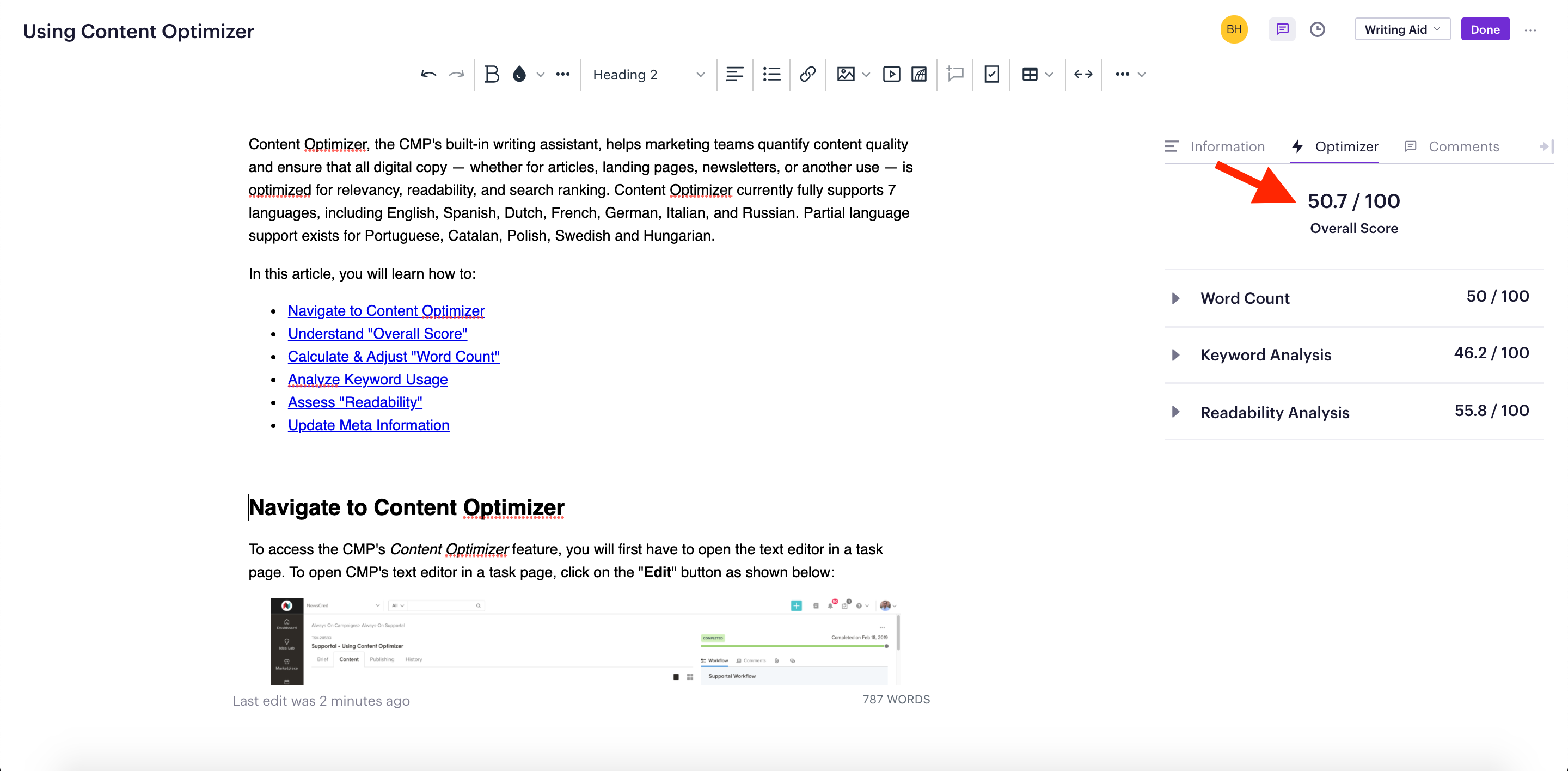 Calculate & Adjust "Word Count"
The word count target for "Headline" has been set to a default value of 60, while "Body Content" is set to 1000 in our system per SEO best practice.
Overall the headline and body of your content are scored (out of 10) against SEO best practice and the provided target.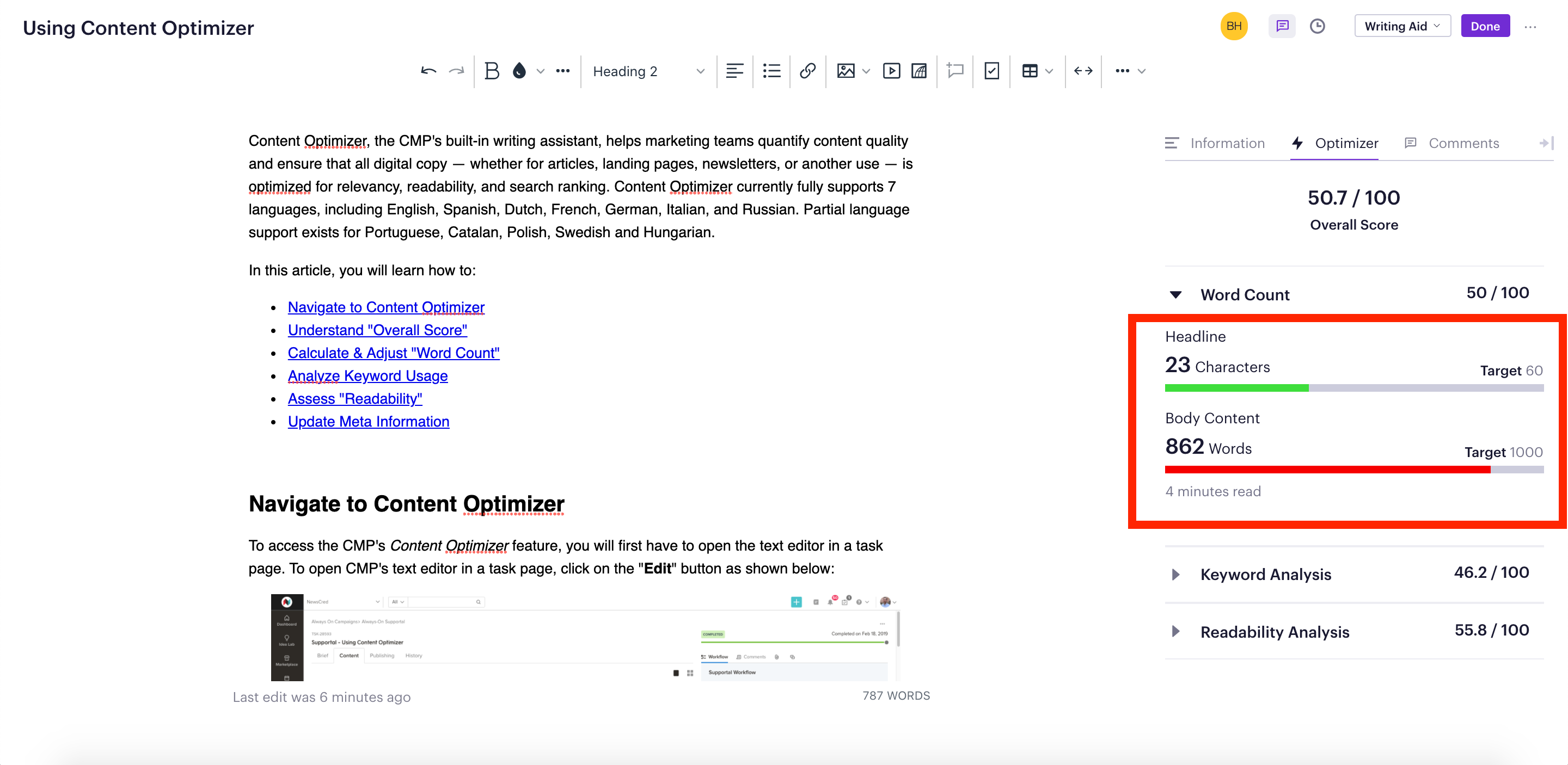 Based on the word count target entered, a progress bar comprised of three colours (red, yellow and green) will be displayed. This is calculated as follows:
Red = 0% to 30%
Yellow = 31% to 69%
Green = 70% and above
Analyze Keyword Usage
Under the "Keyword Analysis" section, users are able to add/delete recommended keywords from Idea Lab. A set of recommended keywords are shown based on Targeted Keywords that have been set up in the instance (for more information, see the "Set Targeted Keywords" section of Idea Lab) as well as those identified with a high opportunity score. Please note, keywords added to the content optimizer will be carried over to WordPress as focus keywords.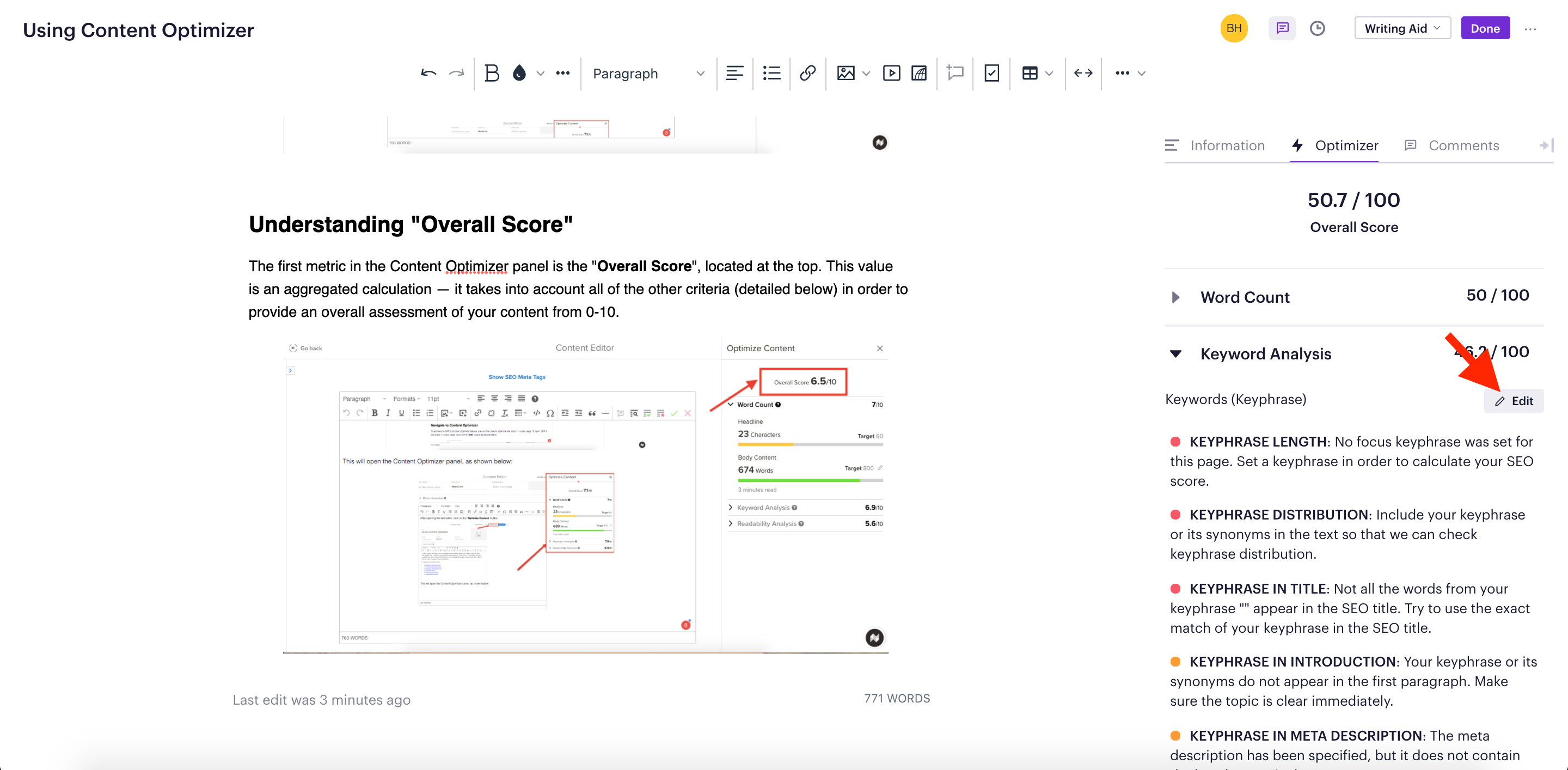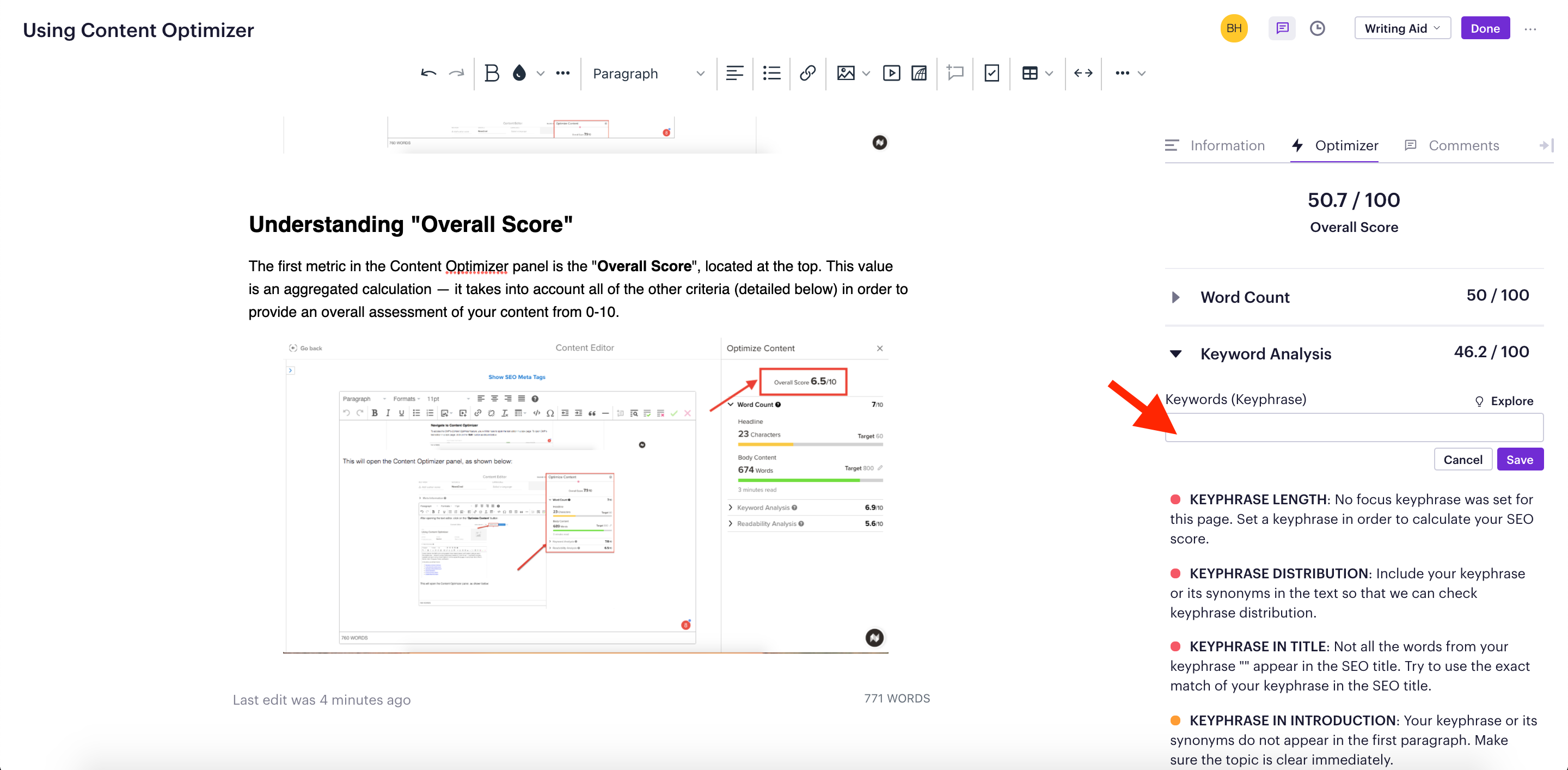 Overall, a score (out of 10) is provided based on keyword usage across the content, meta information and assessments in the following criteria:
Internal Links
Introduction Keyword
Keyword Distribution
Keyword Length
Keyword Density
Keyword StopWords
Meta Description Keyword
Meta Description Length
Outbound Links
Page Title Width
Subheadings Keyword
Taxonomy Text Length
Text Competing Links
Title Keyword
Url Keyword
Url Length
Text Images
Text Length
Url StopWords
Please note: To learn more about "Stop Words", click here.
These assessments and associated recommendations are displayed underneath, color-coded into 3 categories (red/yellow/green). Following these recommendations, user can update the content and score will be improved instantaneously.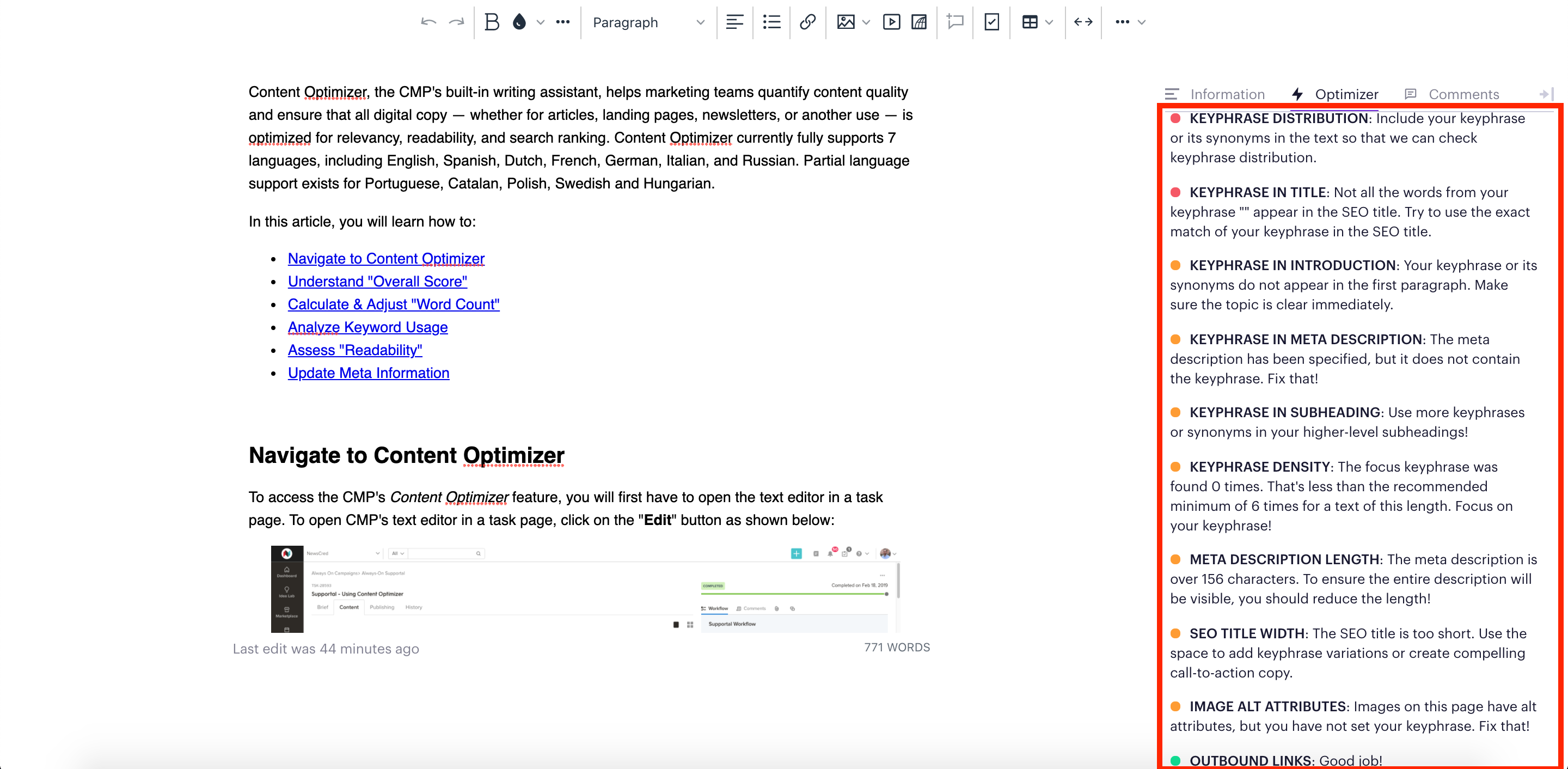 Assess "Readability"
The "Readability" section evaluates the ease-of-reading of your content, based on the Flesch-Kincaid readability recommendations.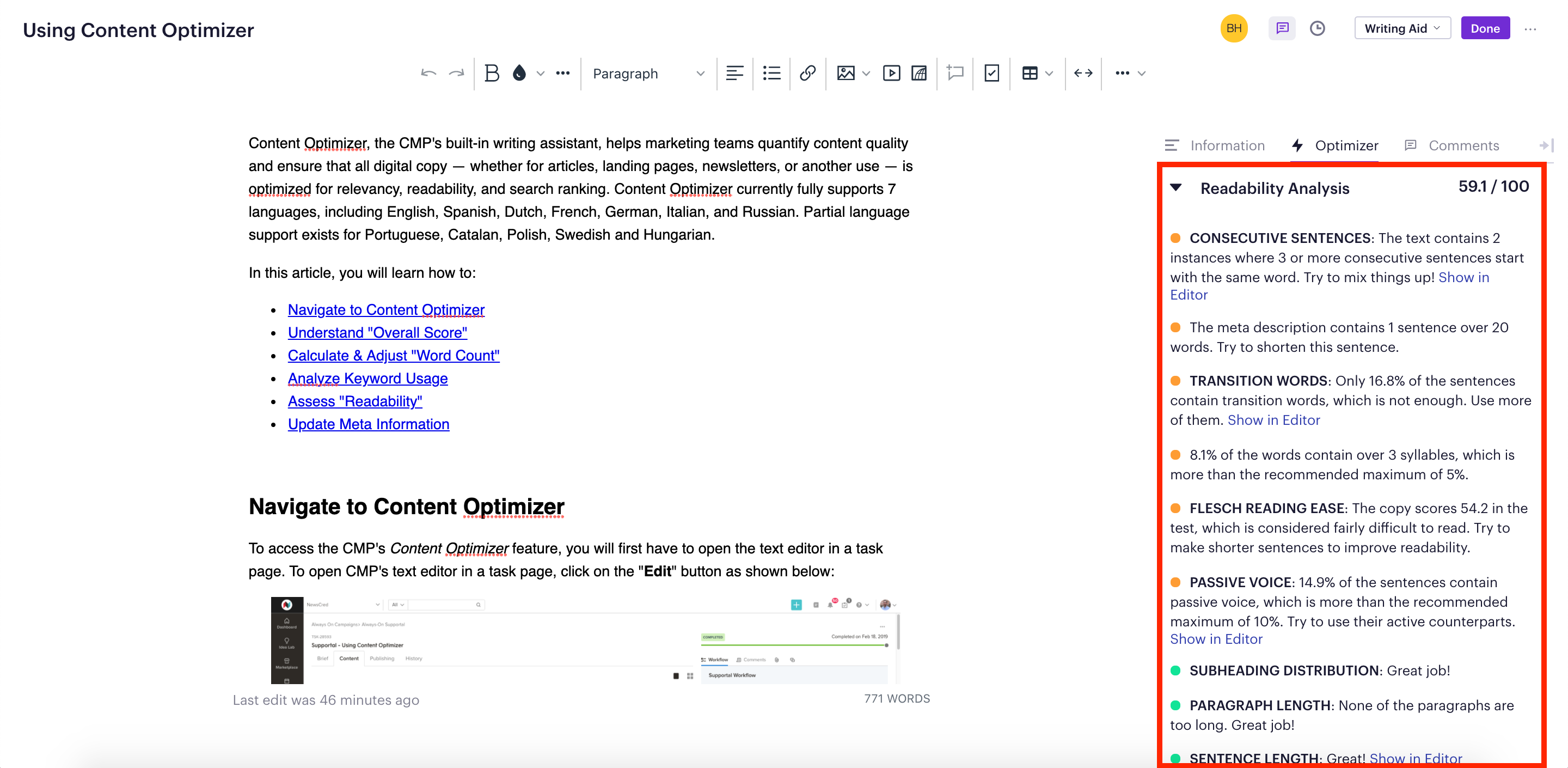 As outlined above in the "Readability" section, the recommendations are color-coded into 3 categories (red/yellow/green), to indicate critical areas of improvement.
The following criteria are considered for this assessment:
Flesch Reading Ease,
Paragraph Length,
Passive Voice,
Sentence Beginnings,
Sentence Length In Description,
Sentence Length In Text,
Subheading Distribution Too Long,
Text Presence,
Transition Words,
Word Complexity
Update Meta Information
This can be accessed under the "Information" tab. A user can further optimize them based on the recommendations from Readability and Keyword Analysis section. Upon completion, this information will be passed on to the CMS and/or feeds the content is scheduled to be published.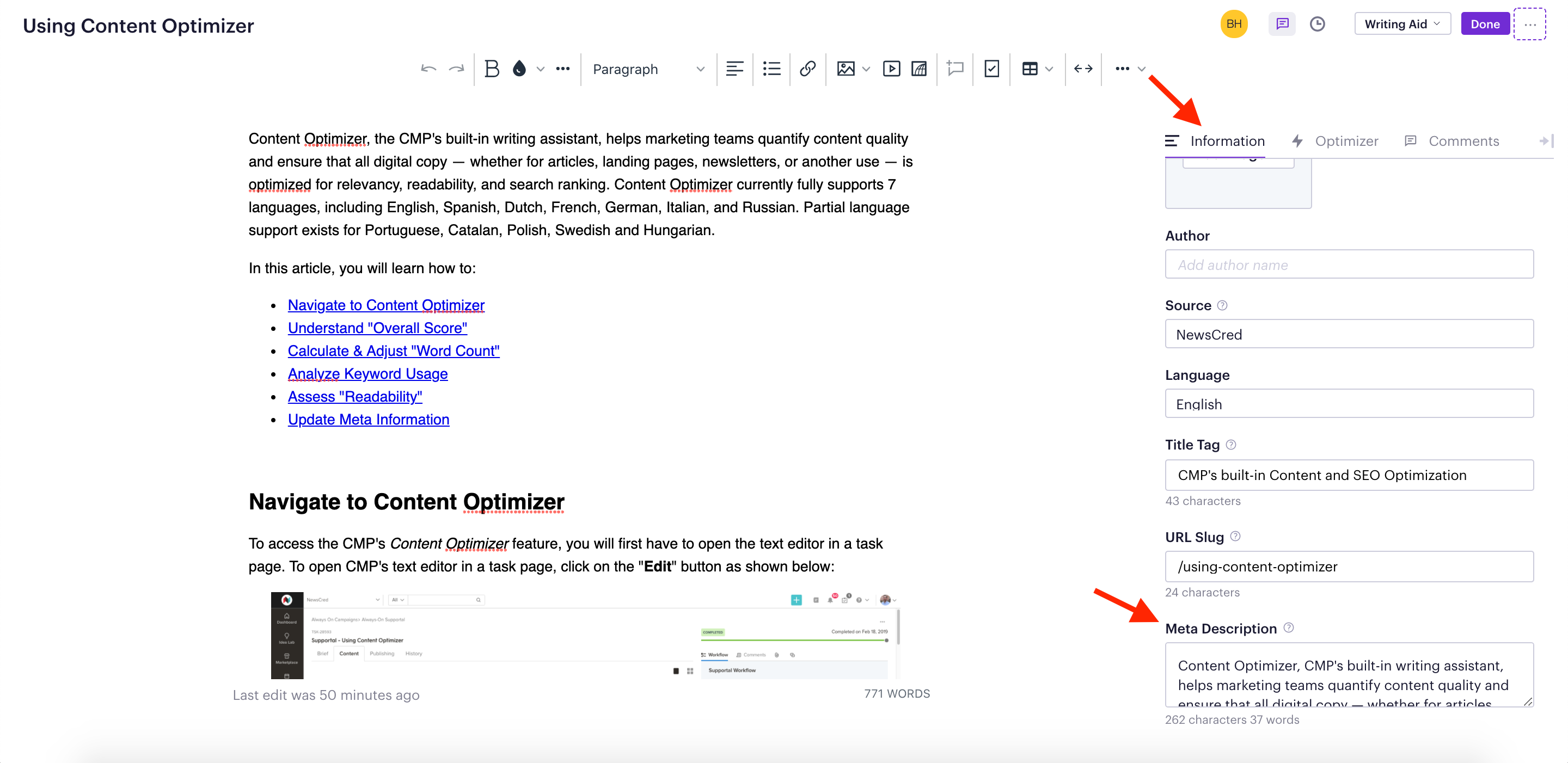 The three meta fields listed below. While the CMP will auto-populate these fields, a user may update the text based on the assessment and suggestions provided in the Readability and Keyword Analysis sections. Note that each sections keeps track of character and word count.
Title Tag. This is how the title of your website (where the content is published) will be shown in a search result. By default, it is populated with

the title of the article.

Meta Description. This is the snippet description of your content that will be shown in a search result. By default, it's populated with the first paragraph of the article.
URL Slug. This is the URL your content will show in search results.
Please feel free to reach out support@welcomesoftware.com for any further assistance needed.