With Experiment Collaboration, a hypothesis captures all the requirements, workflow, collaboration, data, and analysis for an experiment in one place.
Hypotheses enable teams to work effectively through Optimizely Experimentation. By tracking a hypothesis, a whole team can collaborate across the process of developing and executing an experiment: from a new idea in the backlog to a complete experiment with recorded results.
The following guides you through setting up Experiment Collaboration to manage your experimentation program.
Invite users and assign roles
To get started with Experiment Collaboration, you must invite users and assign them roles.
Roles – Dictate which modules users can access and which activity they can create.
Permissions – Determine which activities or assets users can interact with, regardless of their role.

Types – View, Comment, and Edit.
The default permission is set to View All. Permissions also apply to teams. Assigning a user a workflow gives them Edit permissions to the task.
| Standard role | Seat limits | Modules you can access | Creation |
| --- | --- | --- | --- |
| Experiment admin | 20* | All | Hypothesis, Work Request |
| Experiment Creator | 20* | All | Hypothesis, Work Requests |
| Guest | Unlimited | Requests | Work Requests |
* Users counted from a separate pool of seats that is not shared with Experimentation. 20 are included but you can purchase additional seats.
Configure a brief template
The next step is to set up a brief template. Brief templates use fields to provide users structure and a consistent experience.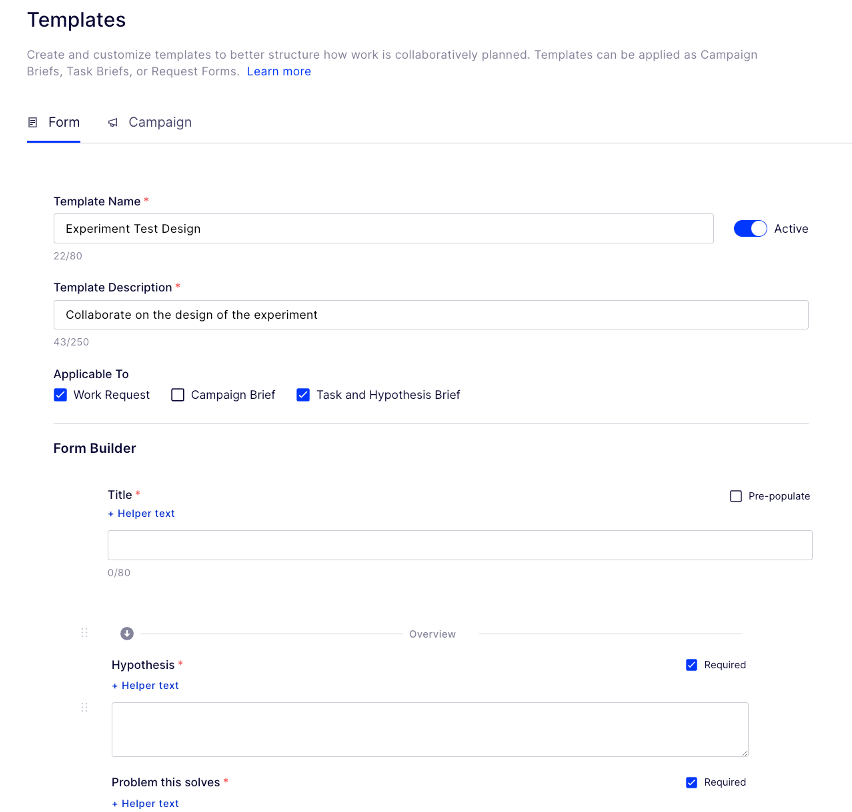 Fields represent the metadata of the platform. You can reuse them to filter through hypotheses and activities. To get started, consider:
Which fields you would apply to your main program.
Which fields you would apply to your deliverables or other tactics.
Which fields would help you filter your activities and run reports. Think about how you want to organize your data.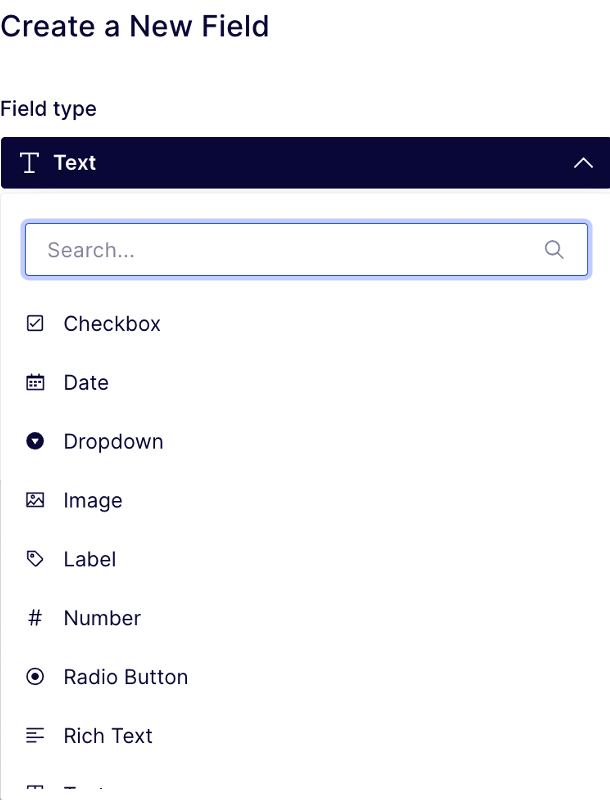 For more information on brief templates, see Manage hypotheses.
Configure a workflow template
Next, configure your workflow template. Workflows offer teams a structured, yet flexible process to ideate, design, approve, and launch experiments. Consider the following when configuring your workflow template:
The activities you need to do to launch an experiment.
The activities you do to conclude and share experiment results to other stakeholders.
If you have default assignees for certain steps.
The overall duration of each workflow setup.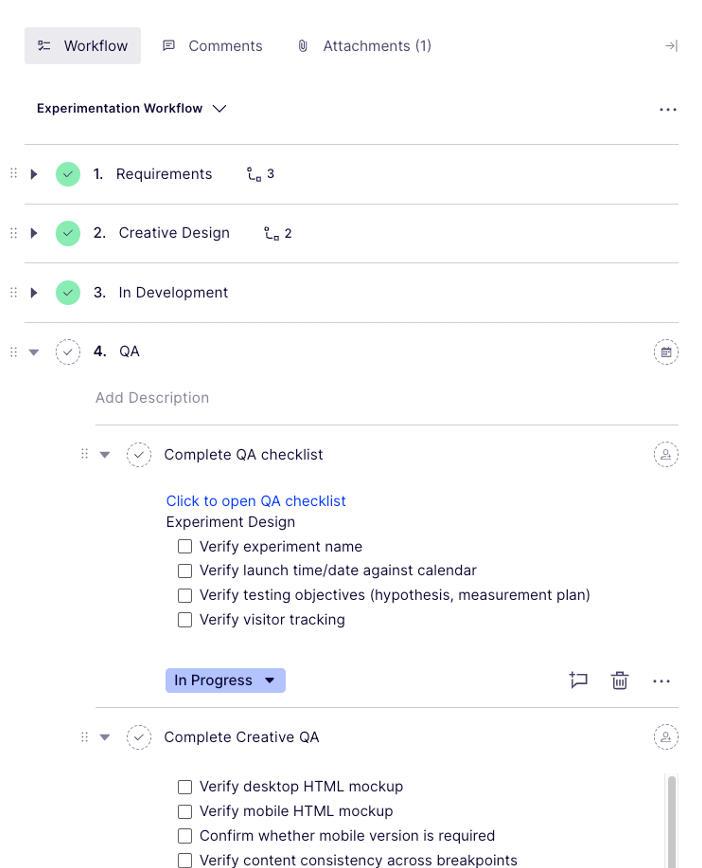 For information on how to manage your workflow dates, see Manage hypotheses.
Collaborate on the hypothesis
The hypothesis is where collaboration and experiment design takes place. Below is an overview of the actions you can do in a hypothesis: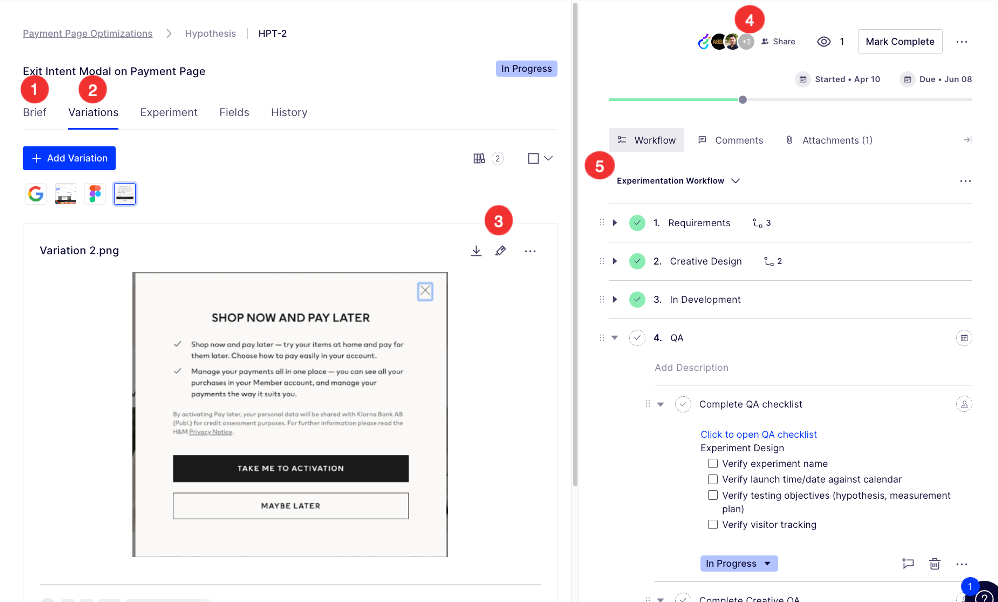 Brief – Assign a brief template to document experiment design parameters.
Variations – Upload variation designs as a screenshot or add a link to Figma, InVision, or Office365 and have the content unfurled.
Proofing and Versioning – When uploading a screenshot or adding a URL of a live webpage, directly provide feedback and comment on the image.
Update permissions and dates – Share the hypothesis with other team members to prompt discussion.
Assign a workflow – Ensure teams are following a repeatable workflow.
Currently, Optimizely offers the ability to manually input your experiment links in Experiment Collaboration. Coming soon, Optimizely will release the ability to seamlessly link your experiments to Experiment Collaboration.
Plan experiment run dates
On the Experiment tab, provide experiment run dates to communicate when you plan to start or stop an experiment associated with your hypothesis. Toggle the Show on Timeline option on to display the run date on the timeline view, or off so that the run date does not display on the timeline view.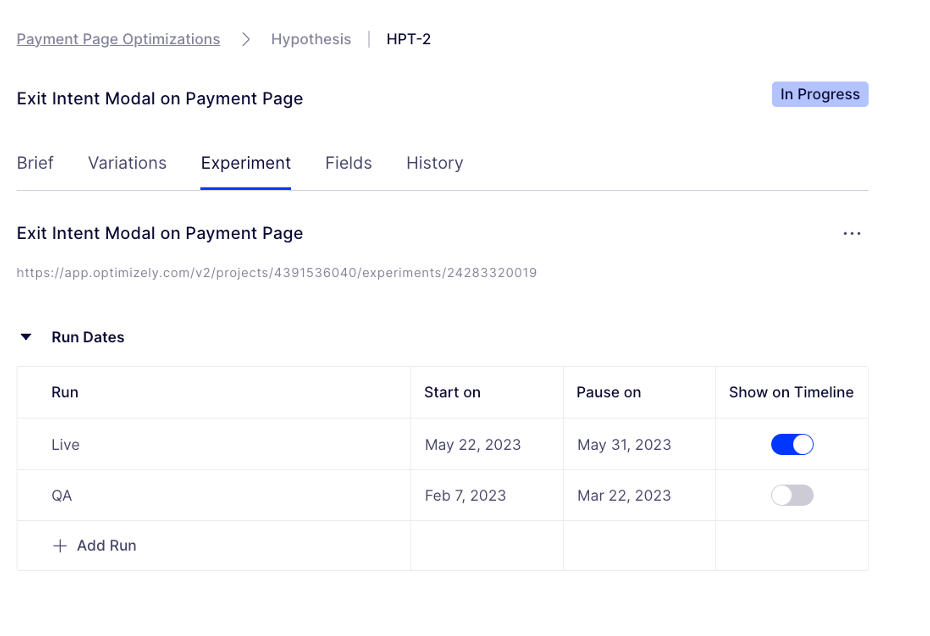 See Manage workflow dates for more information on setting experiment run dates.
Share idea submission forms to crowdsource new ideas
In the Create Work Request module, you can use a brief template to set up an idea submission form. Use this to help centralize and structure idea submissions to ensure each idea contains the appropriate information and goes to the right team for review.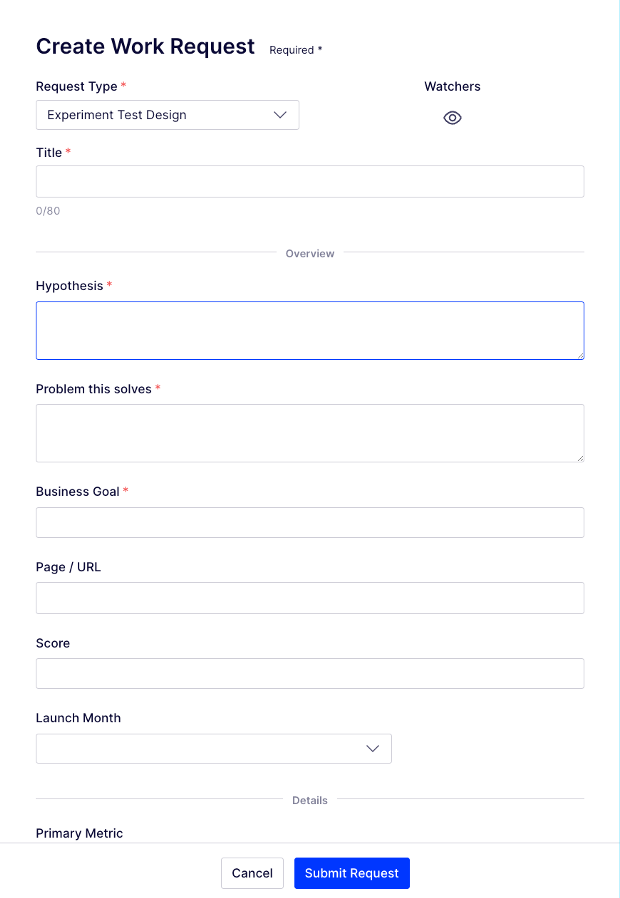 Upon approval, assigned stakeholders can initiate activities and start collaborating.
To build an intake process, define work request templates and routing rules. For more information, see Work requests.
Record results, share insights, and inspire action
You should dedicate a section in the brief to capturing the post-experiment analysis to inspire action and share learnings. You can document action items and assign them to individuals.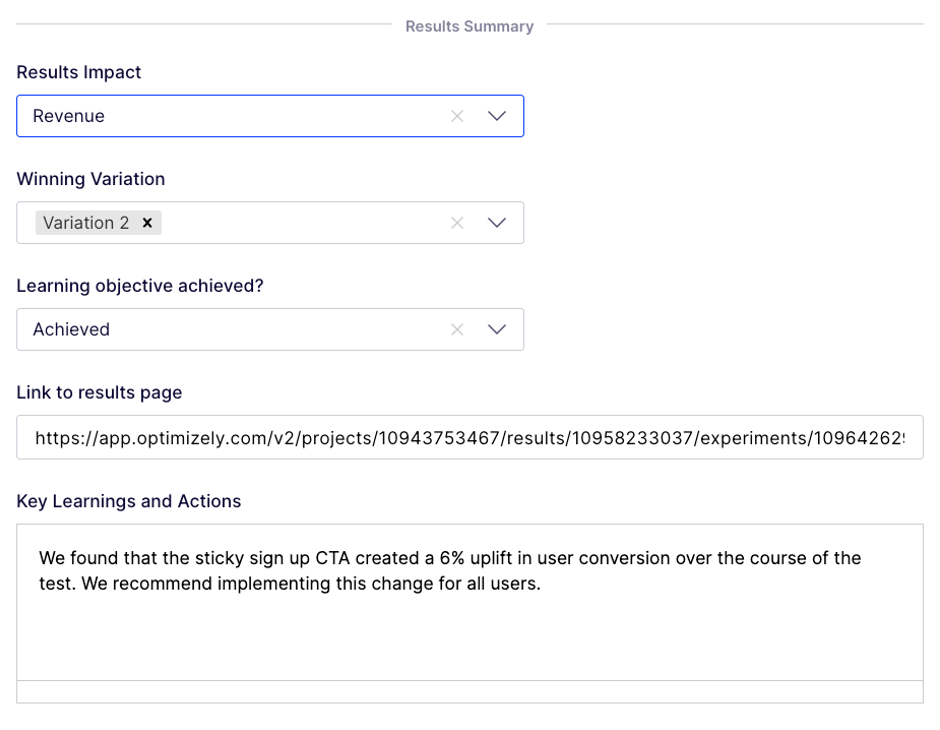 Set up a saved view in the Plan module with interesting result information to set up your own results repository.