Relevant products:
Optimizely Web Experimentation
Optimizely Performance Edge
---
This topic describes how to:
Determine which visitors can be included in an experiment based on certain qualities about them
Create new audiences in Optimizely Web Experimentation and Optimizely Performance Edge or add existing ones to your experiments with the Audience Builder
Build audiences using conditions or custom code
Audiences in a nutshell
Audiences help you show your experiment to a specific group of visitors, based on conditions that you specify. For example, you might want your experiment to target visitors who saw a specific AdWords campaign. Or you might show an experiment to visitors on mobile devices only.
Key tips
What to watch out for
Most audience conditions are not "sticky," except Ad Campaign and New vs. Returning Visitor. Visitors are re-evaluated for that condition every time they return to the page.

A single experiment can have multiple audiences, but be careful. If a visitors meets the criteria for any audiences in an experiment, they can be included in it.

If you want to add multiple audiences, use an "OR" condition. Using an "AND" condition will result in creating one audience with more than one criteria.
In Optimizely Web Experimentation and Optimizely Performance Edge, an audience is a group of visitors that you define based on a set of shared traits, which are called audience conditions. For example, you might group all visitors who saw a certain ad campaign into an audience. Or, you might group visitors in a certain geographical region into an audience.
If you use Optimizely Performance Edge, certain features described in this article are not available to you. Optimizely Performance Edge is a lightweight experimentation product that delivers significantly faster performance than previous versions of Optimizely Experimentation. It does this by relying on a streamlined "microsnippet" which limits the range of available features.
You see this notation
whenever the text describes a feature that is available in Optimizely Performance Edge.
Use audiences to control which visitors are eligible to enter an experiment and which are excluded. When you create an experiment or personalization campaign, you can target it to one or multiple audiences using AND and OR conditions.
Imagine that you're experimenting with a new video banner on the homepage of your site. You decide to exclude visitors on mobile devices from the experiment and include all new visitors and visitors who are in North America. If you have these audiences already, simply add them all to the experiment and specify how they'll be included or excluded instead of creating a new audience that specifically targets these conditions.
Create an audience with the Audience Builder
Choose the Audiences dashboard. If audiences were created, you will see them listed: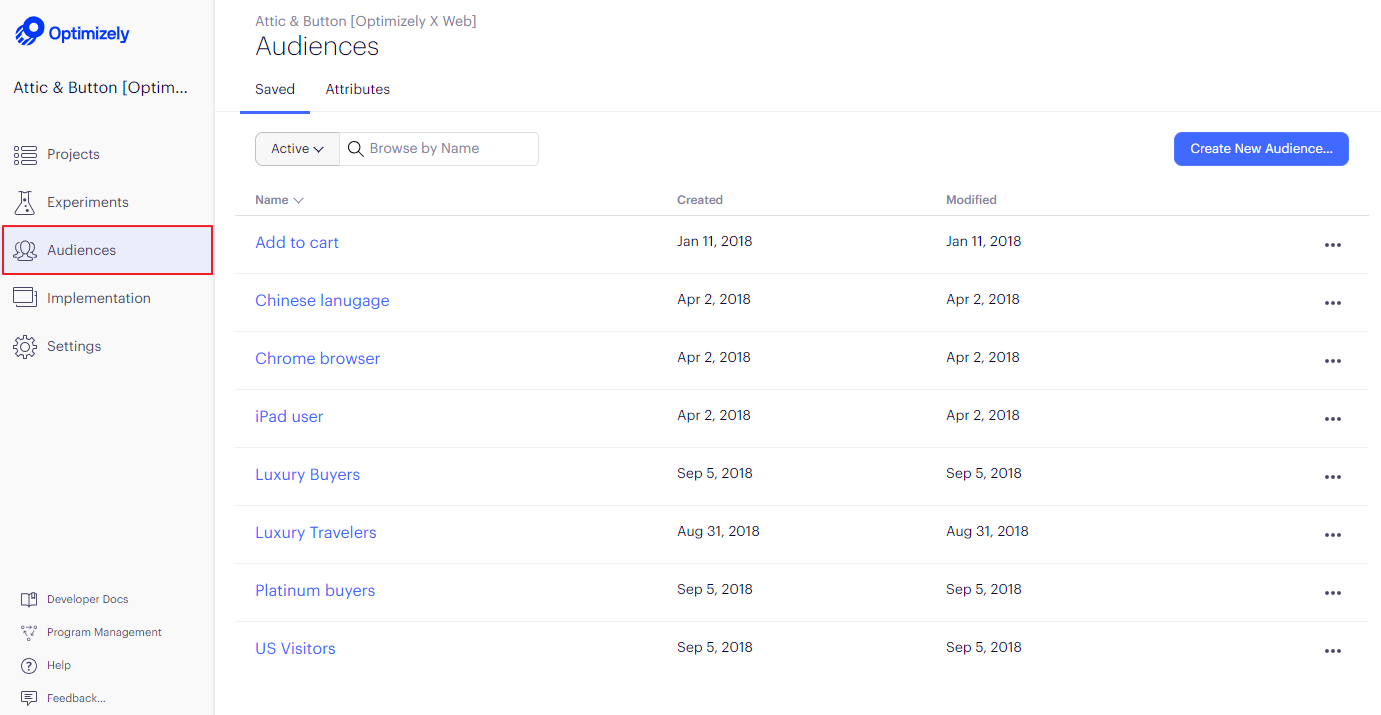 However, if you have not created a new audience before, your Audiences dashboard will look like this:
Click Add an Audience. The Create New Audience view appears where you define the conditions you want your visitors to meet to become part of the audience.
Name your new audience: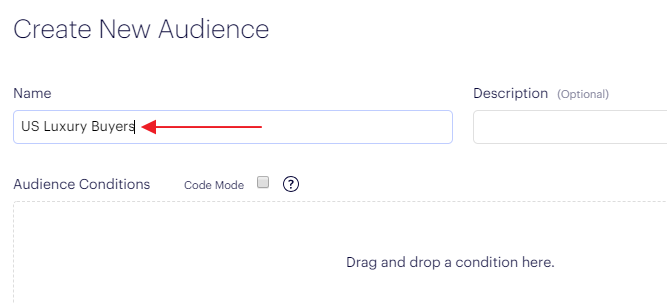 Add conditions
Choose the conditions you want to use to define your audience. Under Conditions, select Standard to display a list of commonly-used condition categories.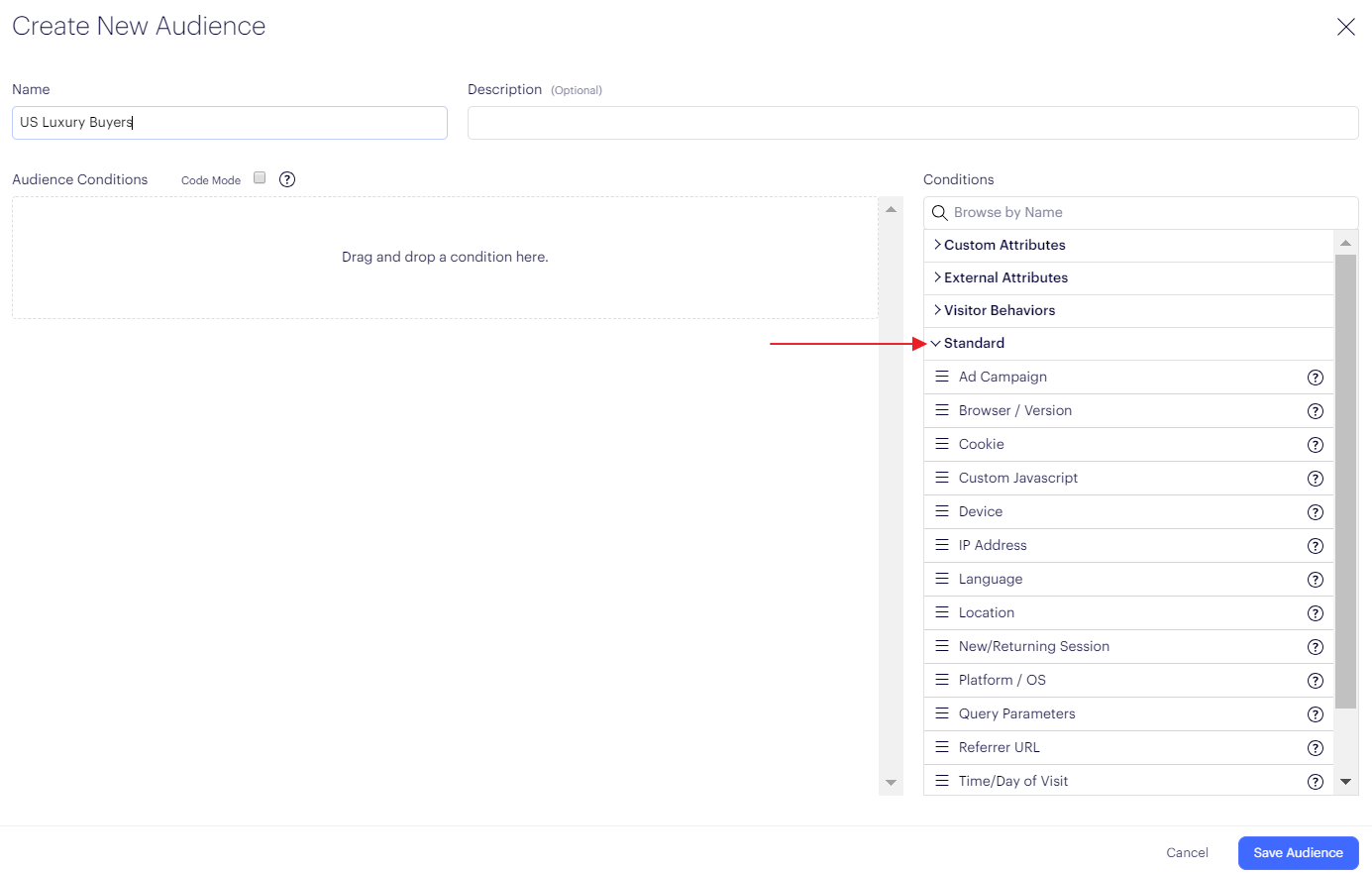 You have a wide range of built-in criteria to work with. You can easily limit the audience for your experiment to visitors who use a specific browser, live in specific areas, or speak only certain languages, for example.
Imagine that you want to create an experiment that will only be visible to visitors who are located in certain cities. To do this, drag Location from Conditions to Audience Conditions, on the left.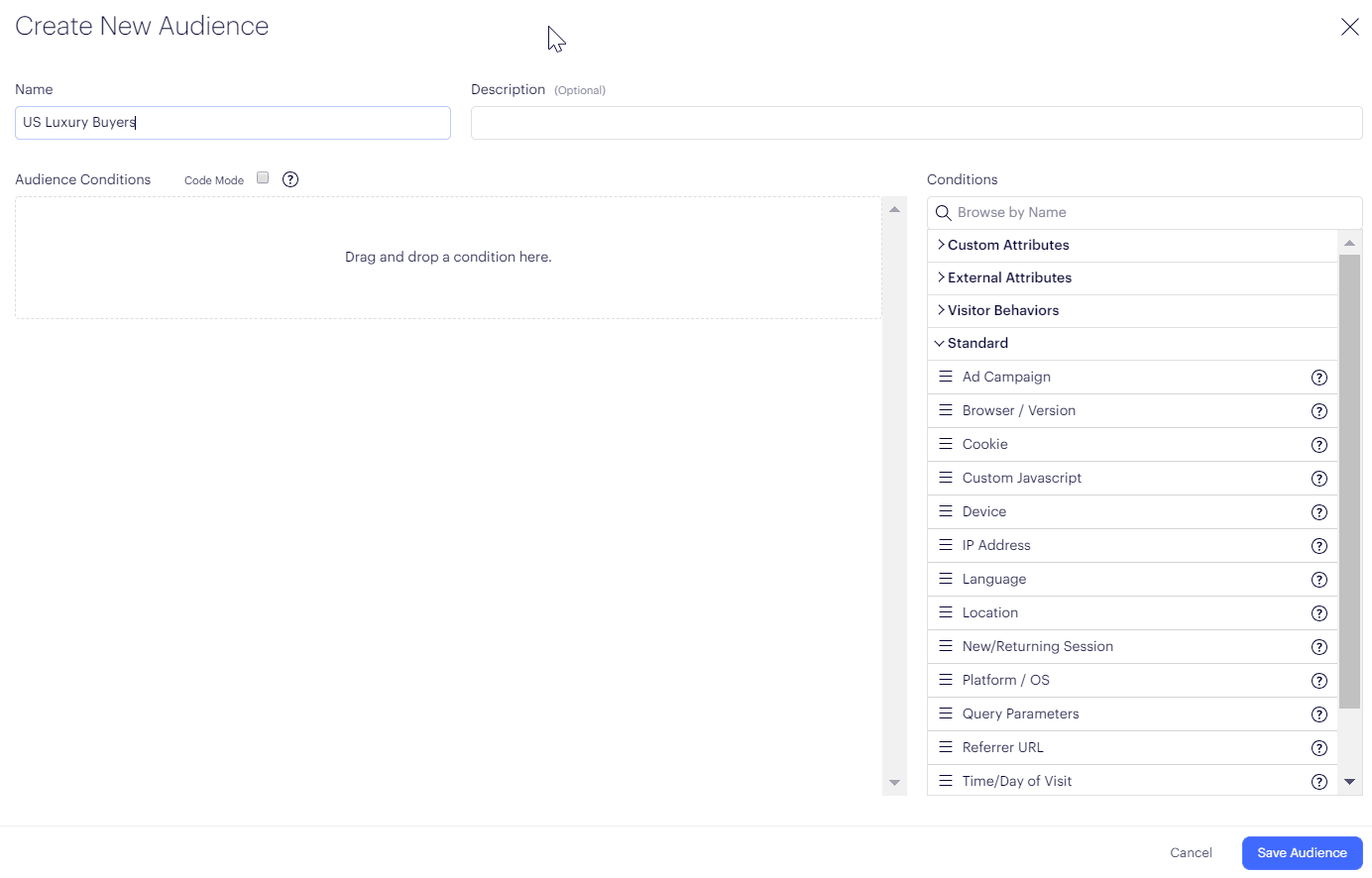 Type in the name of the first location on your list. Locations can be countries, provinces, states or cities. You can add as many as you need.
You can also exclude specific areas from an audience. Simply select "is not in" from the Visitor drop-down list, and add locations as shown above.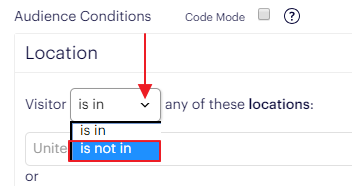 Code mode
If you have particularly complex audience requirements that might be difficult to build with Optimizely Web Experimentation's drag-and-drop interface, you can create them by adding custom JSON in the Audience Conditions box. To do this, check Code Mode.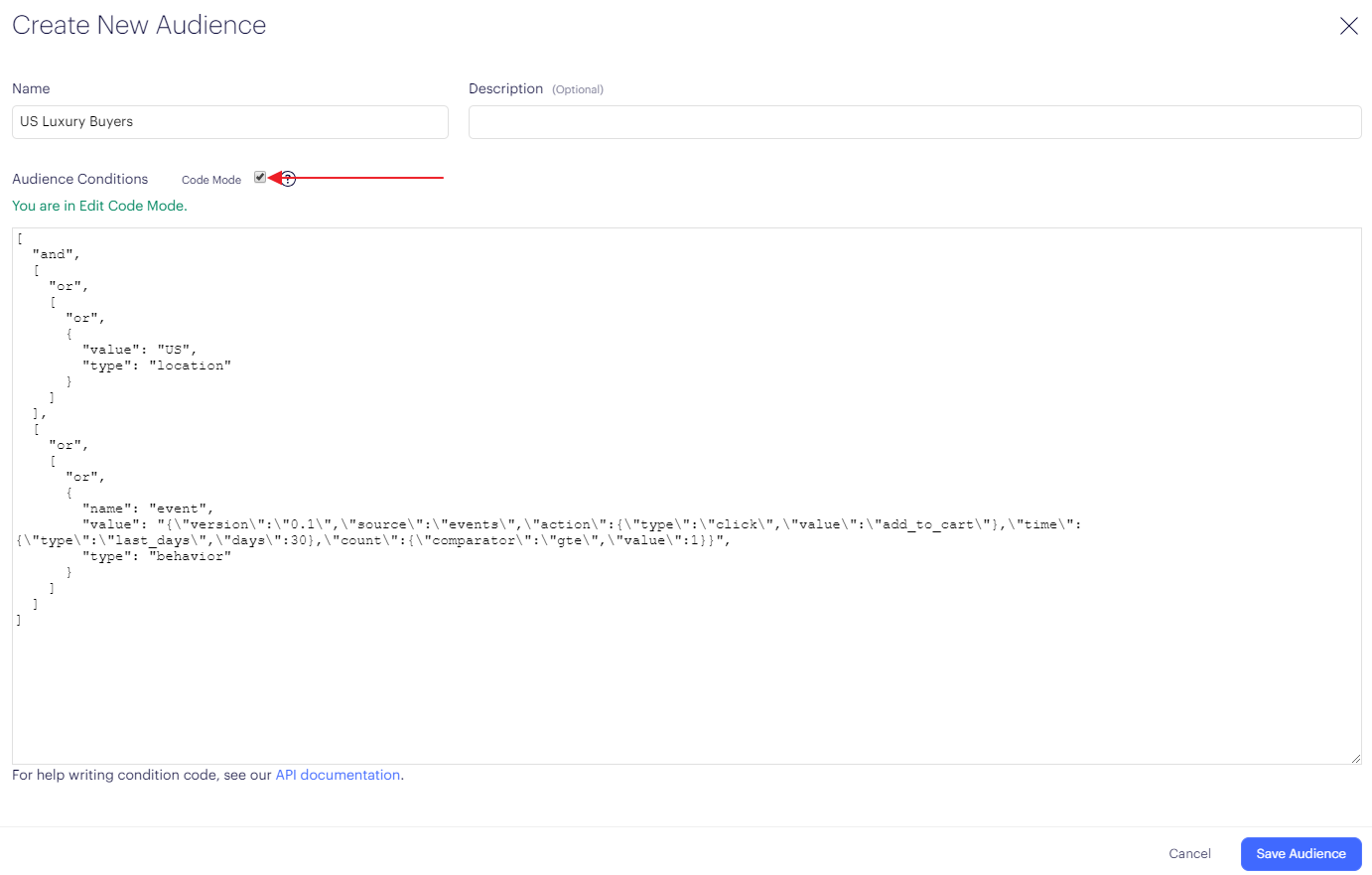 Type or paste your custom JSON in the code box.
When you finish specifying the conditions for your audience, click Save Audience.