General considerations
Use contacts who actively signed up to receive your promotional messages. This is legally required and provides the best delivery rates, as you would expect the best user engagement from them.
Avoid recipient sources such as purchased lists, lead generation, or affiliate marketing partners, as the quality of contacts is often poor, legally non-compliant, and negatively impacted by lack of concrete opt-ins and questionable acquisition methods.
Clear expectations from the beginning
Try to see things from potential recipients point of view, when they provide their contact information. Do recipients understand what kind of promotional messages you will send? Lack of clarity can lead to poor open rates and spam complaints.
Let the recipient actively manage preferences and desired frequency, for example by means of a preference center.
Double opt-In
A double opt-in process is the only way to protect your database from unauthorized third-party registrations, as recipients are actively verified by clicking the activation link in their email account. Spam traps can be prevented from being introduced into the database as no confirmation click is expected from them. Storage and documentation of the complete registration data as required by the GDPR legislation can only be guaranteed by a double opt-in process.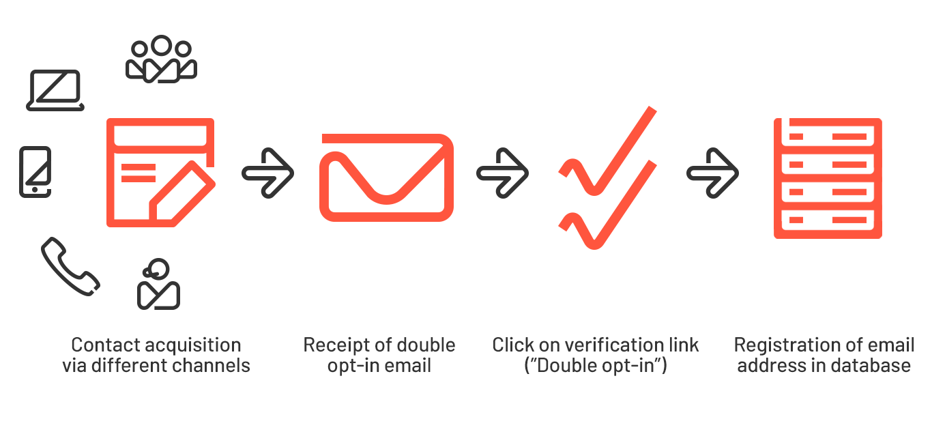 Registration forms with Captcha
Captcha is the best way to protect your registration forms against misuse. Especially in the age of bot and list bombing attacks, it has become indispensable. Integrating a Captcha protects your database from malicious addresses and the systems involved against DDOS attacks.
Your recipients will understand this as a confidence-building security measure.
User-friendly unsubscription process
An easy-to-find unsubscribe link should be present in every promotional message. A recipient's opt-out request should be respected. You should allow the unsubscription from any marketing communication through a maximum of two clicks: on the link itself and, if necessary, a second time in a preference center.
Refrain from requesting additional logins or sending unsubscribe confirmation messages, as these may lead to frustration and spam complaints.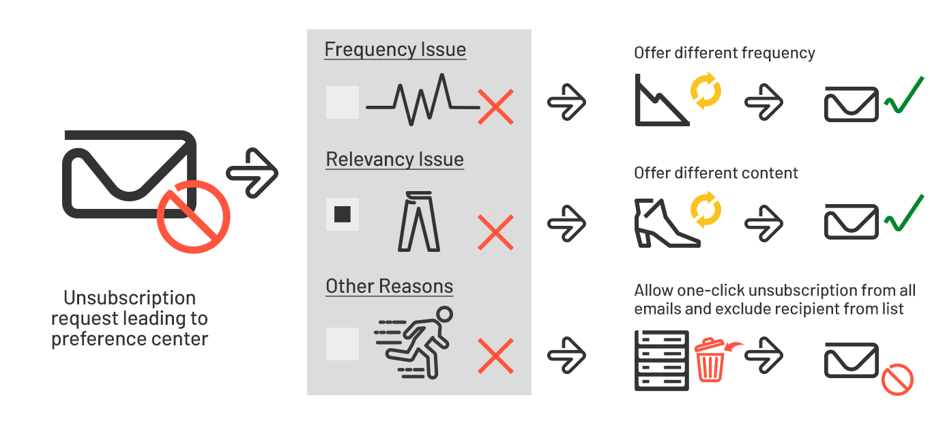 Best practices for putting together the opt-in message
When composing a professional opt-in message, take note of the following:
Inbox
Every message has certain content elements that your recipients will notice at first glance in their inbox. You should draft your opt-in messages in a way that your recipients know what they are dealing with:
Clear sender identification (email address and sender name)
Clear, free of advertisements and enticingly formulated subject line

Example: Renew your newsletter subscription now.
Example: Please confirm your subscription to the new [Company] newsletter now.

Pre-header with additional subject line and link to online version
Contents
The content elements of your double opt-in message should entice the recipients to click:
No advertising content
The confirmation link must be clearly recognizable even when images are deactivated
Branding: logo placement at most (ideally without linking)
Clear formulation of the message objective but without the character of an advertisement
Best practice: It should be understandable from the text that the recipient is being asked to reconfirm the subscription to the newsletter
Stress the option to unsubscribe at any time in every message
3-4 confirmation links should be placed (visible and clearly identifiable), for example within the text of the message and as a button
No links to social media channels
No unnecessary links but rather a clear focus on the confirmation link
Clear and enticing formulation of the confirmation link: "Yes, I want to continue to receive the newsletter."
Explanation of what happens if the confirmation link is not clicked
Reference to the source of the original subscription
Footer
Provide information about the company and data protection:
Full legal imprint
Reference to data protection
Link to the data protection provisions found on your homepage
Mention the addressee's email address in the footer