The subject line generator (Beta)
Overview
You can generate subject lines automatically via GPT-3 by OpenAI. This works directly in the Optimizely Campaign user interface. OpenAI will not use your input in the subject line generator to train their language model.
Automatically generating a subject line
Prerequisites: You see the email editor.
In the top left, click on Sender, subject, attachments.
On the right-hand side, in the area Subject, click on (Generate subject lines with ChatGPT).
→ The menu Generate subject lines with ChatGPT is displayed.
In the input field, enter a ChatGPT prompt for creating suggestions for subject lines (see advice below).
In the field Add matching emojis, select if you want emojis in the subject lines.
Click Generate.
→ Suggestions for subject lines are displayed. This may take a few seconds.
Select one of the suggestions.
Click Select.
→ The selected subject line is added in the email editor.
Advice for writing good GPT prompts
GPT can be a valuable tool for texting, but you still need to write good prompts to get good results. In the input field, describe the event that is the subject of your message. You don't need to mention that you want to get a subject line for an email. If the provided texts do not fit your requirements, try the following adjustments in your prompt:
Use simple, natural language in a complete sentence.
Be precise, for example, specify percentages for discounts and time periods of promotions.
State the style you want, for example, serious or witty.
If necessary, explicitly state the language you want the subject line to be written in, for example, with the instruction "Write a German text!"
The following screenshot shows the subject line generator in action. The full prompt reads:
We are holding a sale and giving 20% discount on shoes in our online store until the end of July.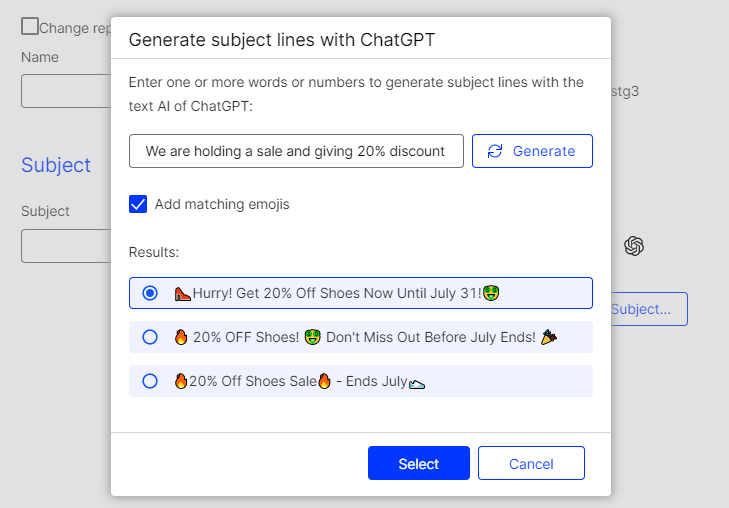 Prefix or suffix subject line
To enable this feature, contact customer support.
This additional feature automatically adds a prefix or suffix to the subject line of any mailing. For instance, the suffix "TEST" may be added to each test email subject line.