This optional feature lets you exclude mailing recipients who are not part of the global blocklist. The global blocklist is always applied.
You can create multiple custom blocklists and fill them manually or via CSV data import. Then, use a Block node to add custom blocklists to a campaign in Smart Campaigns or to a transactional mail. As a result, you specify which recipients besides the global blocklist should not receive a mailing.
Creating custom blocklists
Open the Optimizely Campaign menu and select Blocklist > Custom Blocklists.
Click Create….
Enter a name for the custom blocklist.
Select one of the hash algorithms supported by Optimizely Campaign. If the entries in your blocklist do not use hash algorithms, select None.
As long as your custom blocklist is empty, you may change the hash algorithm anytime.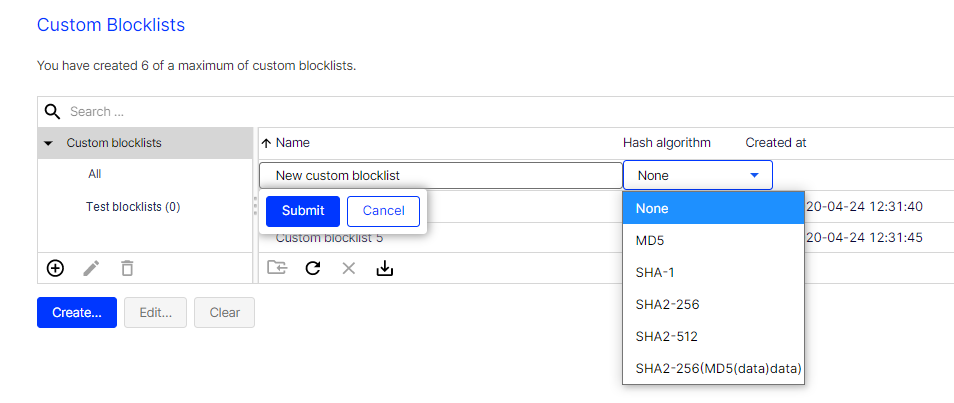 Click Submit.
You can delete all entries in a custom blocklist by clicking Clear.
Adding and editing recipients manually
Open the Optimizely Campaign menu and select Blocklist > Overview.
Under Blocklist Selection, click Custom Blocklist and select the blocklist you want to edit.

Edit the custom blocklist by clicking the Add…, Edit… and Delete button. For more information, see Blocklist overview.
Importing blocklist entries from a csv file
The CSV file's hash algorithm must match the hash algorithm of the selected blocklist. If not, an error message is displayed.
To import entries from a CSV file into a custom blocklist, perform the following steps:
In the menu bar, select Blocklist > Import.
Under Upload, click the Choose File… button and select a CSV file on your local hard disk.
Click Import Options to upload the file.
Under Blocklist Selection, click Custom Blocklist.
Select the custom blocklist to which you want to import the CSV file.
In the section Import Type Selection, select if you want to add the new entries to the existing ones or empty the selected blocklist before importing.
In the section Character Encoding and CSV Options, under Specify the Hash Algorithm Used in the Import File, select your CSV file's hash algorithm. If your CSV file entries use no hash algorithm, select None.
Optional: change other CSV file options as necessary (see Import blocklists).
Click the Reason button. You can optionally enter a reason for blocklisting the imported entries. The reason applies to all imported entries.
To start the import, click Finished.