Welcome Support is available to assist customers with questions or concerns related to our product. For optimal support, submit a detailed service request using the following instructions. When you provide your information and submit your request, you can expect a response from a customer service representative within 60 minutes who will assist and update you until the issue is resolved.
In this article, you will learn how to:
Initiate a service request
Contact support@welcomesoftware.com to initiate a service request. You can also use the Support widget in the top navigation of the Content Management Platform (CMP), as shown in the following image.

A message box will open in the bottom, right-hand corner of your screen: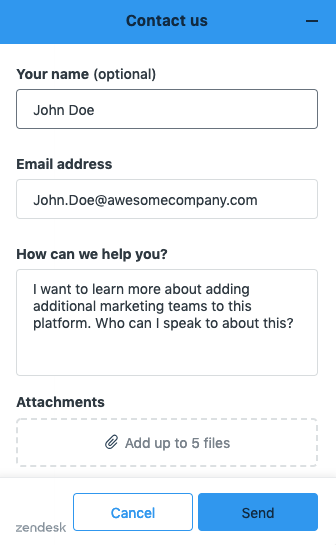 Include necessary information
Include the following information with each service request:
A description of the problem you are experiencing
Area of the CMP that the issue is related to (such as a task, analytics, publishing, and so on)
URL of the page where you encountered the issue
Steps to reproduce the issue, including screenshots if possible
Users affected and business impact of the issue
For Welcome developer information, see the Welcome Open API and Webhooks developer guide and the Welcome Open API developer reference.