Idea Lab lets you create and discover content that resonates with your audience. Idea Lab uses SEO and social share data to give you recommendations and insights, to rank high in search results, answer relevant questions people are asking, and build an audience more likely to convert.
See Explore competitive domains for information about getting the most out of Idea Lab.
See Metrics glossary for a better understanding of the metrics that can help you make informed decisions.
Explore targeted keywords
Click Idea Lab in the left-hand sidebar. The Keywords with the Greatest Opportunity section displays.
Your programs' targeted keywords displays key metrics for keywords. Click a keyword to research deeper by searching a topic.
Similar to Recommended Keywords, you can click options (...) by hovering over a keyword to display relevant licensed content.

To explore a topic, select Topic and the country you want, and enter a topic. To explore a domain, select Domain and enter a domain.

Set targeted keywords
Click Manage Keywords to set targeted keywords from the Strategy page. (You also can access the Strategy page from your avatar menu.)

After you add your targeted keywords, the Idea Lab Home page is populated with recommended additional keywords to use that offer the best opportunity for ranking higher in searches and driving traffic. The opportunity ranking for these keywords is calculated from the search volume and CPC data.
Explore keyword options
Click a keyword to explore it with a topic search. The option menu (...) displays the following options.
Research Keyword – Expand your knowledge of the selected keyword by conducting a search within Idea Lab.
Explore Licensed Content – Search for licensed content in the Marketplace to supply your content pipeline.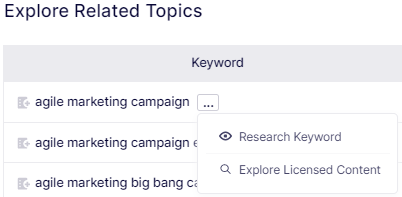 View keyword rank analysis
Set competitor domains in the Keyword Rank Analysis section.

To set up competitor domains, go to Strategy page > Competitor Information section. Enter the name and URL of up to 4 competitor domains. Also ensure that your own domain is set up.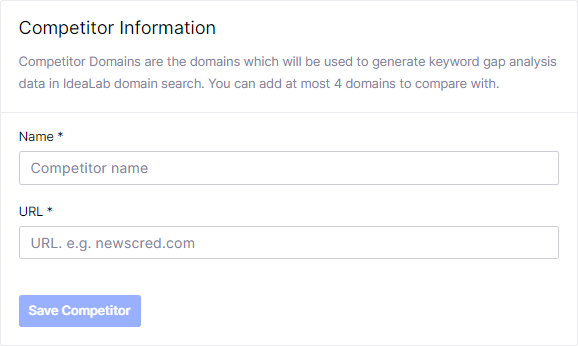 After set up, you can view the Keyword Rank Analysis table for a snapshot of how you rank for certain keywords versus your competitors.
Add or remove competitors (up to 4 at a time) to narrow or broaden your comparisons.
Customize Columns lets you view CPC and Opportunity and other information.
Filter options to change the view of the table to aid your analysis. By default, the table is sorted by highest search volume of the keywords.