Note:
You must have Optimizely Journey Orchestration (OJO) to send campaigns through the following channels: Email, Web Push, App Push, SMS, MMS. For questions about OJO, reach out to your customer success manager or
support@optimizely.com
.
Prerequisites
In order to start working with SMS, you need to have App Directory enabled. Contact your Customer Success Manager to get started.
You also need to have your Optimizely phone number for SMS configured. To check your phone number, go to App Directory > SMS > Settings > Configuration. If you do not see a number, contact your Customer Success Manager.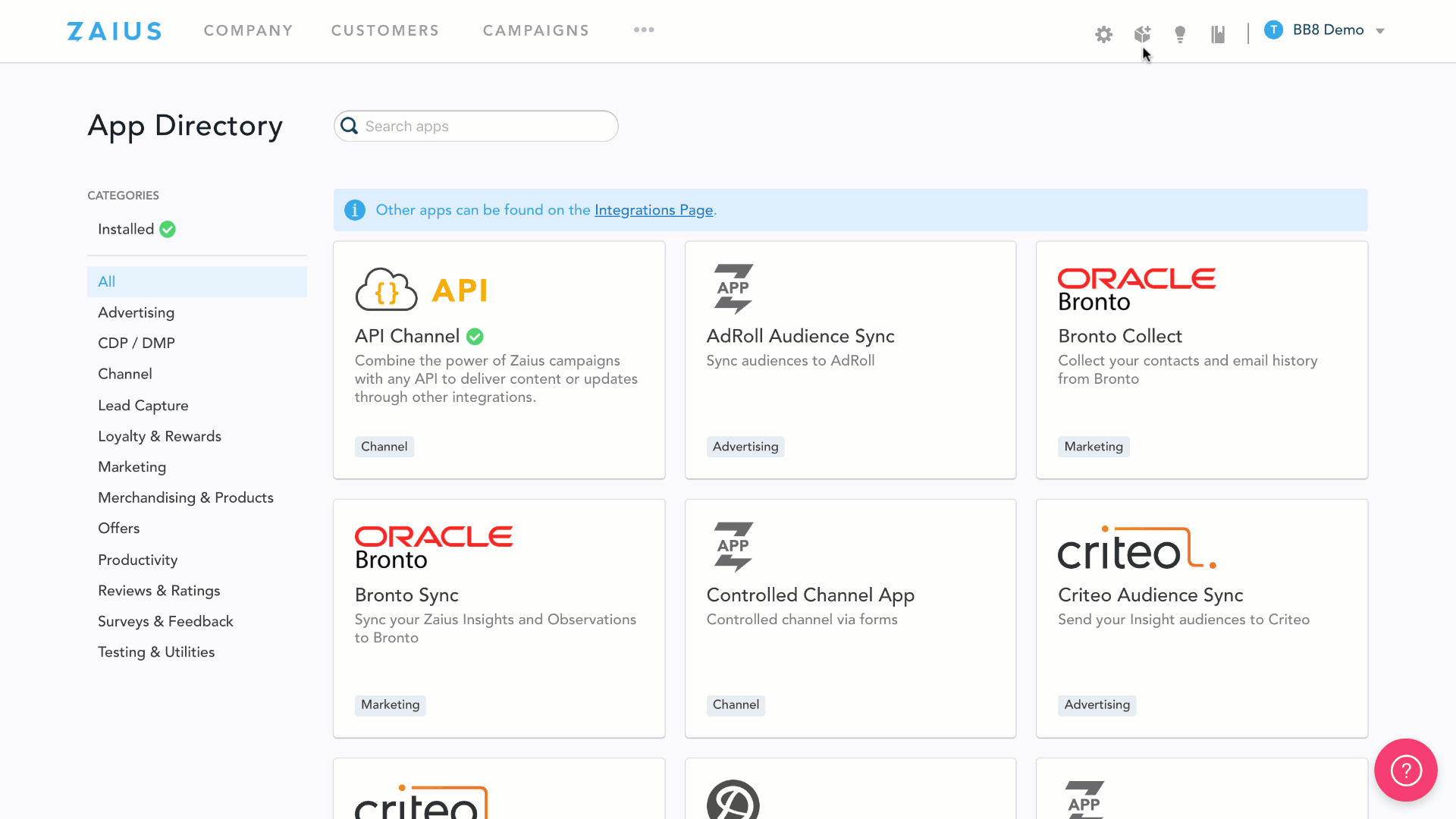 Once you have access to App Directory and your phone number has been generated, you can start using SMS in your campaigns.
Create a new campaign and choose SMS from the list of available channels.

Design your message and click preview.
The app will allow you to create and preview SMS campaigns. Contact Customer Support to complete the SMS setup in order to start sending live messages. Once your account is completely setup, the settings tab of the SMS App will look like the following:
Your toll-free number will be shown on this form. All your SMS messages will come from this number.
This means you are ready to start sending test messages and live campaigns!
In order to send an SMS message to a phone, you must collect consent from your customer to be compliant with TCPA and the CAN-SPAM act. Make sure you follow best practices when you collect your customer's phone number and consent. By providing consent data to Optimizely Data Platform (ODP), you can ensure your customers do not receive any unexpected messages.
The SMS protocols at the telephone carrier level have limitations. 160 characters per messages for standard messages, or 70 characters per message if your message contains non-latin characters, such as emojis or characters from Asian or Eastern European languages. Most phones will re-combine the messages so it is not often noticeable by your customer, but each message segment is billable, so it is important to be aware of your message lengths.
When previewing an SMS campaign in the ODP Campaign Creator, you can see the estimated message count below the preview: