This integration enriches your customer interactions in Gorgias with Optimizely Data Platform (ODP) Insights and Observations. Provide your customer support team with relevant customer data, including order likelihood, discount usage, total revenue, and more, right next to a customer's support ticket.
The Gorgias Sync app creates properties in Gorgias for your ODP Insights and Observations on customers, including:
Time to next order
Likelihood to purchase
Discount usage
Engagement rank
AOV percentile
Last purchased product
Any field that lives on the Customer object
The integration synchronizes attributes to Gorgias once a day for contacts already in Gorgias.
Configure Gorgias Sync
In ODP, go to App Directory > Gorgias Sync > Settings.
Complete the API authorization form with information from your Gorgias account (under REST API).

Click Authorize.
Under Configuration, select the fields you want to sync from ODP.
Click Save > Start Sync. Your ODP data appears in the relevant Gorgias tickets after a few minutes.
Following the initial sync, ODP insights and observations are updated nightly in Gorgias.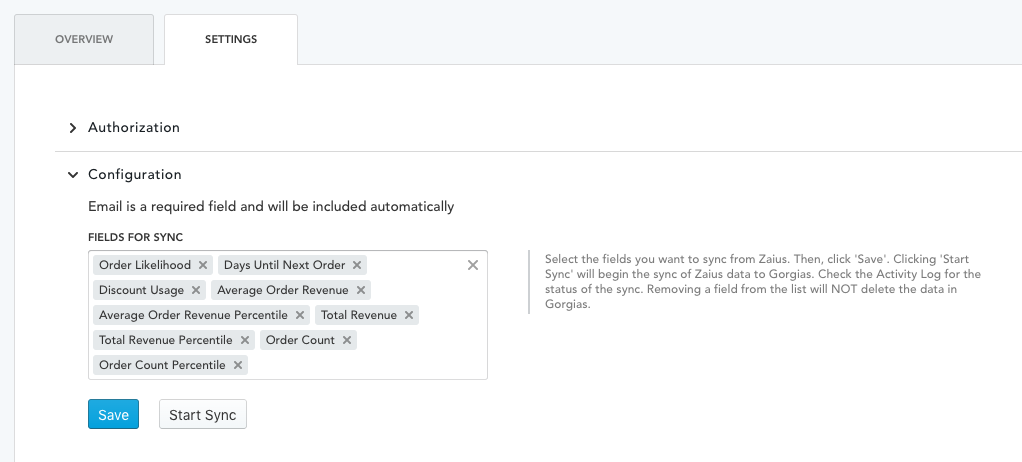 Your customer support team can see ODP insights and observations side-by-side with a customer's ticket.