Lifecycle marketing builds increased interest and purchasing incentives through campaign emails, trigger mails, and themed mailings. It provides added value by supplying the customer with relevant and helpful purchase or reservation information.
For example, while booking a flight, provide recommendations for hotel, car rental, area restaurants, and other activities. On returning from the trip, offer a photo album that can be purchased online to use for vacation snapshots.
To use cross- and upselling offers, set up post-click tracking in your web shop to provide the following data:
Which product did the customer purchase?
Was the purchase completed?
Arrival and departure dates
Optionally, the value of the order
Allocating target groups and mailings
To later select the correct mailing with corresponding hotel and rental agency recommendations, allocate a target group to each destination. The target group definition would be: Addressee generated a post click in the category flight with the value Mallorca / Grand Canary Islands / Sardinia / Athens / Antalya / and so on.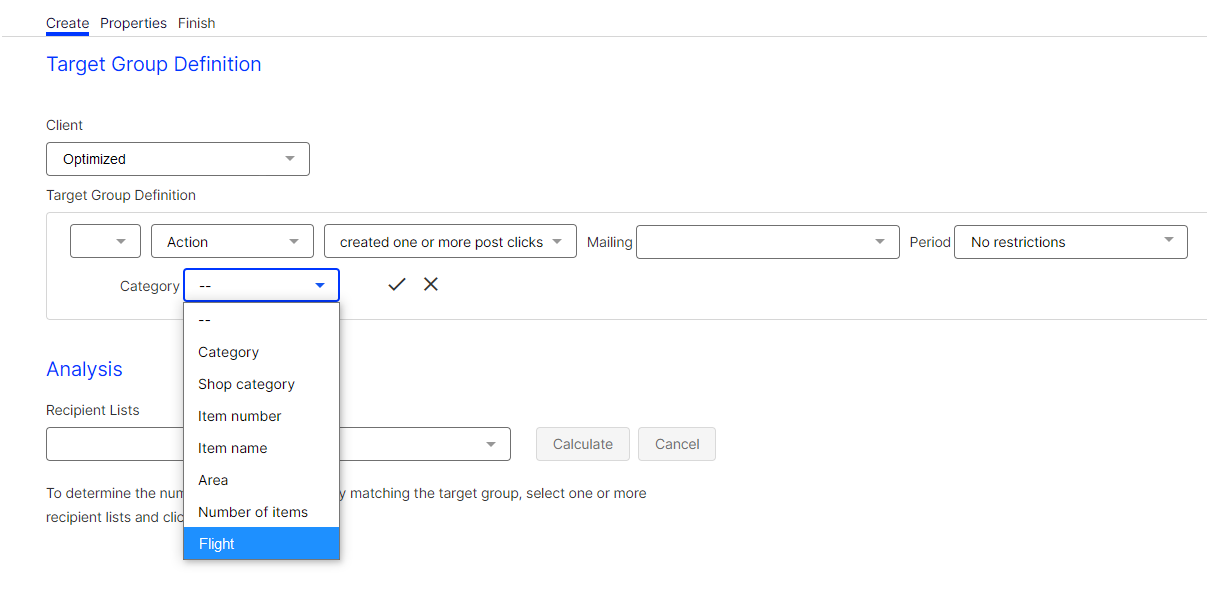 An additional target group checks if the date-of-return matches the current date.
Next, allocate a mailing to each travel destination (or create a mailing with a paragraph about each destination) and associate it with a target group. In the following example, a paragraph is included in the mailing for each target group set up during the previous step. To keep promotions up-to-date, this paragraph is linked to a content interface. You also need a mailing to distribute when a customer returns home, which looks the same to all recipients:
Before you fly: Our hotel recommendations
Welcome back! Here's a place to put your vacation pictures
Target groups compiled with the help of post-click data look different depending upon the configuration of the post-click tracking or the web-analysis software. For instance, with some web-analysis products, you can select the product purchases category then specify greater detail. The example here is based on a post-click configuration tracking where a post click is produced only after an order is completed, eliminating the need for that pre-selection.
The following image shows how to create the Before you fly: Our hotel recommendations mailing.
Use the Post-click node and set the parameter category same as flight.
The selection of destination, and corresponding hotel accommodations, in the mailing occurs by target group. So, choose this mailing and send it to the recipients.

To expand this campaign to include other promotions, such as for rental cars, modify the mailing and the paragraphs within it.

Incorporate a loop that inquires daily whether the return date equals that day's date. A Wait node is set with a value of 1 day and, after it, a branch that filters the target group return date is today. This group receives the mailing, Welcome Back: Now here's a place to put your pictures with a coupon to order the photo album. Other recipients are reset to the Wait node.