Manage users and teams in your organization.
Opti ID is available for Optimizely Content Marketing Platform (CMP). Opti ID provides single sign-on (SSO) access to CMP. See the
Opti ID user guide
for information about installing and adding CMP.
Manage users
If you have access to User Management settings (as an admin or user with a privileged custom role), you can invite users to give them access to your instance.
Click your avatar and select Users & Teams. The User Management view displays.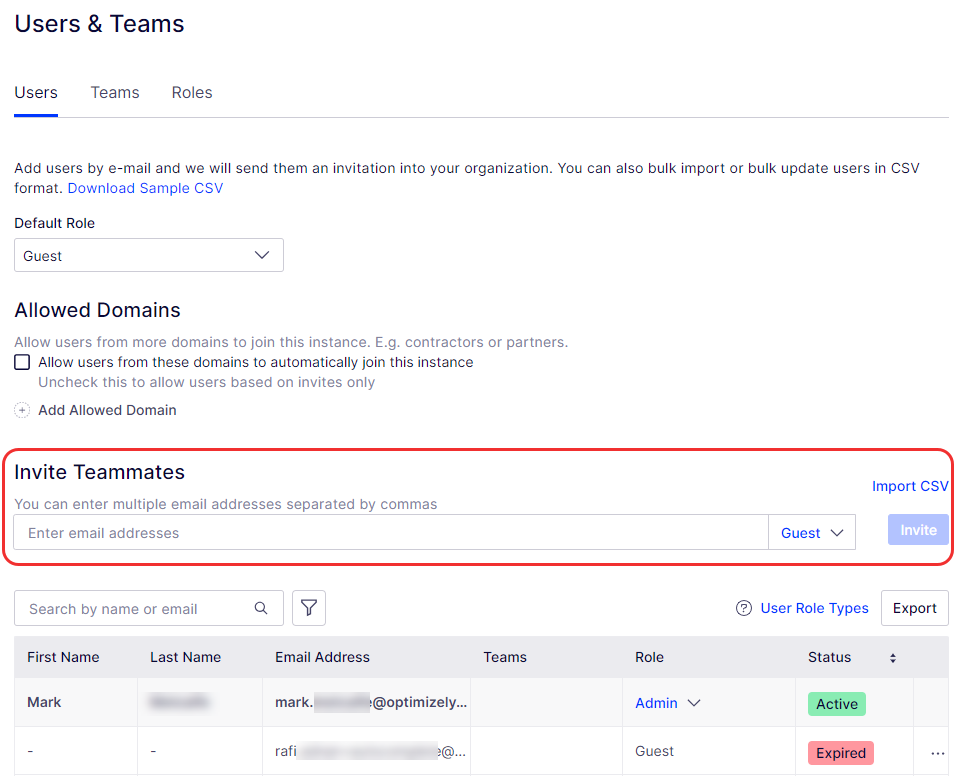 To invite a user, in the Invite Teammates section:
Enter an email address in the text box.
Select their user role.
Click Invite.
You can assign a custom role or one of the following standard roles:
Admin – Admins can access everything and can view and modify all tasks. Admins can also manage users, teams, workflows, and other organization settings.
Creators – Creators can access the entire platform, except administrative settings. They can create and contribute to campaigns and tasks.
Collaborators – Collaborators can access work assigned to them, or if work has a shared campaign or task. They cannot create campaigns or tasks.
Guest – Guests can only submit requests and view the requests module. Within the requests module, they can manage their submitted requests and view where requests are in the queue.
Library View-Only – Users with this view can view, search and download assets in the library module only.


After you send the invitation, the invited user receives an email notification to join. When the user clicks Join my team, a sign-up page displays.
On the sign-up page, the user enters required information and clicks Continue to complete the registration process and access Optimizely Content Marketing Platform (CMP).


Manage teams
A team is a group of users with delegated responsibilities in workflows.
To create a team, select the Teams tab and click Create Team.

Enter a team name.
Enter the email address or usernames of the team member. These names display below after you add them. You can remove a member from the team. Click Create Team when you are done.

Click Edit to edit a team.

You can add and remove members or delete the team.