The Content Marketing Platform (CMP) has many native integrations into websites such as WordPress, AEM, Drupal and more. This topic shows how to integrate a custom website or any other system that you want to integrate to ingest a flexible data feed.
Create a feed
Go to your avatar > Integrations.
Open the Website, CMS & Feed tab.
Click Add and select a channel to set up an account as a feed-based websites available for publishing. Select Other to set up another external CMS.

The following example shows the Other form.

Insert the Name, Public URL, and Website type into the designated fields and then click Save. Your configured CMS will then appear in the list of connected CMS systems.

To edit the settings, click the arrow.
Publish to a feed
To publish to these accounts, you first need a CMP task (Quick Article post, a Quick Share or a Workflow-based task). Open the Publishing tab of the task page to find the list of websites and feeds. Click Add Channel and select the channel you want from the integrated distributions.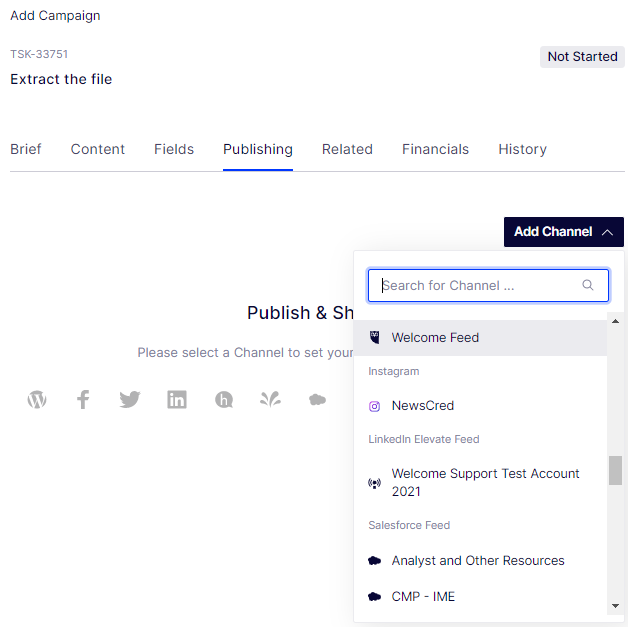 You can type in the search field to narrow your view of available channels.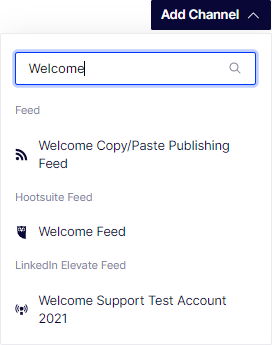 Click Manage Content on the feed settings modal to access feed-published content.
The Feed URL is used to ingest content from the feed and then publish them in websites or CMS.
Copy and paste a feed
After you publish an article, it is available in your feed. To copy the feed URL, click Copy (icon), which copies the URL to the clipboard.

Paste the link into your address bar to see the articles posted in your feed.
Delete a feed
To delete a website-tied feed, go to Website, CMS & Feeds tab, select a website and click Remove. Click Delete in the confirmation dialog box.