Salesforce is a cloud computing service as a software (SaaS) company that specializes in customer relationship management (CRM), and Welcome has a deep, bidirectional integration with Salesforce that helps you to measure the impact of content on new and existing leads all the way through to closed-won revenue.
In this article we will elaborate more on:
Benefits of Integration
Integrating Salesforce into your Welcome CMP instance will give you the opportunity to dig deeper into how your content is influencing closed won opportunities in Salesforce. You'll be able to see "Deals Influenced" and "Revenue Influenced" metrics which correspond to the number of deals and amount of revenue that was related to Salesforce contacts who saw your content. Additionally, you'll be able to see exactly which deals were influenced by each piece of content.


How to Integrate
1) Create a new "Read Only - Password never expires" Profile in Salesforce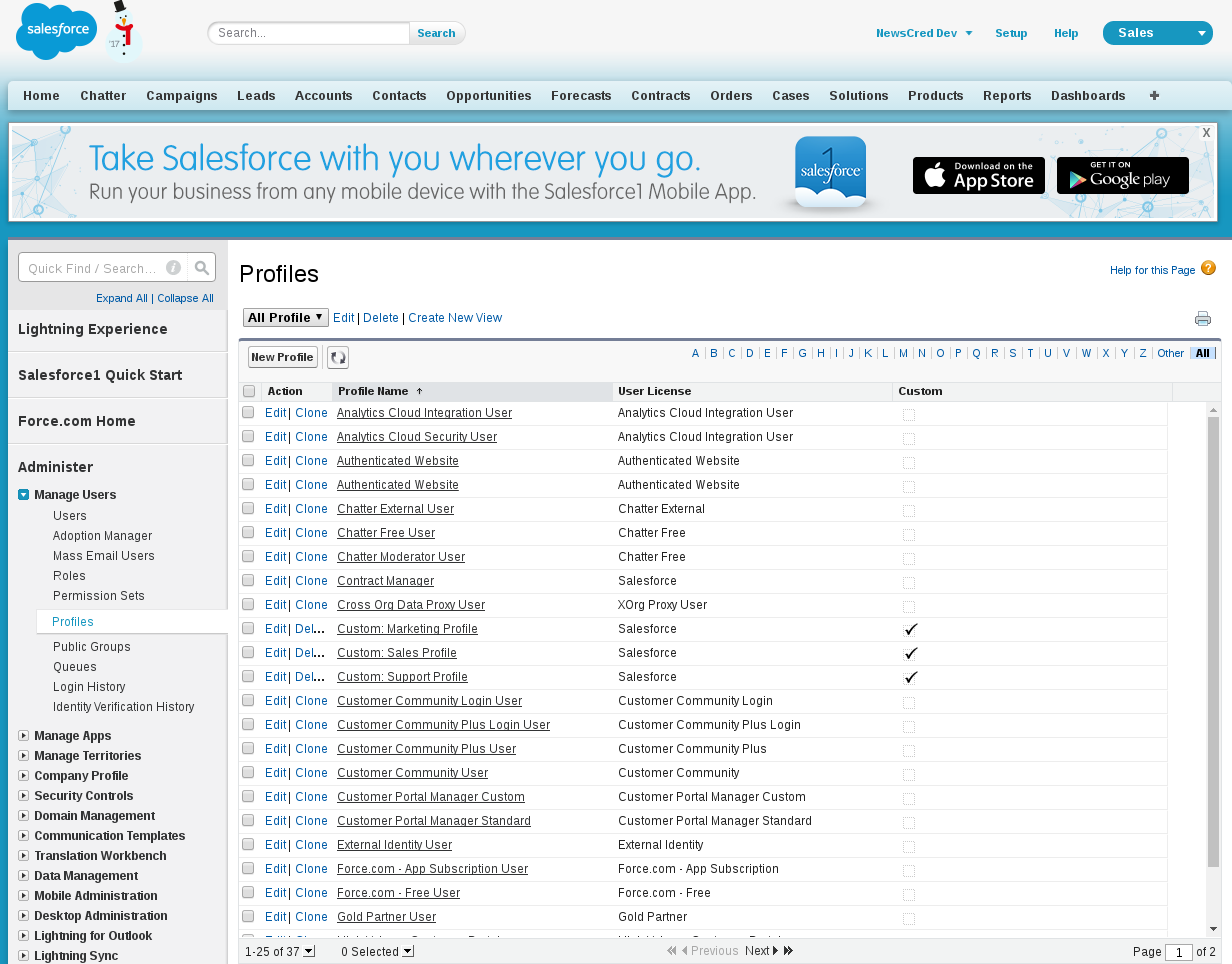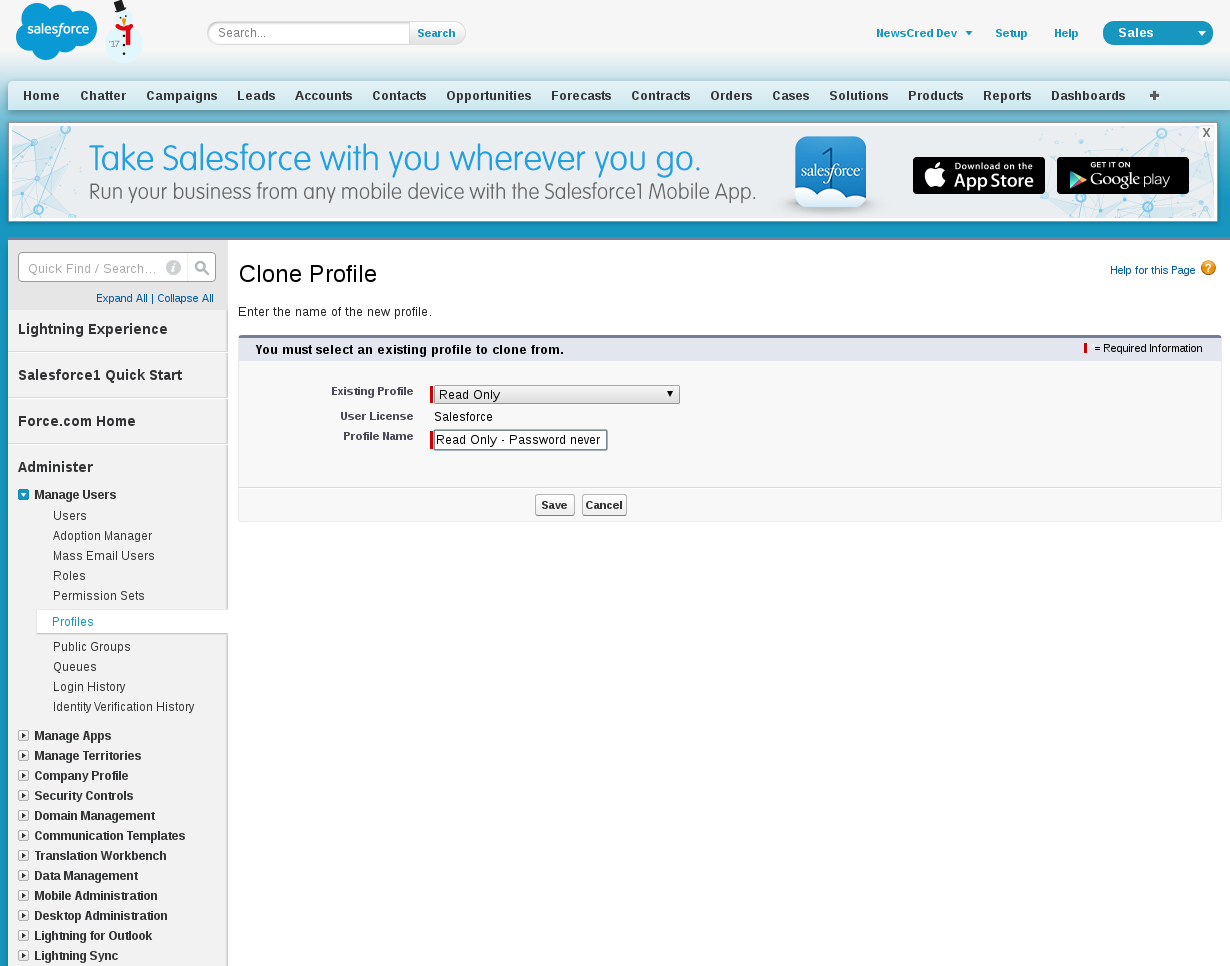 Make sure that you check off "Password Never Expires".
Go to the "Password Policies" section to select "Never expires" for "User passwords expire in".


Note: make sure that the profile has "View All" access to "Accounts", "Contacts", and "Opportunities".

2) Go to the "Manage Users" section, and create a new user in Salesforce with the "Read Only - Password never expires" profile.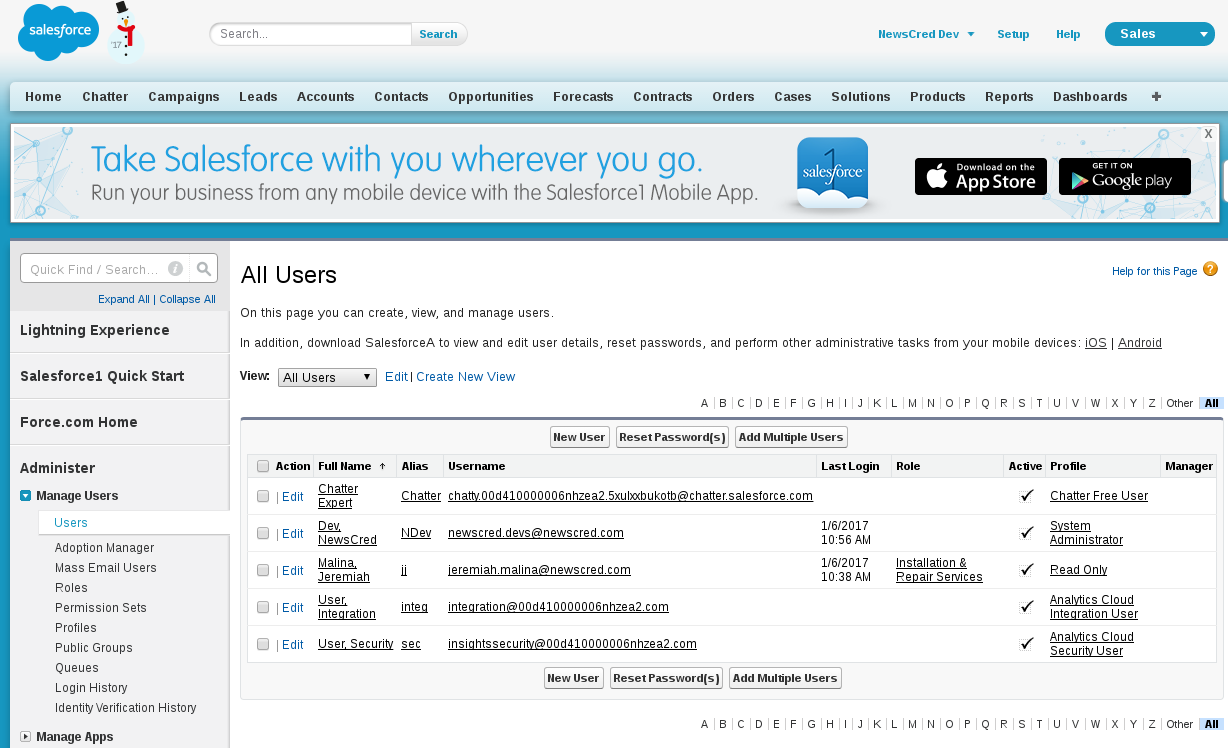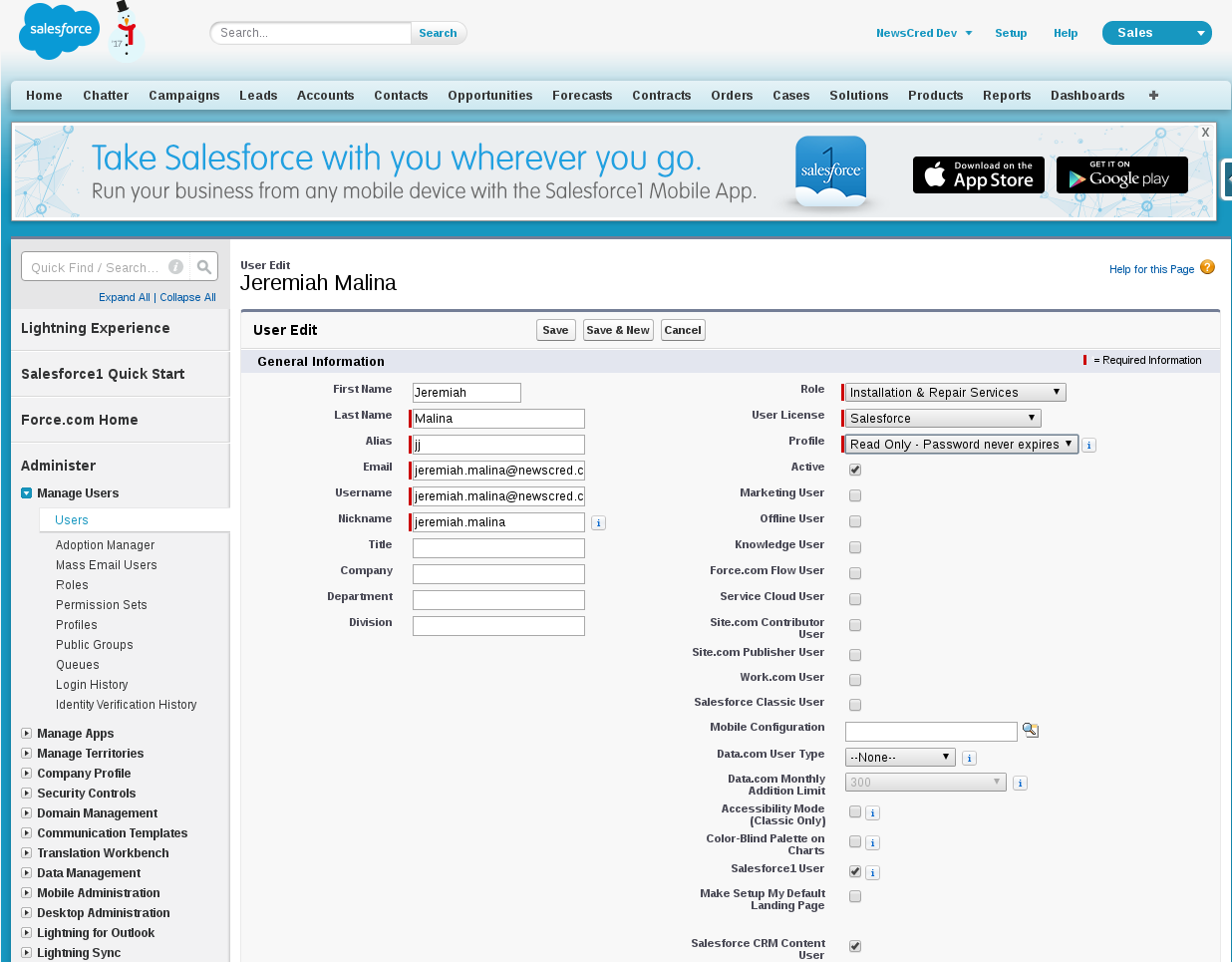 3) In Welcome's Content Marketing Platform, go to the "Salesforce" page under the Settings dropdown, located in the upper-right corner.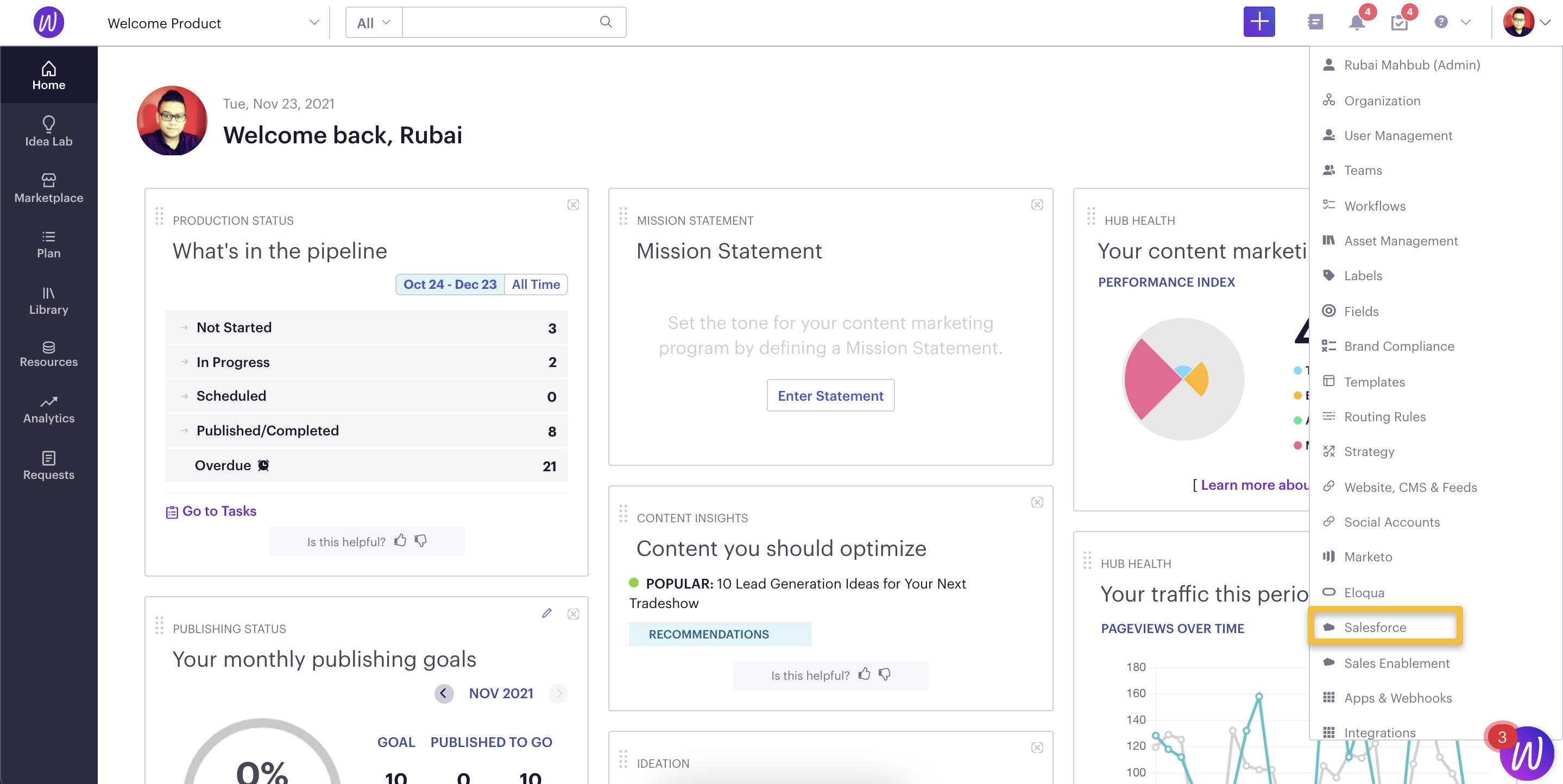 4) Click on the "Add a Salesforce Account" button and log in with the username and password of the new user created in Step 2. Note that if your browser is already logged into Salesforce, then this action may happen automatically.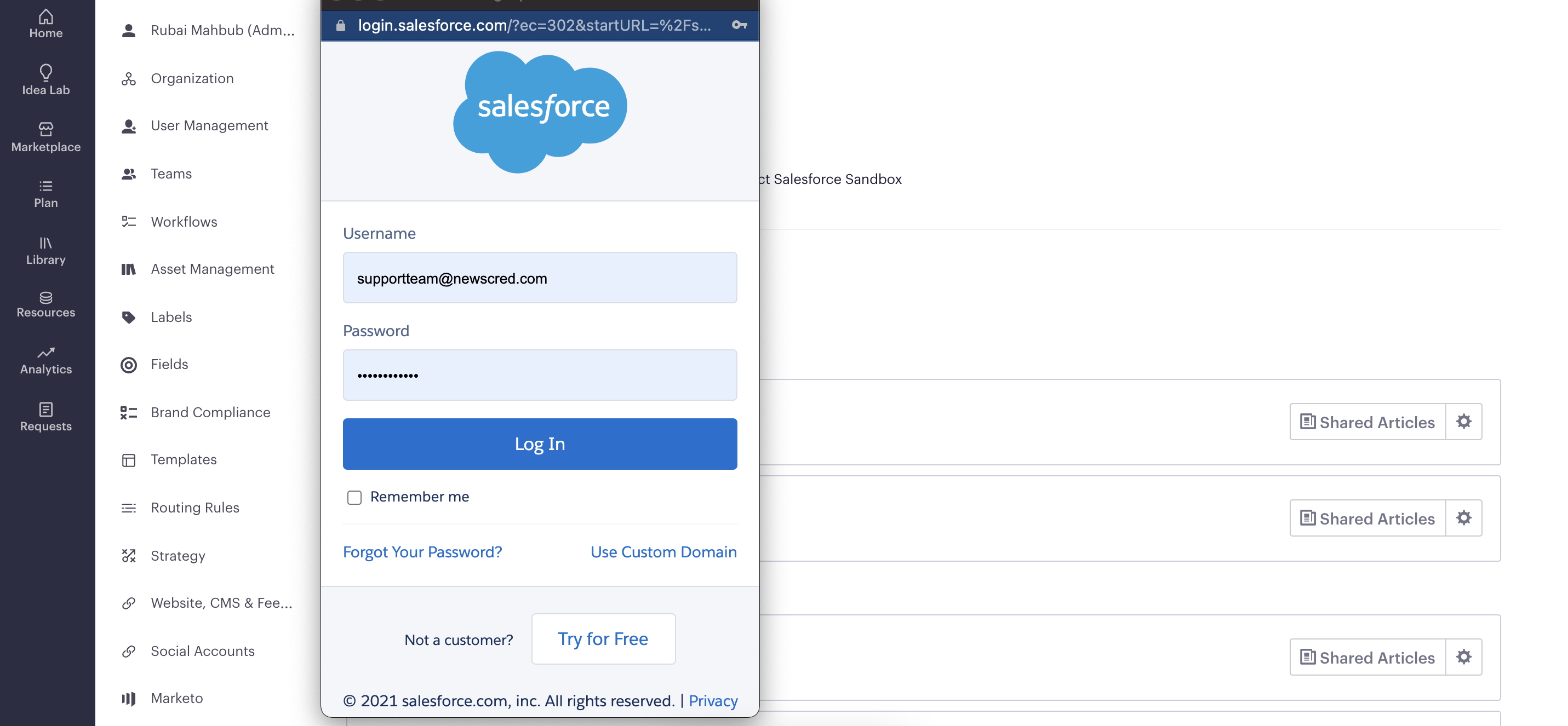 5) Click on "Allow".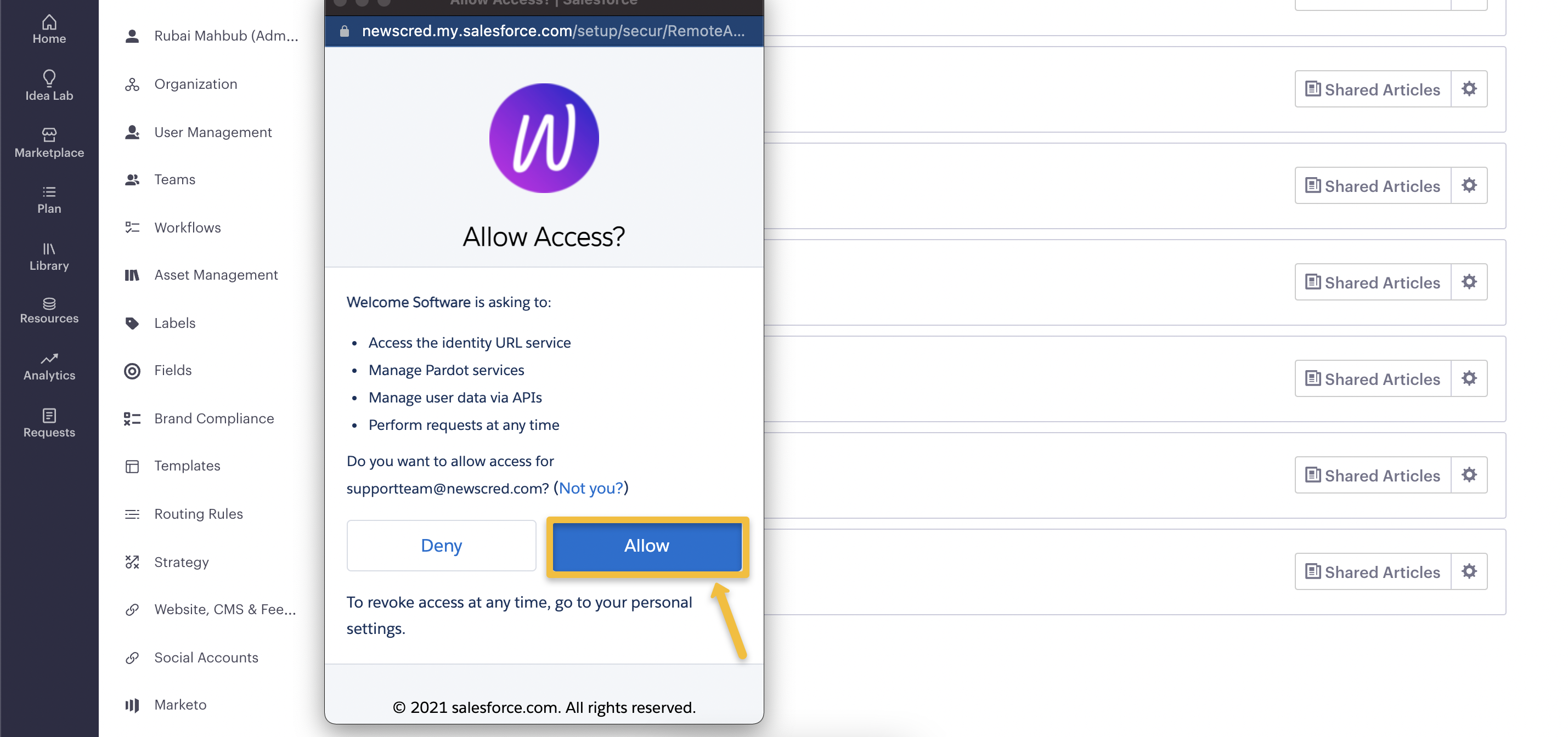 6) You should now see the message below, indicating a successful integration of your Salesforce account.

If you go to the user page of the newly authenticated user in Salesforce, you'll see "NewsCred Content Marketing Platform" appear in "OAuth Connected Apps" and in "Login History".
The Business Unit ID is used for Pardot integration. In order to use Pardot as the marketing automation system for ROI Analytics, Business Unit ID must be filled out. If not connecting to Pardot it should be left blank.


Frequently Asked Questions
How are "Deals and Revenue Influenced" calculated?
For more information on how ROI analytics is calculated and measured, click here.
What are the requirements?
A Marketo instance authenticated with Welcome's CMP (see "Integrating Marketo For Analytics") or an Eloqua instance authenticated with CMP and connected to Salesforce (see "Integrating Eloqua with the CMP").
Welcome's Javascript Snippet (see "Installing Welcome's Javascript Snippet").
How does it work?
The first step is to authenticate a Salesforce user account with Salesforce's OAuth2.0 integrations. Once you've authenticated, Welcome will periodically sync your "Contacts and Opportunities" to our system by making calls to Salesforce's API on the behalf of your authenticated user. Welcome then relates your Closed/Won Opportunities to Contacts that have viewed content on your site and will calculate the number of deals and amount of revenue influenced.
How does Welcome know what content Contacts have viewed?
If a Salesforce Contact exists in Marketo or Eloqua as a Lead or Contact, then they can be joined on the email address. Welcome uses the web viewing history of Leads/Contacts to identify the content that Contacts in Salesforce have interacted with.
Is it a risk to give Welcome access to my organization's Salesforce instance?
No, because Welcome will never modify any data in your Salesforce instance since, as outlined in "Steps to Integrate", the user that authenticates should have a "Read Only" profile which means that it cannot modify any data in Salesforce. Welcome does not store your Salesforce login credentials. Authentication happens through Salesforce's OAuth2.0 Integration which returns an access token that Welcome uses to make requests to Salesforce's API. Data that Welcome stores is encrypted and only your organization in Welcome's CMP has access to it.
Will Welcome exceed my daily Salesforce instance API call quota?
This depends on your current daily API call usage. The maximum number of requests Salesforce allows per day is based on your Salesforce Edition and the number of licenses. Welcome only makes requests for Opportunities and Contacts that have been created or modified in the past day so this amounts to only a few API calls per day. We make two requests to get IDs of created or modified contacts and opportunities and then two requests to get each set of objects for each page of data. This happens twice a day, so at minimum 8 API calls are made and the maximum would be however many Contact or Opportunity objects have been created or modified per day divided by SFDC page size which is 500. Upon initial ingestion, Welcome can sync your Contacts and Opportunities in periodic batches to ensure that API call quotas are not exceeded.
Questions? Contact support@optimizely.com.