LinkedIn Elevate is a feed-based social channel where content can be shared to a feed and then ingested to a CMS via a feed export URL. Similar to other social channels such as Salesforce, Hearsay, Hootsuite, Spredfast, LinkedIn Elevate operates as a feed and can be set up in the CMP as a social distribution channel.
In this article, you will learn how to:
Create a LinkedIn Elevate Feed
Navigate to settings by clicking the avatar in the top-right corner of your screen and selecting "Social Accounts" from the dropdown.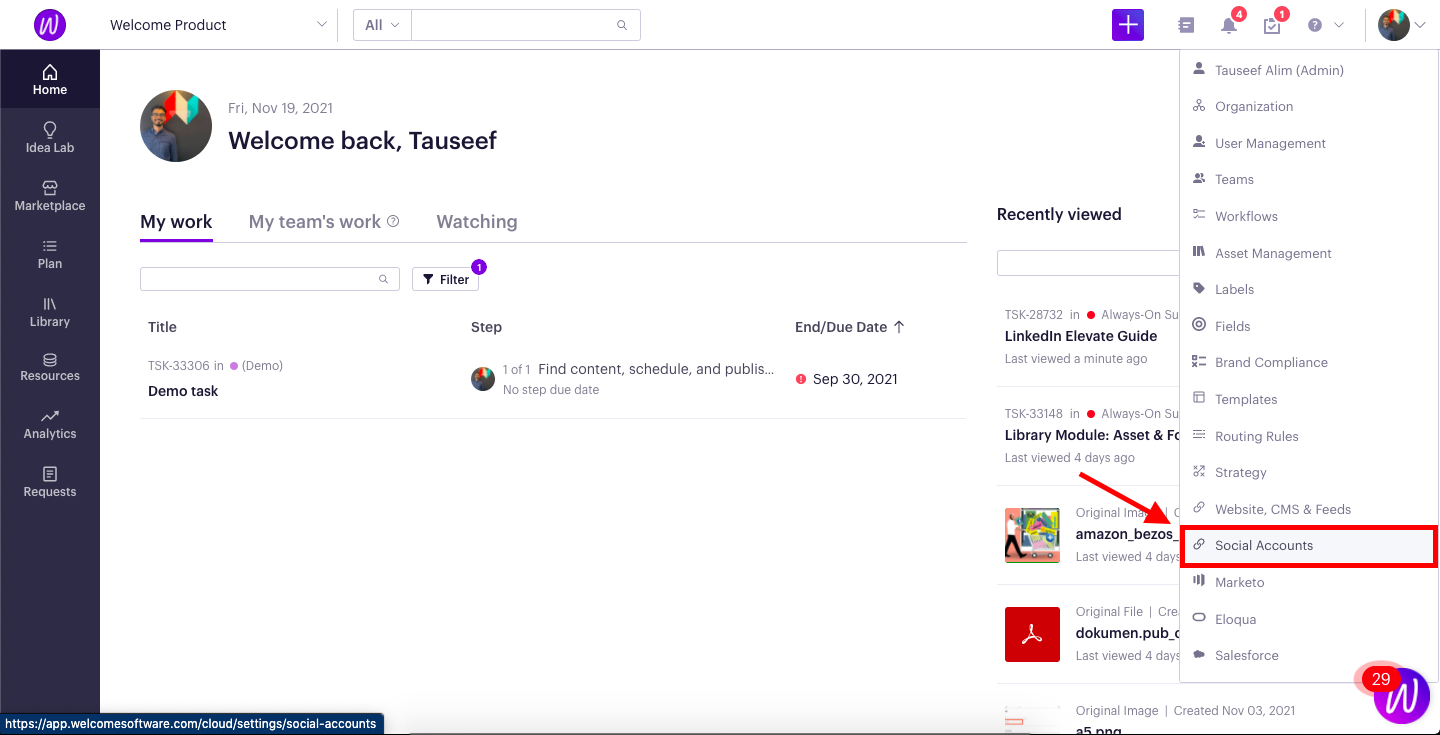 You will be directed to a page where you can manage all of your social integrations. Note: The LinkedIn Elevate section will be located towards the bottom of the page.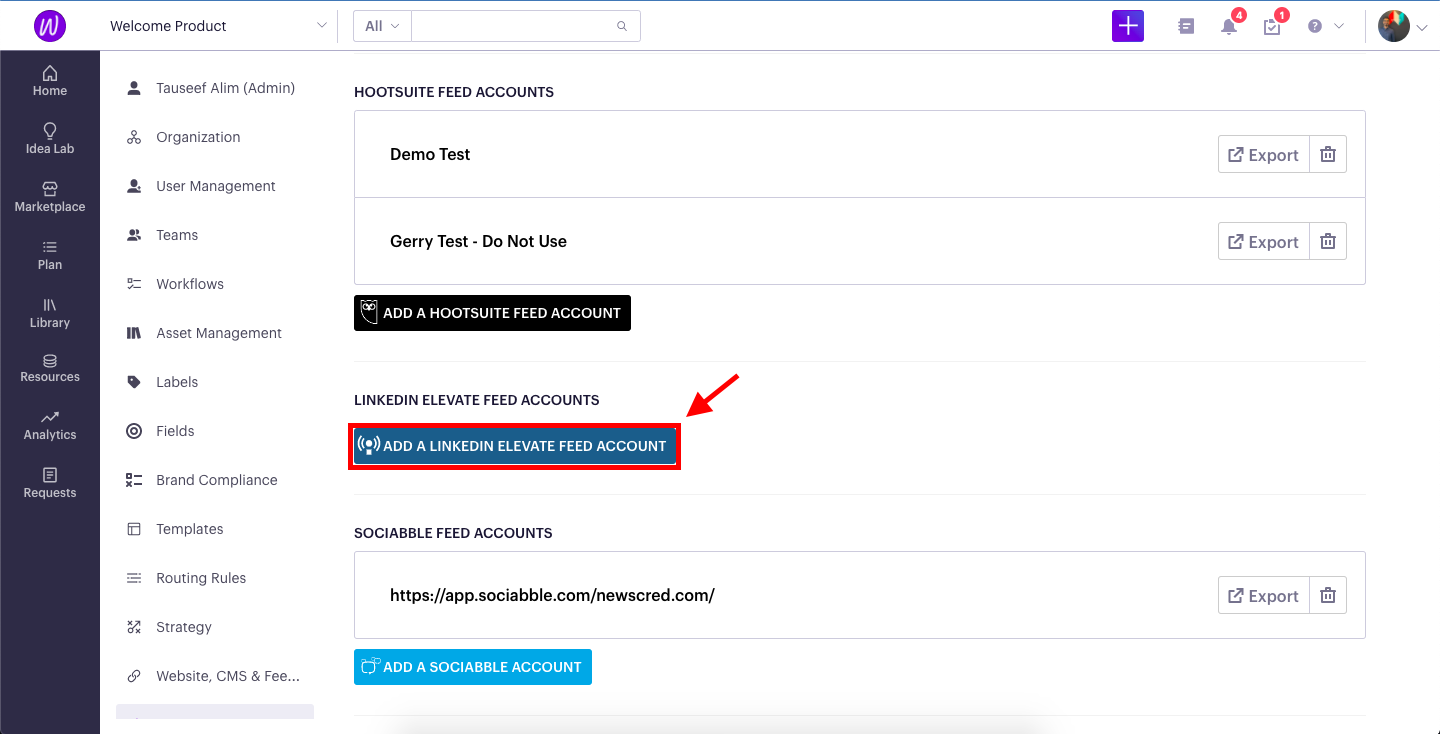 Click on "Add a LinkedIn Elevate Feed Account". An empty field will appear which will prompt you to enter an Account name.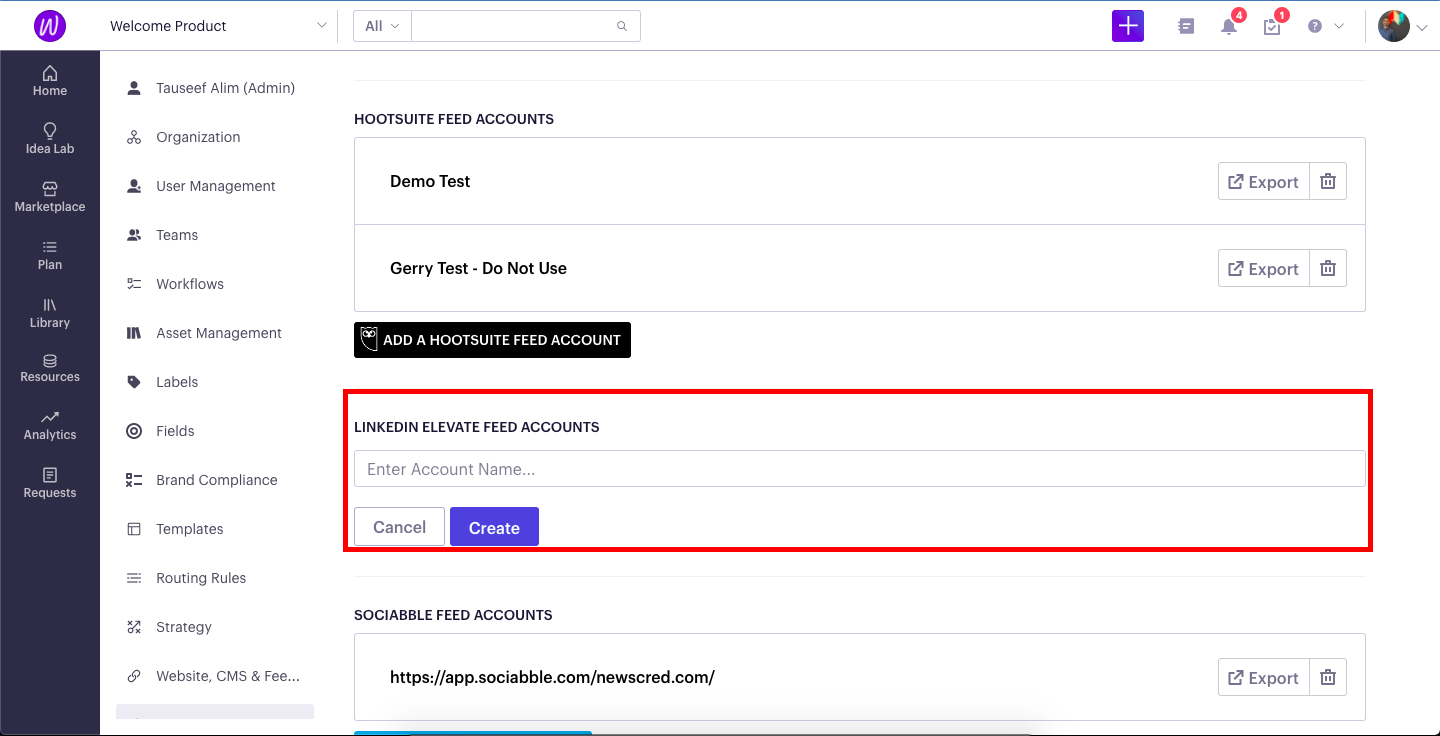 Once you've named your account, click on "Create". Your new feed should appear within the list of LinkedIn Elevate Feed Accounts, as shown below for "Test Account 2021".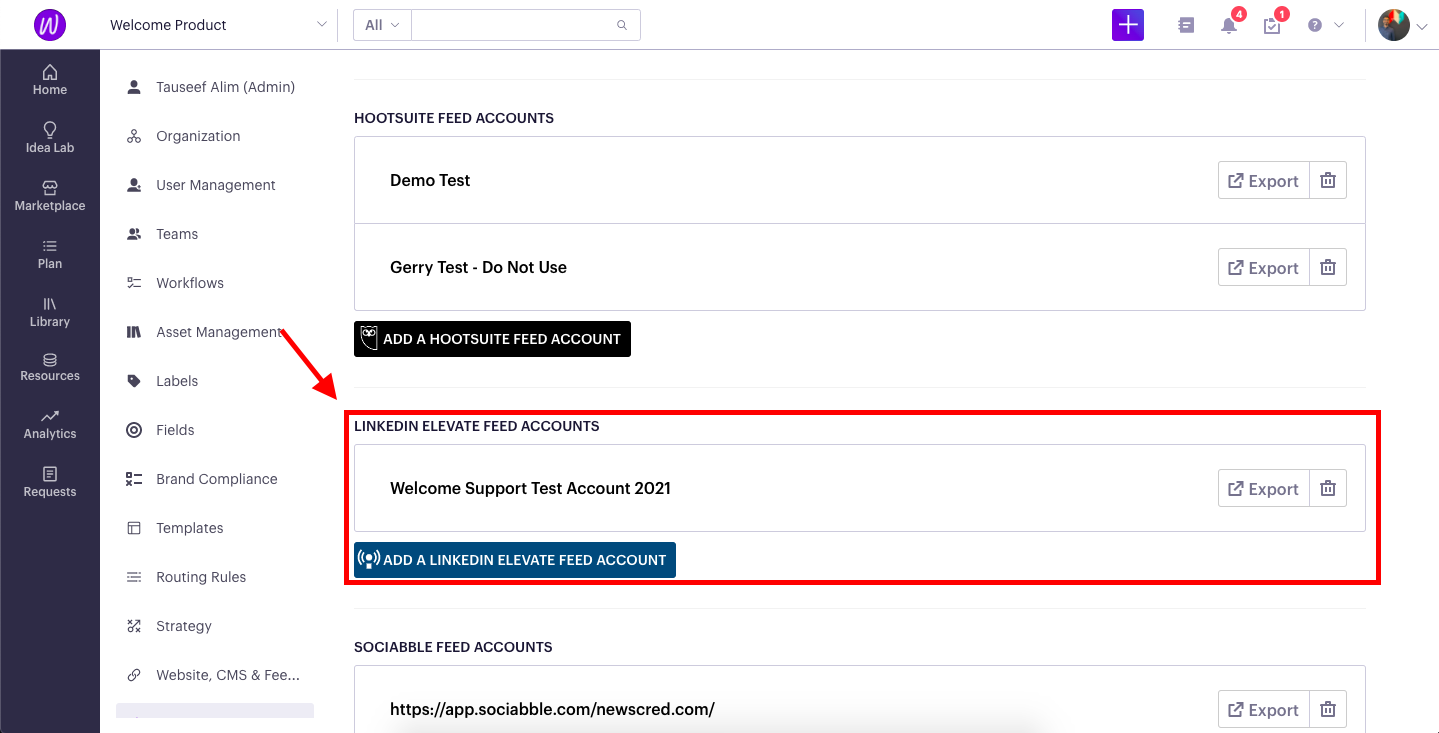 Publish to a LinkedIn Elevate Feed
Once a feed(s) has been created, it will appear in the "Publish" section of a CMP task page. Clicking on the "Add Channel" and then typing in LinkedIn Elevate will prompt all the available Linkedin Elevate feeds to appear.
Upon selecting the proper feed, you will need to complete the article URL (Canonical URL) field. Unlike other feed-based social channels, neither the article title nor description can be separately sent to LinkedIn Elevate as LinkedIn Elevate itself only requires the canonical URL.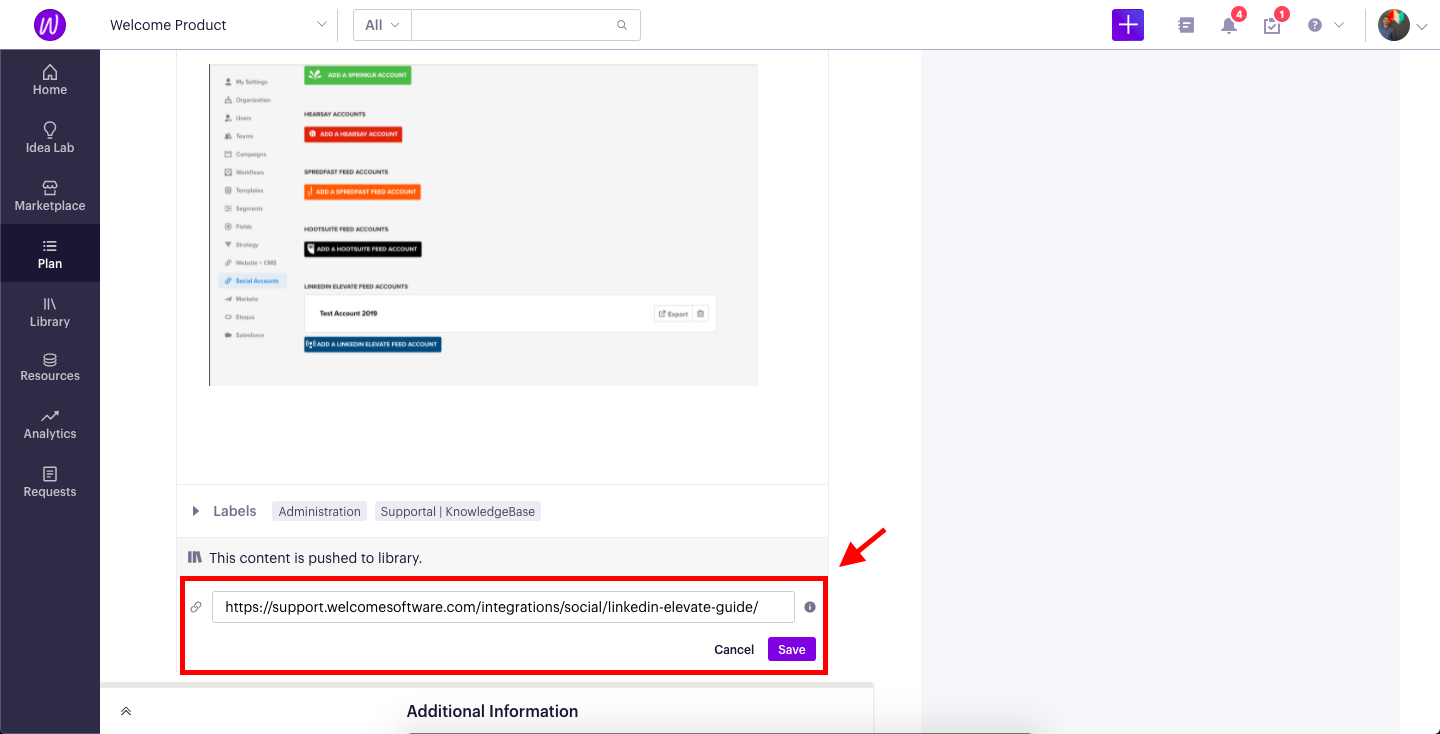 It is imperative that you include a canonical URL/Article URL for your social post, or it will not publish. Most users typically publish an article to a Wordpress site or to a feed before scheduling social posts via social channels for shares, so that the canonical URL can be generated to be included in the social posts later.
Nonetheless, even if you create a "Quick Share" task and just include social posts for sharing, you can manually insert the URL of a published post/original article URL in the article URL field.
If you want to publish the article to a Wordpress/Feed and share the social posts simultaneously, you will not need to edit the social post scheduling. Before you click on the "Publish" button to publish the article to the designated distribution channel(s), this is what the scheduling section will look like: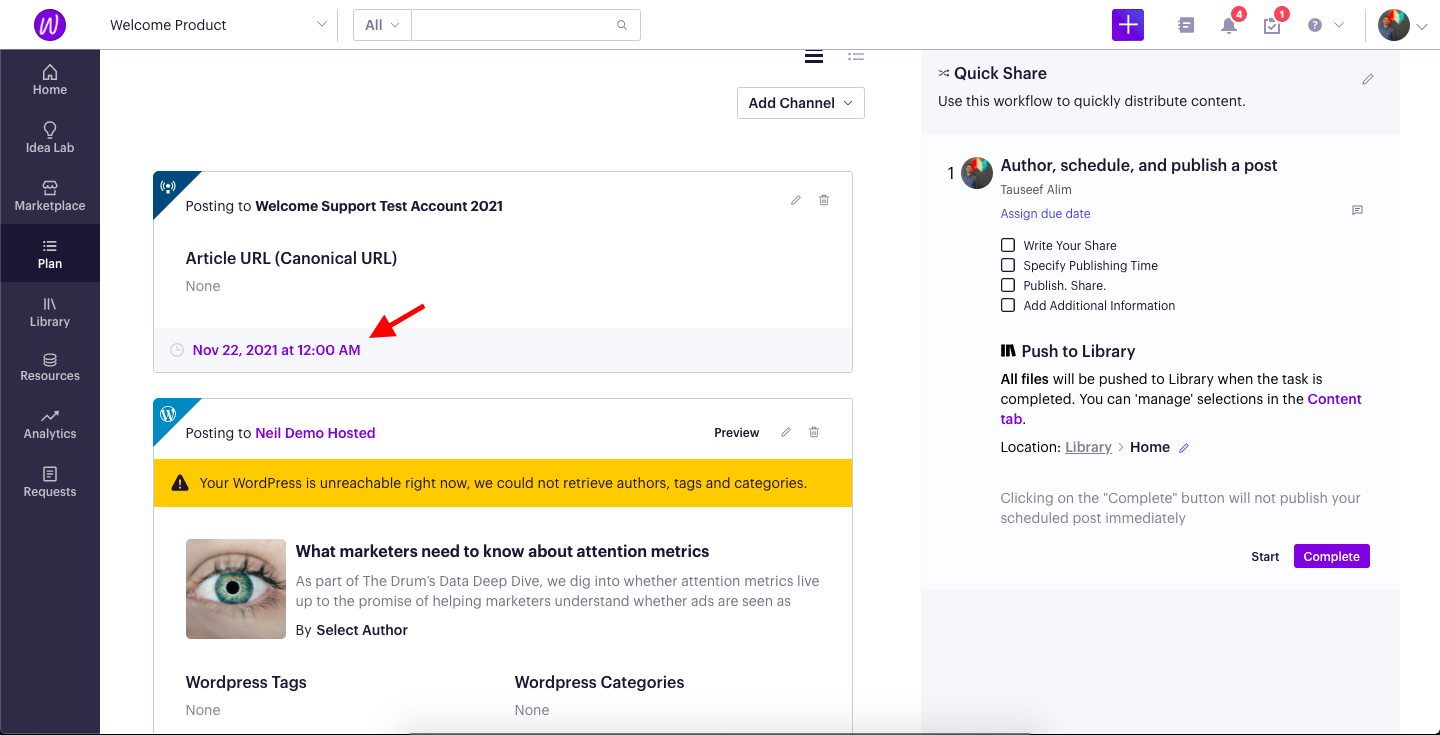 Once the article has successfully scheduled for publishing on the desired date and time to the selected distributed channels, it will appear in the Scheduling section alongside the distributions as shown below: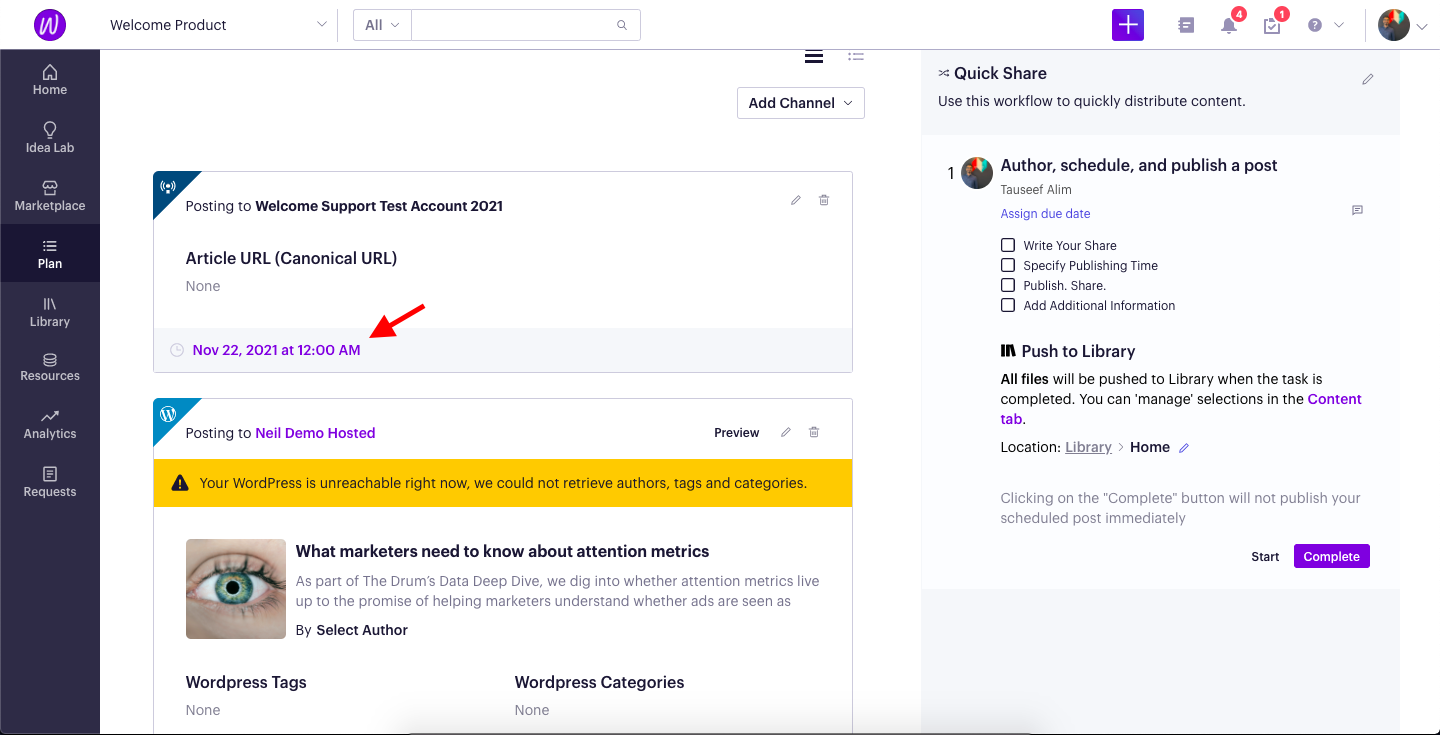 Export a LinkedIn Elevate Feed
After the post gets published, users can export the feed using the 'Export' button at 'social-accounts' page. Users can also use the RSS endpoint to export articles to 'LinkedIn Elevate'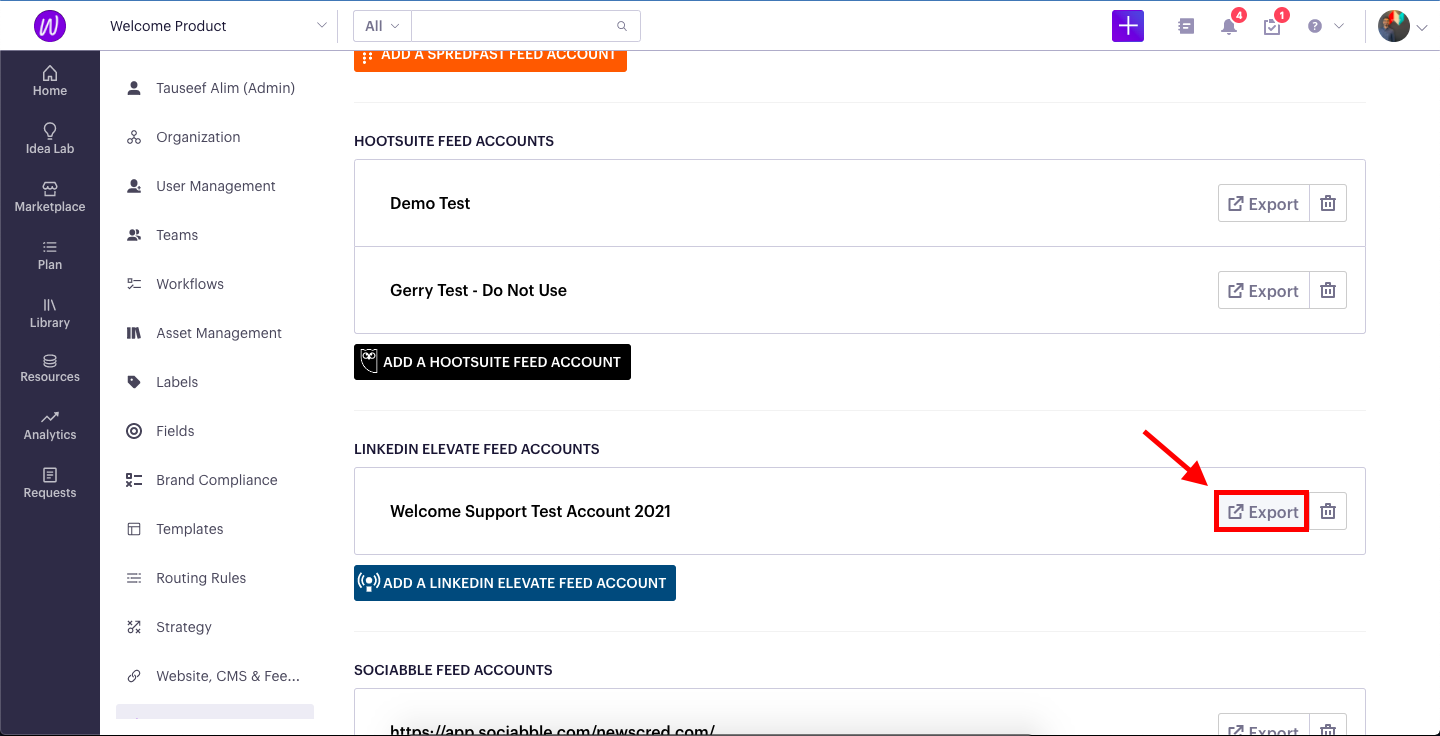 Clicking on "Export" will provide you with your RSS feed endpoint.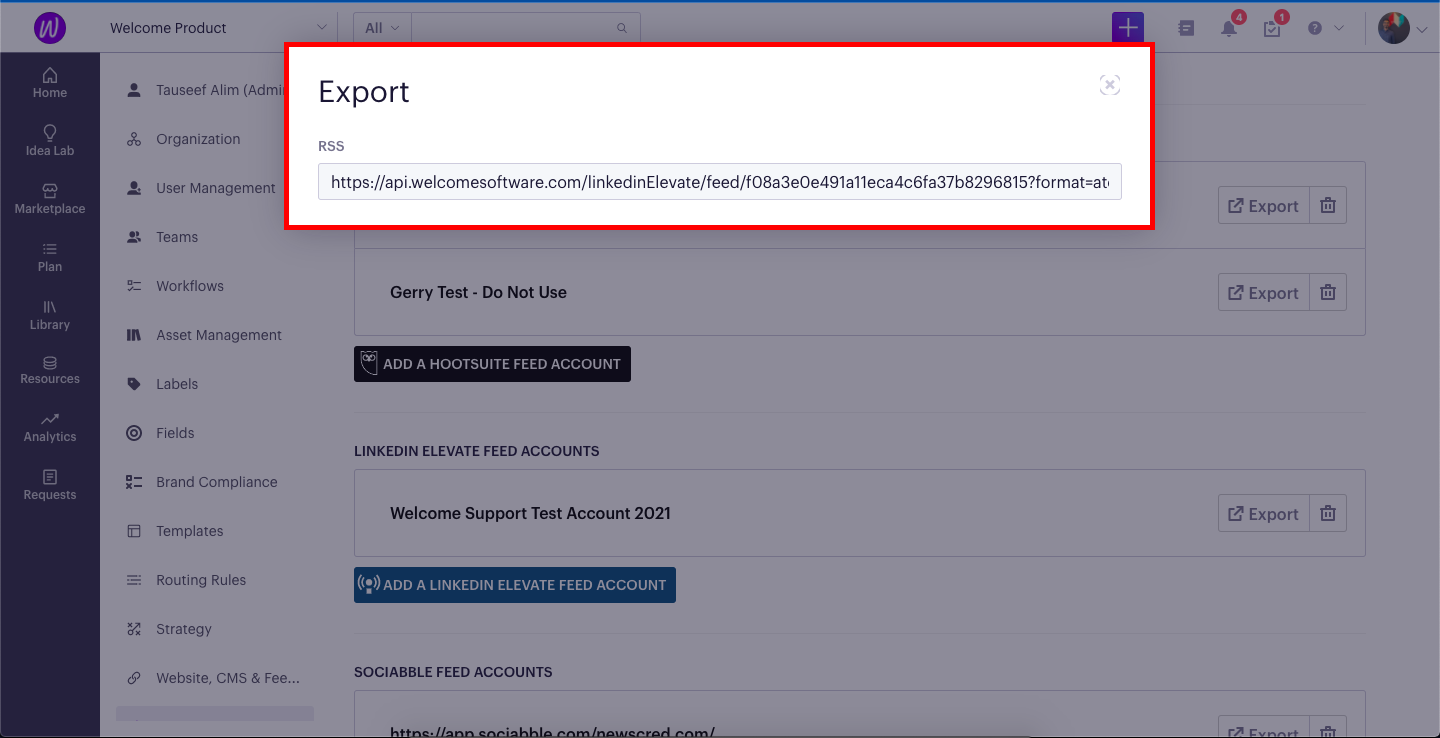 Copy and paste this URL into your address bar to see all of the articles posted in your feed.
Delete a LinkedIn Elevate Feed
Just beside the Export button, you will find an icon which looks like this

. To delete a feed from the list of connected feed-based distributions, you will need to click on this icon, which will prompt a final confirmation, as shown below.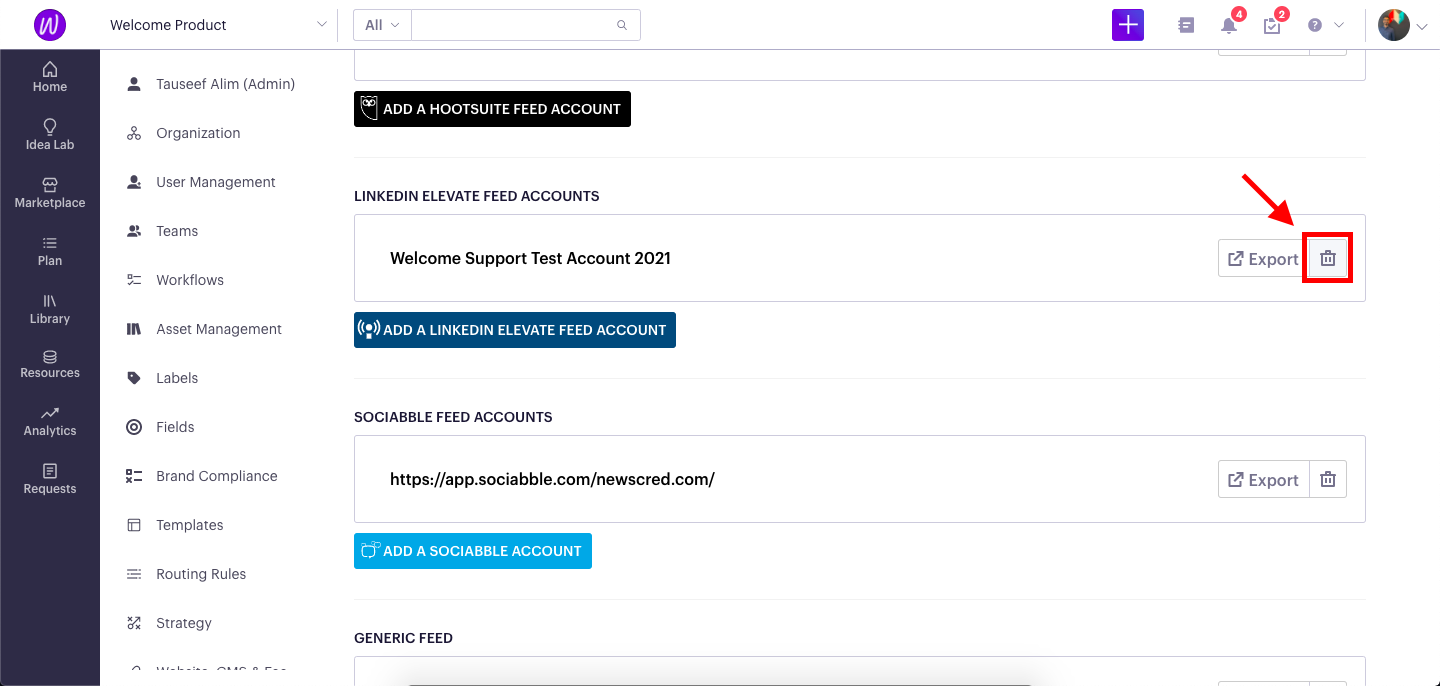 Clicking "Delete" will permanently remove your feed from the list.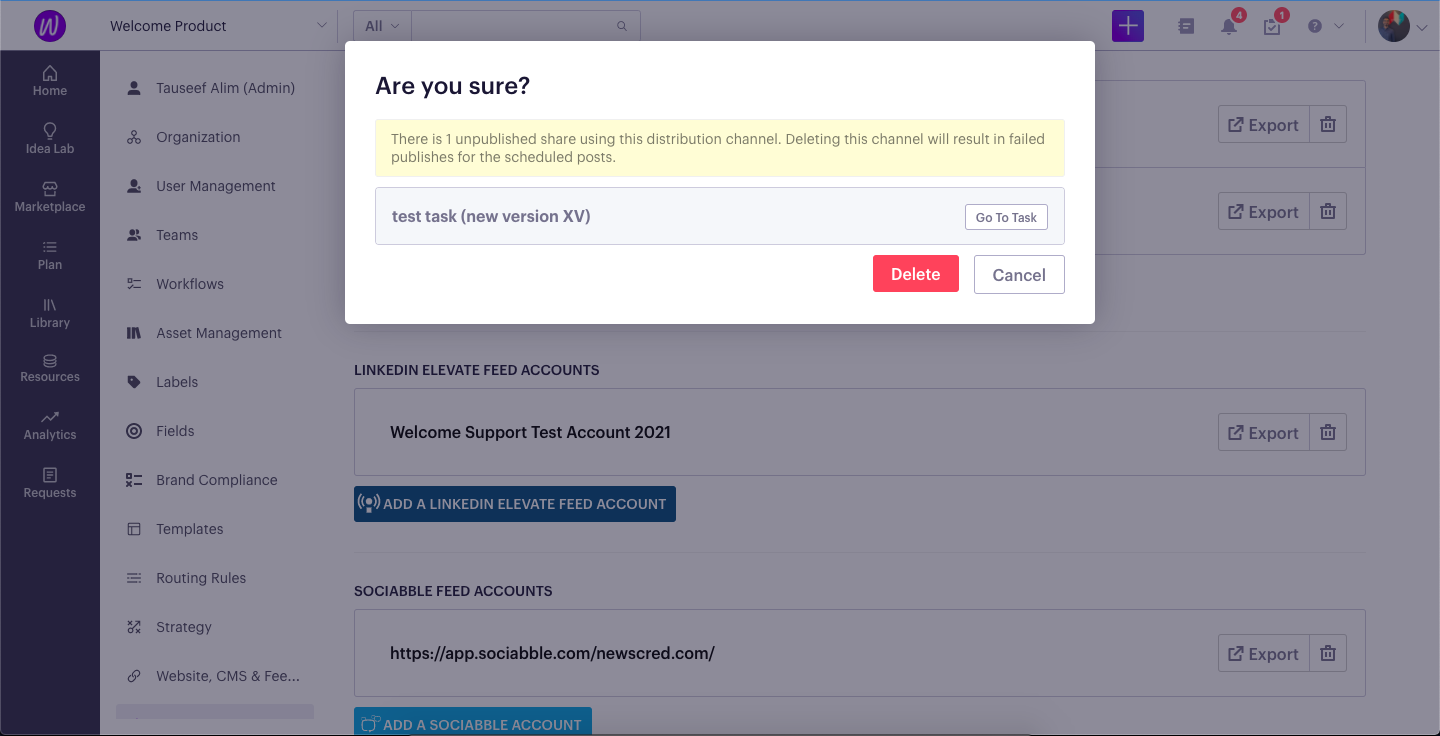 Questions? Contact support@welcomesoftware.com.