You should be familiar with the performance of your campaigns to make better decisions about future customer engagement.
Measure a single campaign
Each campaign has an individual card that reflects its overall performance. The card includes identifiable information like the campaign's name (1), segment (2), and status (3).

Click the card of a previously active campaign to access the performance information of the campaign's touchpoints.
Measure campaign touchpoints
Once you click into a campaign that is currently active, paused, or completed, you can see each touchpoint with the same metrics shown at the campaign level. Click into a touchpoint to learn more about these metrics in the touchpoint summary reports.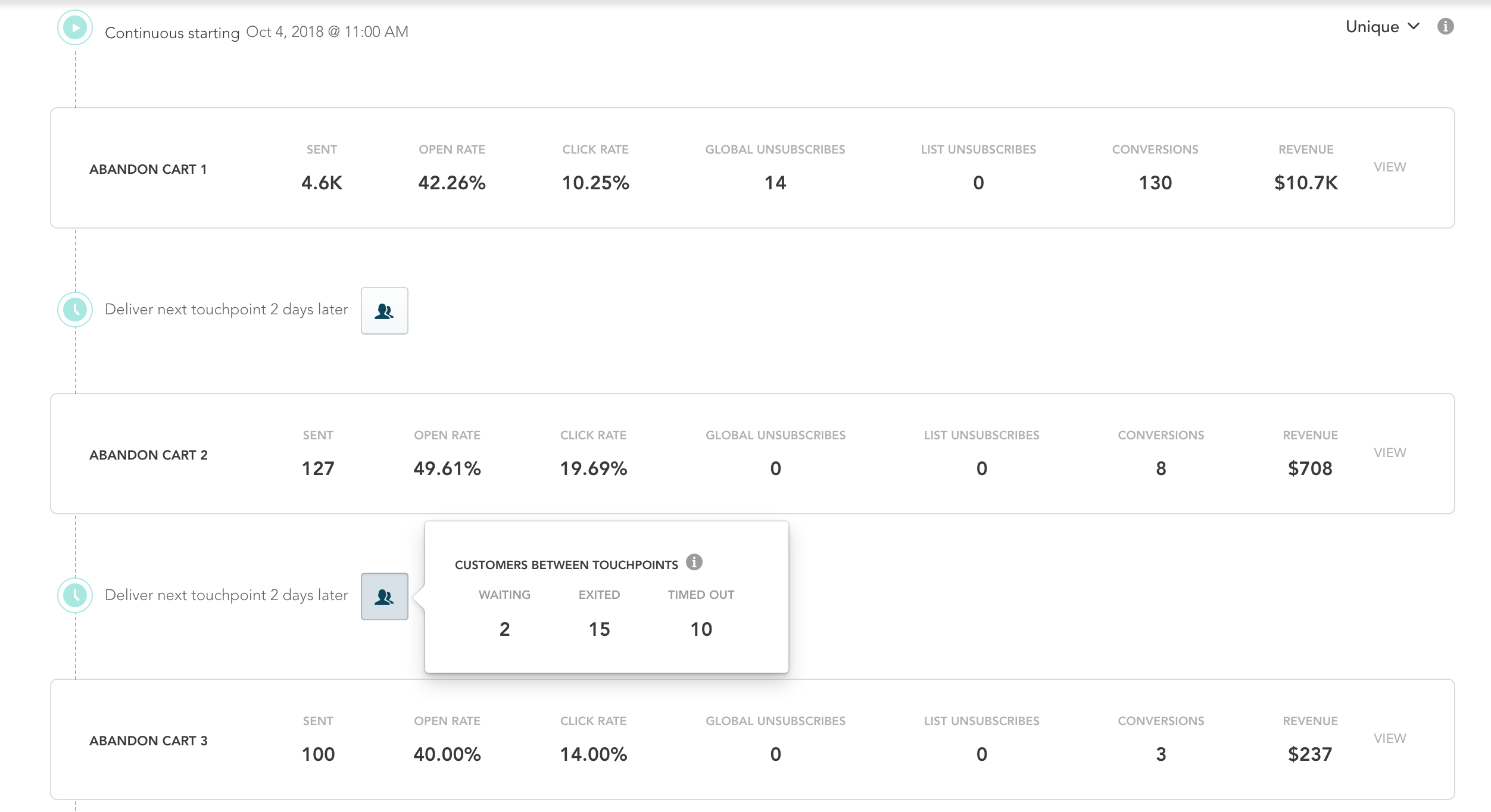 Single touchpoint example
A newsletter campaign has a single touchpoint. The touchpoint metrics are the same as the campaign metrics on the campaign list page. One-hundred sends of one touchpoint equates to one-hundred sends overall for the entire campaign.
Multi-touchpoint example
A cart abandonment campaign has two email touchpoints, and each of those touchpoint's metrics are calculated separately.
If 10 customers receive the first touchpoint, and 5 customers opened the email, that's an open rate of 50% for the first touchpoint.
If 5 of the customers receive the second touchpoint and 1 of those customers opened the email, that's an open rate of 20% for the second touchpoint.
When calculating the campaign-level metrics, the two touchpoints are aggregated. In this case, there are 15 total sends, and 6 total opens across both touchpoints, meaning a campaign-level open rate of 40%.
In-between metrics

If there are multiple touchpoints, some customers might be between touchpoints. You can view the metrics associated with these customers by clicking on the Customer icon between any two touchpoints. This card shows the number of customers for the following parameters:
Waiting – Received the previous touchpoint but are still waiting to receive the next touchpoint.
Exited – Exited the campaign series by matching the exit criteria.
Timed Out – Not reachable after waiting the amount of time set for the unreachable exit criteria.
Reprioritized – Removed from the campaign because they qualified for and started receiving a higher priority campaign. Note: This only appears for campaigns within a prioritized campaign group.