You can create a campaign that leverages and addresses multiple communication channels at each touchpoint.
Omnichannel marketing's goal is to keep a customer's interaction with your brand consistent and seamless, no matter the device or channel. If your customer wants to research products in-store, price match on their phone, and buy on their iPad, then they can carry out that process without having to identify themselves every time they switch channels. Every step in the process needs to be easy and convenient.
Create omnichannel content
A single or multichannel campaign becomes omnichannel with touchpoints. Use this guide to review other campaign configuration options before proceeding.
To create an omnichannel touchpoint:
Go to Campaigns.
Select or create a One-Time or Behavioral campaign.
Click on the Edit icon of a campaign touchpoint.
Select the first channel for your omnichannel touchpoint.
Select +Add Channel. You can only use each channel once.
Configure the additional email, app push, or web push as desired.
Repeat the process for additional touchpoints if desired.
Select the campaign's name from the breadcrumb menu, then click Save.
Select Go Live when ready.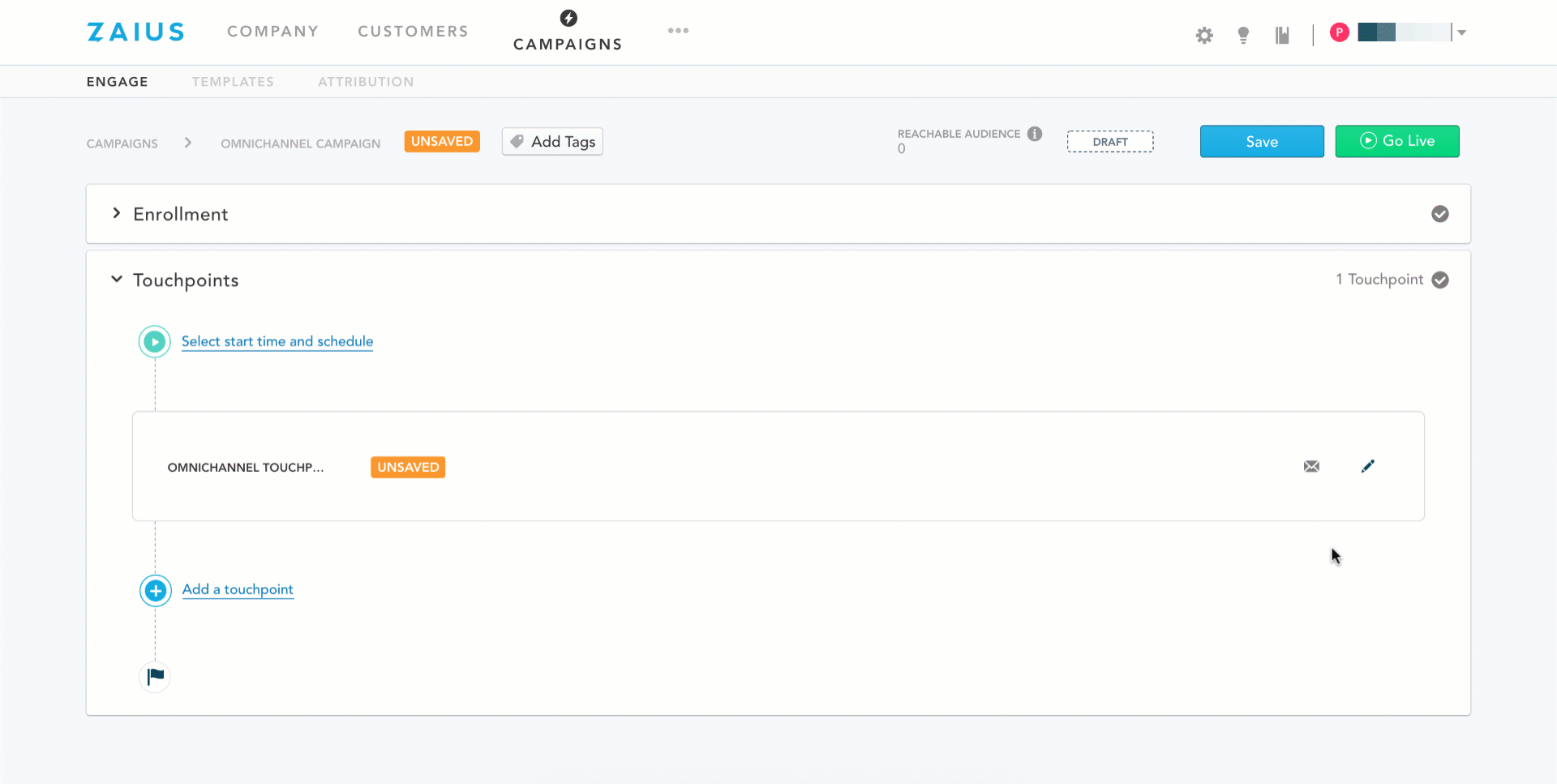 Once the campaign is live, customers receive all communications they are eligible for.
Example Scenario
Consider an omnichannel touchpoint that uses both the email and web push channels. A customer that does not have an email address but is associated with a valid web push token would receive the web push message and proceed to the next step in the campaign.
The same customer would not receive any communications in a multichannel campaign that had an email touchpoint followed by a web push touchpoint. Instead, the customer would be dropped from the campaign after failing to have a valid email address for the email touchpoint.
Disable or delete content
Go to Campaigns.
Select the campaign that includes the omnichannel content.
Click the Edit icon on the touchpoint that includes the content.
Select the More icon on the channel tab you wish to disable or delete.
Select Disable or Delete.
Click Save.
Disabled content can be reenabled by following the same steps but selecting Enable instead.