The content interface paragraph has a default layout for formatting offer texts and images. You can additionally set up up to 5 alternate layouts. For alternate layouts, contact customer support.
If you have advanced HTML and CSS skills, you can set up alternate HTML layouts yourself. If no alternate layouts are saved for the mobile and text versions, the default layout is used.
In some cases, some text elements will not be in the desired order.
Sample default layout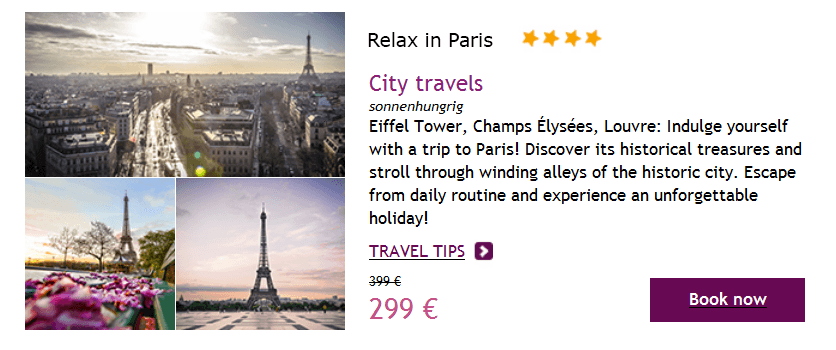 Sample alternate layout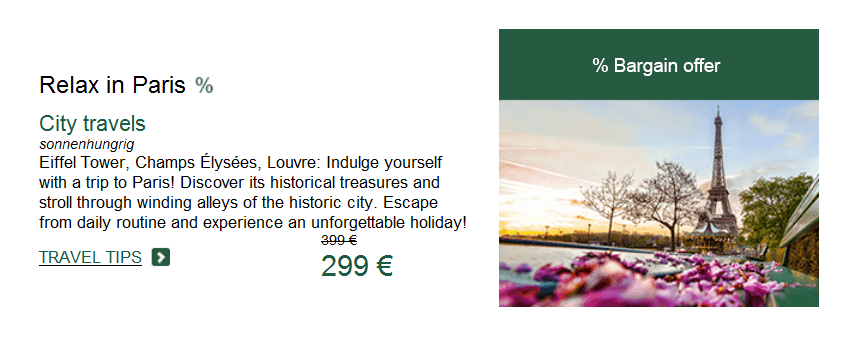 Selecting a layout
To select a standard or alternate layout, while editing a message in the Template Kit, look at the left side of the preview. On the content interface paragraph to which your product offer belongs, click Content interface. The configuration window opens on the right.
Open the Options tab.
In the Layout area, in the Layout drop-down list, select the layout you want to use.

Click Apply. On the left side of the preview, the formatting of your product offer changes accordingly.
Editing a layout
You can edit alternate layouts at any time. You cannot change the default layout.
Editing alternate layouts without advanced HTML and CSS skills can lead to severe errors in your messages.
On the left side of the preview, click Settings.
Open the Content Interface tab. Each layout has source text fields for the desktop, mobile, and text version.

Edit the layout source code as desired.
Click Apply.