The omnichannel editor lets you create content for multiple destinations, such as web page creation, landing pages, newsletters, social posts, HTML email, and more. You can preview and publish across various channels—without leaving Optimizely Content Marketing Platform (CMP).
Benefits of omnichannel authoring
The omnichannel experience is a simple front-end input system for marketers to create content collaboratively and preview and publish approved content to external channels.
Faster time-to-market – Create content fast with Artificial Intelligence (AI)-enabled ideation and generation, collaborative workflows, inline commenting, and channel-specific previews. After you finalize the content, you can publish to any downstream channel with a few clicks, reducing time-to-market.
Higher quality content and campaigns – Designed to help marketers create better content faster, the omnichannel editor lets you ideate with a ChatGPT writing assistant and capitalize on search engine optimization (SEO), resulting in higher-quality (and higher-performing) content.
Get the most out of your content – Create content once then reuse and repurpose it across various channels to reduce content waste or duplication, and to ensure consistent messaging.
Omnichannel users
Marketers – Create exceptional content and publish to multiple channels from one place with the following features:

inline commenting
generative AI
chatGPT
channel-specific previews

Developers – Complete control of how JSON content data is handled between platforms.
Administrators – Build use-case-specific input layouts that support the developer and let marketers build once and publish everywhere.
Omnichannel authoring key components
Content Types – Templates based on the intended use of the page or asset. For example, if you select web page as the content type, you fill out the components of a templated form such as Header, Header image, Meta-description, Sections of text, and so on.
Components – A grouping of content fields that behave as sections within a content type. For example, a component called Personal Details can include fields for details such as Name, Address, and Phone Number. Component sections are collapsible.
Editor – When you launch the editor, select the content type and complete the form. You can preview the content you built without leaving CMP.
Optimizely API – Optimizely API and webhooks enable the omnichannel experience, providing users with almost limitless options for completed content, including publishing, syncing, removing or posting to social channels.
When you approve and complete content, it triggers actions for an individual use case. Using webhooks, you can retrieve content by your middleware and present JSON content to your developer, which is used to post to your chosen downstream platform.
Create content types, components, and fields
CMP administrators build the forms that users must complete to create content. Developers can programmatically create and update forms using the API, but you build forms manually in the platform for use with any integration.
Each content type can contain any number of components, which are a group of settings or fields that a user needs to complete. For example, if you create a web page that you will publish to Adobe Experience Manager (AEM), you could present it as three sections (components), each with inputs for the user to provide (fields).
Page Details

Page title
Meta-description

Page Content

Hero image or video
Author name
Article content

CTA
The following image shows the content mapping of the example content type.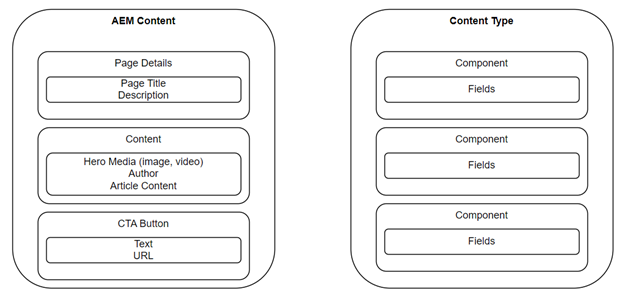 The following image shows the administrator's experience for creating a content type: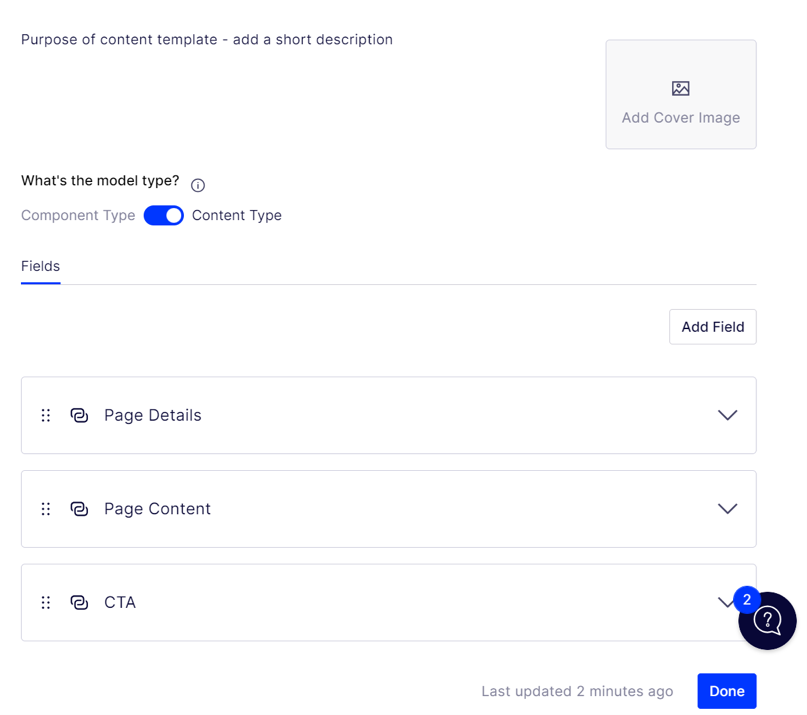 Click Page Content to expose its fields (Hero Media, Author, and Body Content).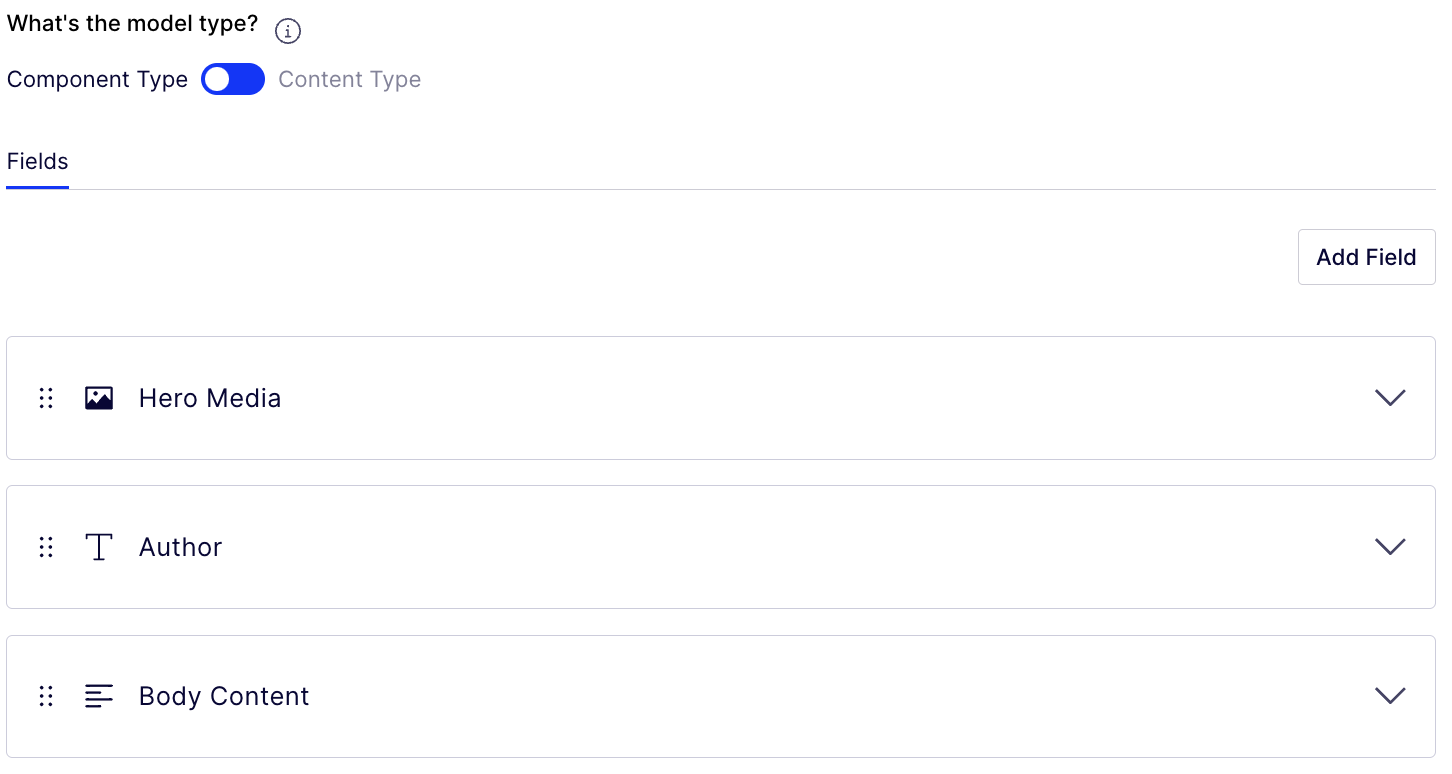 Remote fields and extensions
Remote fields let developers create their own applications to include in the editor as fields for users to interact with. Developers can also provide configuration options to administrators to set each time the remote field is in use at the content type level. This lets administrators use the app globally across all content types while making specific settings for its use within a content type.
For example, a remote field provides the functionality of a color picker, and each time an administrator adds the color picker field to a content type, the administrator can set further configurations, such as the default color or shades that the user can select.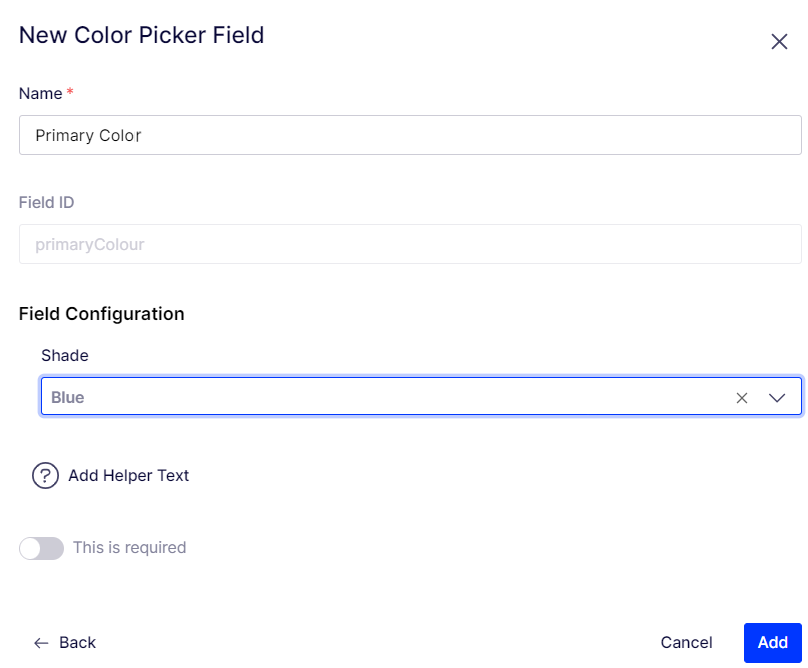 Create content in the omnichannel editor
Although you can author all types of content to publish to many other channels, the examples in this section build on the previous example of content publishing to AEM. After you apply the AEM content type, fill in the form.


Reuse and repurpose content with content blocks
Using components, you can author snippets of information and recall them from the library to insert into assets within the editor. This could include regional sign-offs for emails or product-specific release summaries. If a content type allows it, you can browse for these items in the library and insert them into the content, or you can create them from scratch.
AI writing assistant
AI can help generate text, suggest content, or elaborate on content. In the following example, the user is asking for a suggestion to explain the importance of omnichannel marketing.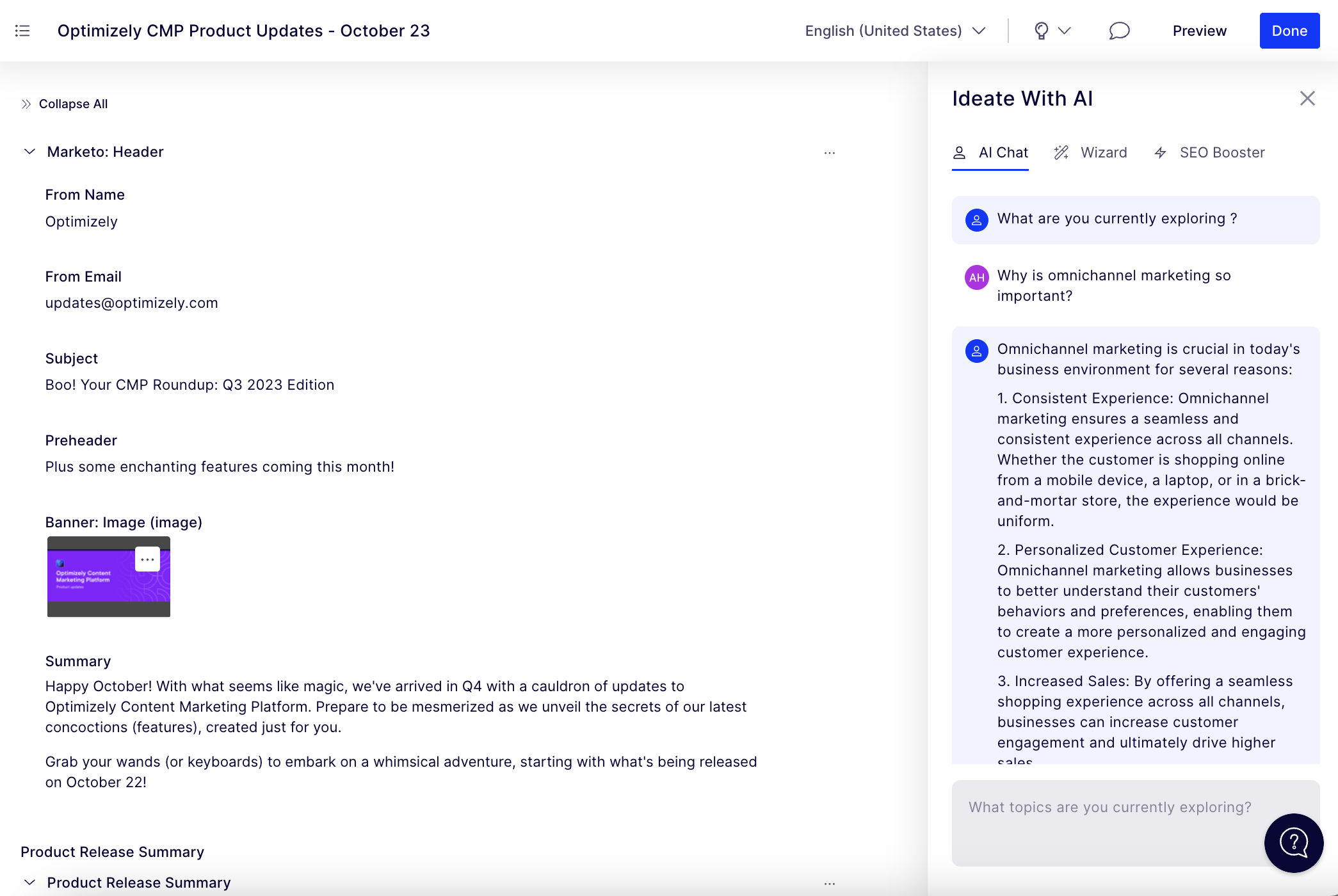 SEO recommendations
Capitalize on SEO recommendations to help create higher-performing content based on specific keywords.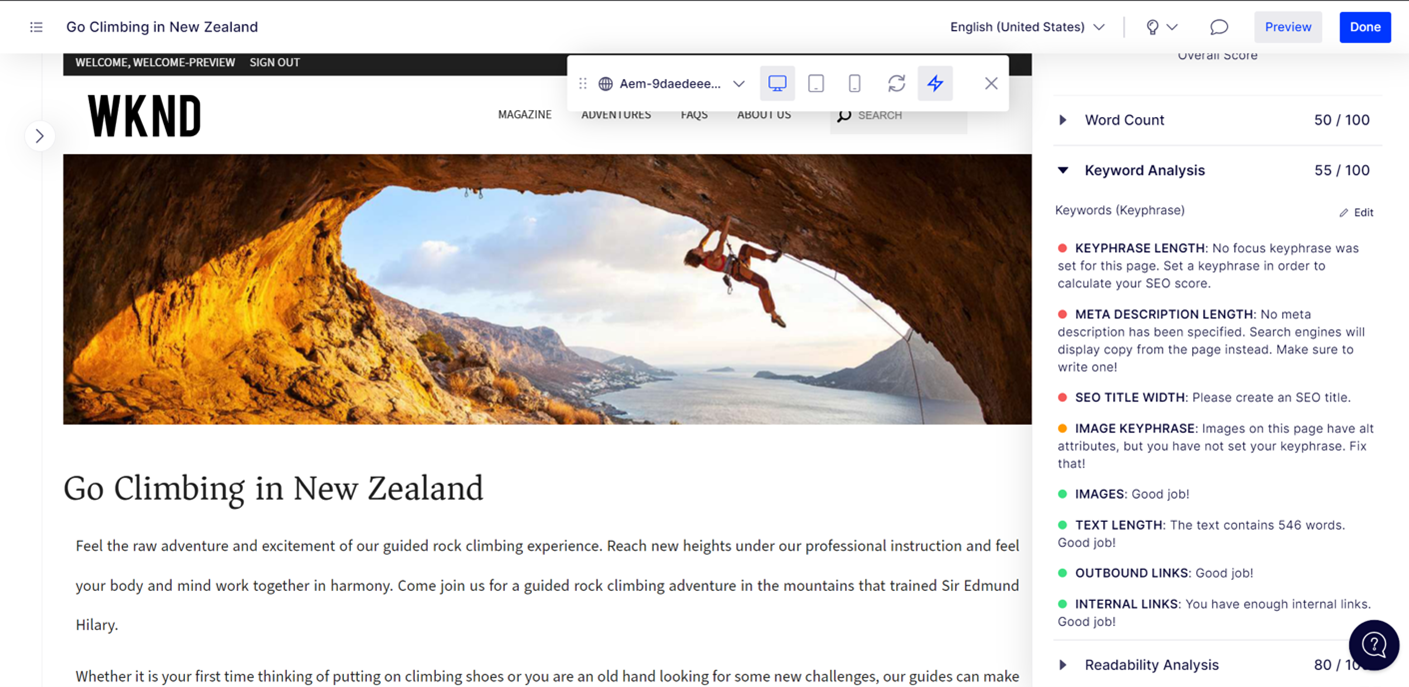 Workflows and feedback
You can use the same CMP workflows in omnichannel authoring, comment inline, and provide feedback on content. See Manage workflows.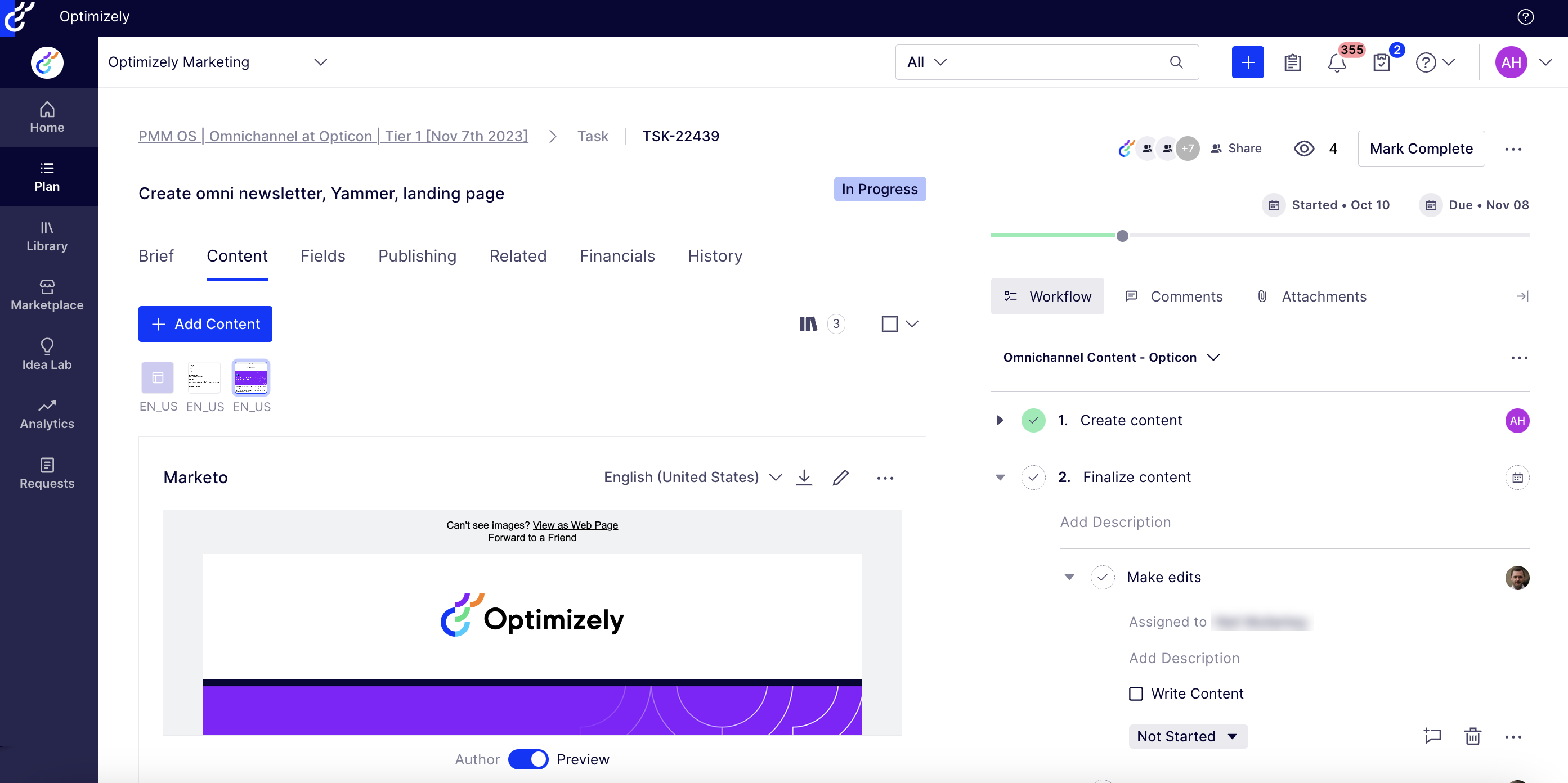 Side-by-side channel-specific previews
Get a side-by-side preview of how your content will look on the channel to which it will be published without having to sign in to a different platform.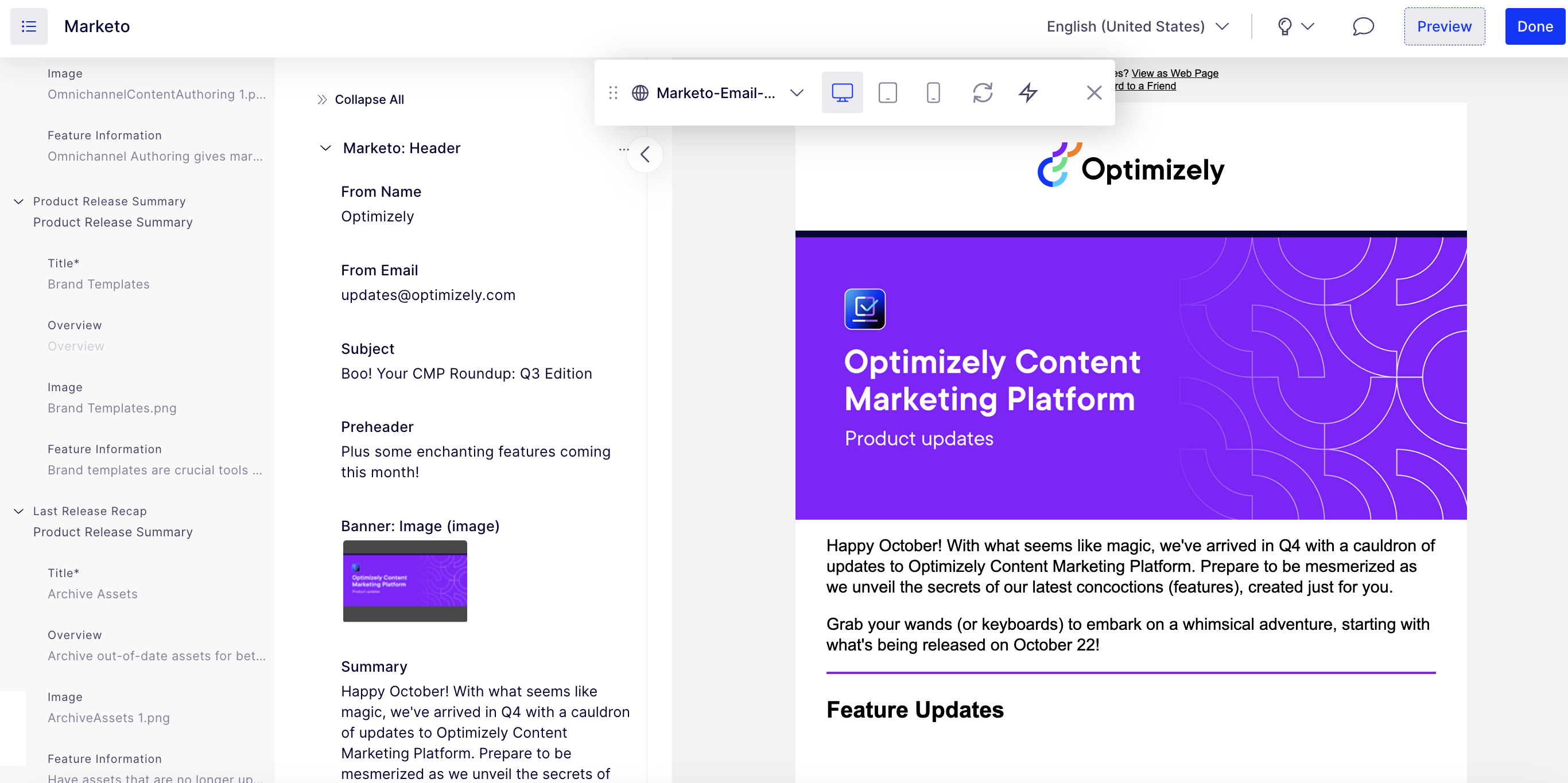 Omnichannel publishing
After you create, preview, and approve content, you can schedule its publication to virtually any channel (such as social media, web pages, email, sales enablement tools, and so on).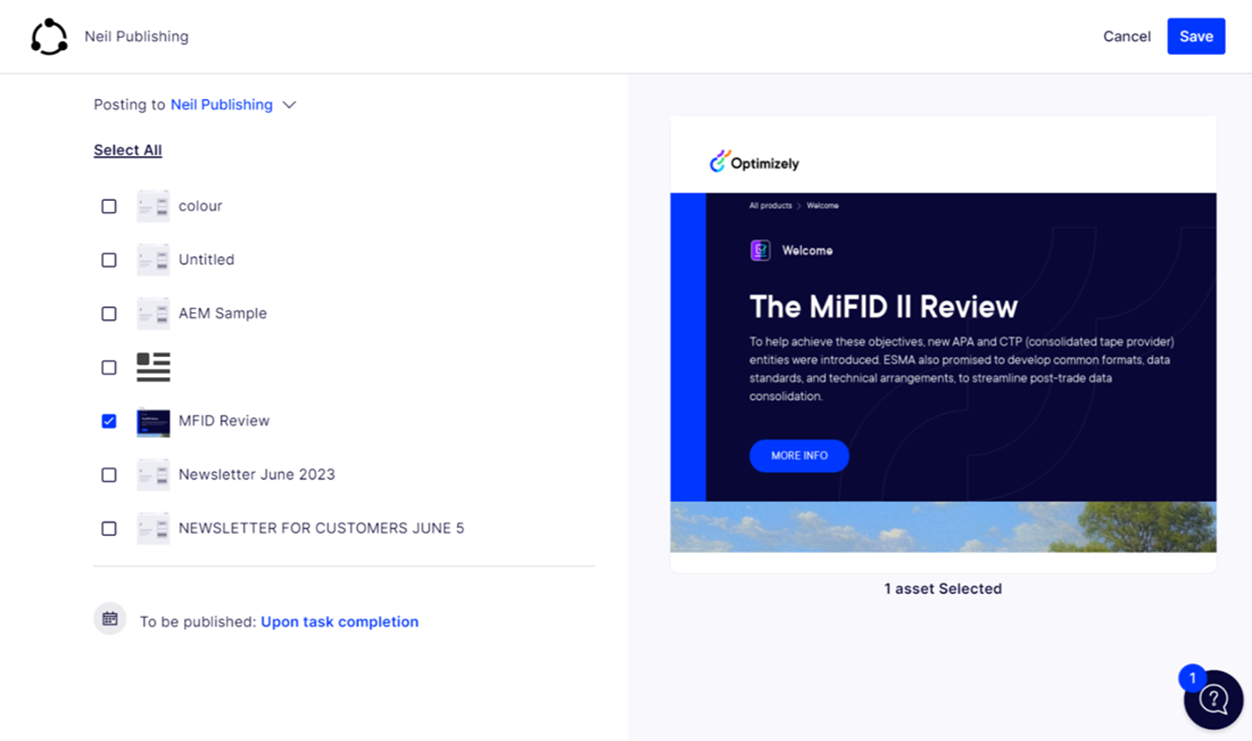 Multiple locales and languages
The omnichannel editor supports authoring in multiple locales to work in multiple languages in the same editing experience.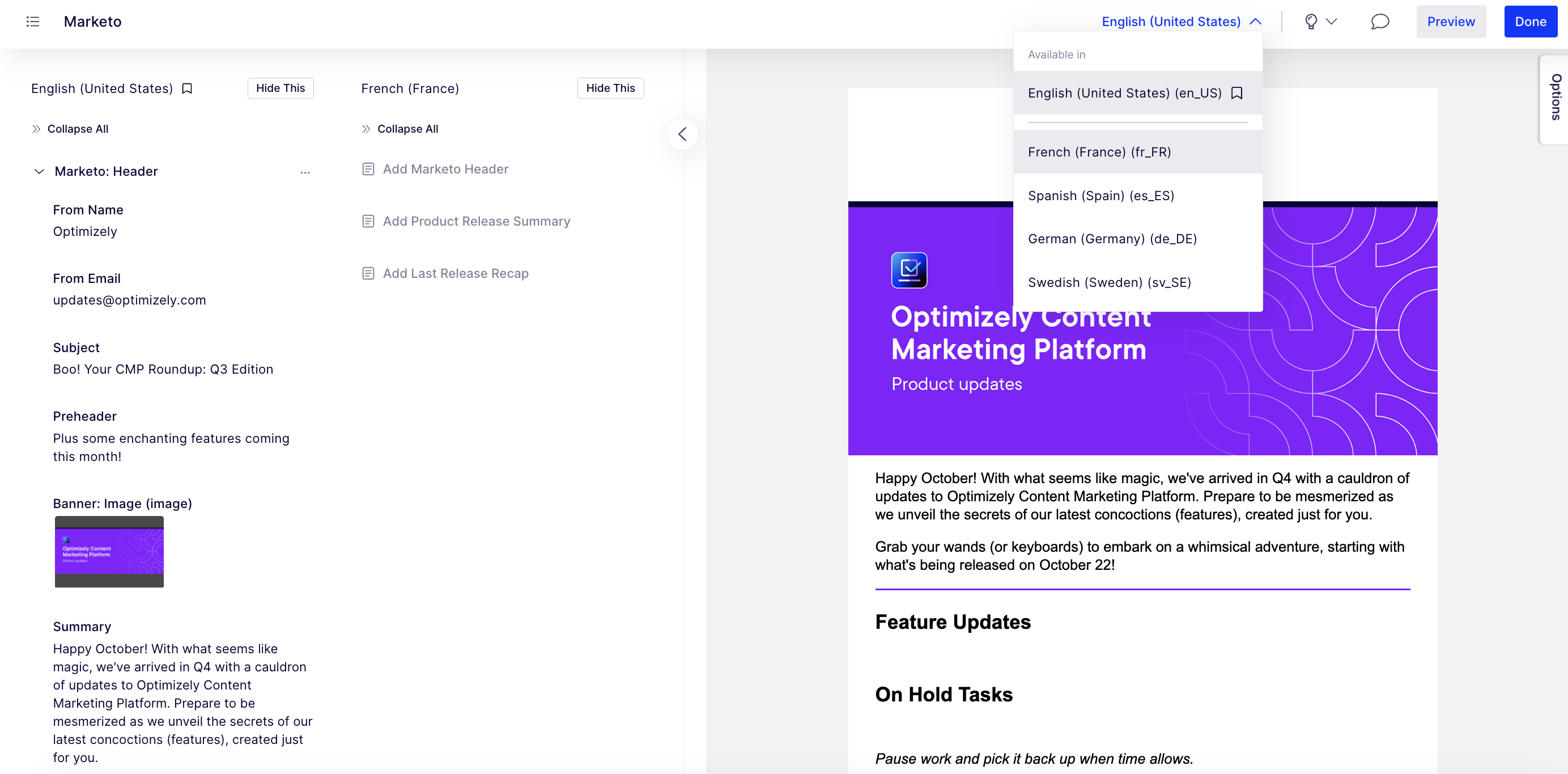 To change the locale, select the locale drop-down and select the locale. You can use the drop-down to add a new locale version to the editor.