You can automatically generate variations of videos that are uploaded to the library. Video renditions provide access to videos for your most common use cases, and eliminates time consuming manual conversions.
Set video renditions
Go to your avatar > Asset Management.
Click Add. The Add Rendition dialog box displays.

Select Asset Type > Video.
Select your specifications and click Save.

Input Format – MP4, MKV, MOV
Output Format – Keep Original, MP4, MKV, MOV
Quality – (only for MP4) – Highest, High, Medium, Low, Lowest
Audio Sampling Rate – 48000, 44100, 32000, 24000, 22050, 16000
Video Codec – H264, H265
Audio Codec – MP3, Libopus
View and use renditions
When you view an asset in the Library, you can view linked related assets. The Library view displays renditions on your new and existing assets.
You can also view video renditions from the asset picker in a task.
Click a video asset in the library and open Related Assets to view variations of your video.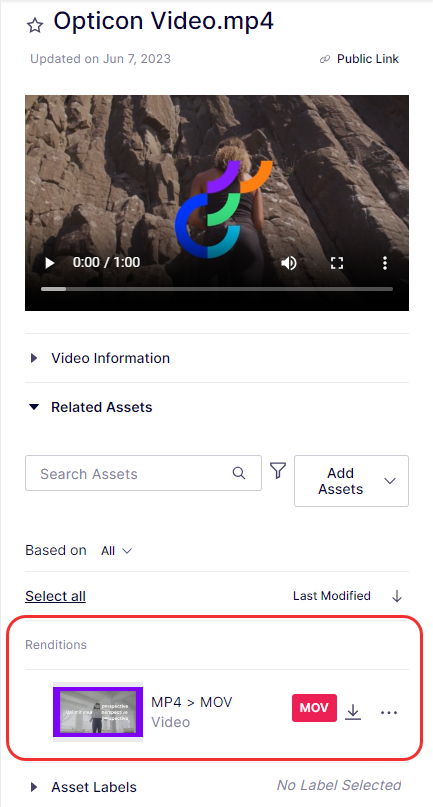 You can do the following with a video rendition:
Click Download (icon) to download it to your desktop.
Open a preview and click Create Task from the video.