The Image Editor allows you to resize, crop, and edit images directly within the CMP, which you can then use in articles, social shares, and more.
In this article, you will learn how to:
The CMP's Image Editor allows users to perform the most important photo editing features — Crop, Rotate, Focus, Brightness, Contrast, Saturation, and more — directly in the CMP. It also features state-of-the-art photo filters and an easy-to-use text editor for adding text to an image.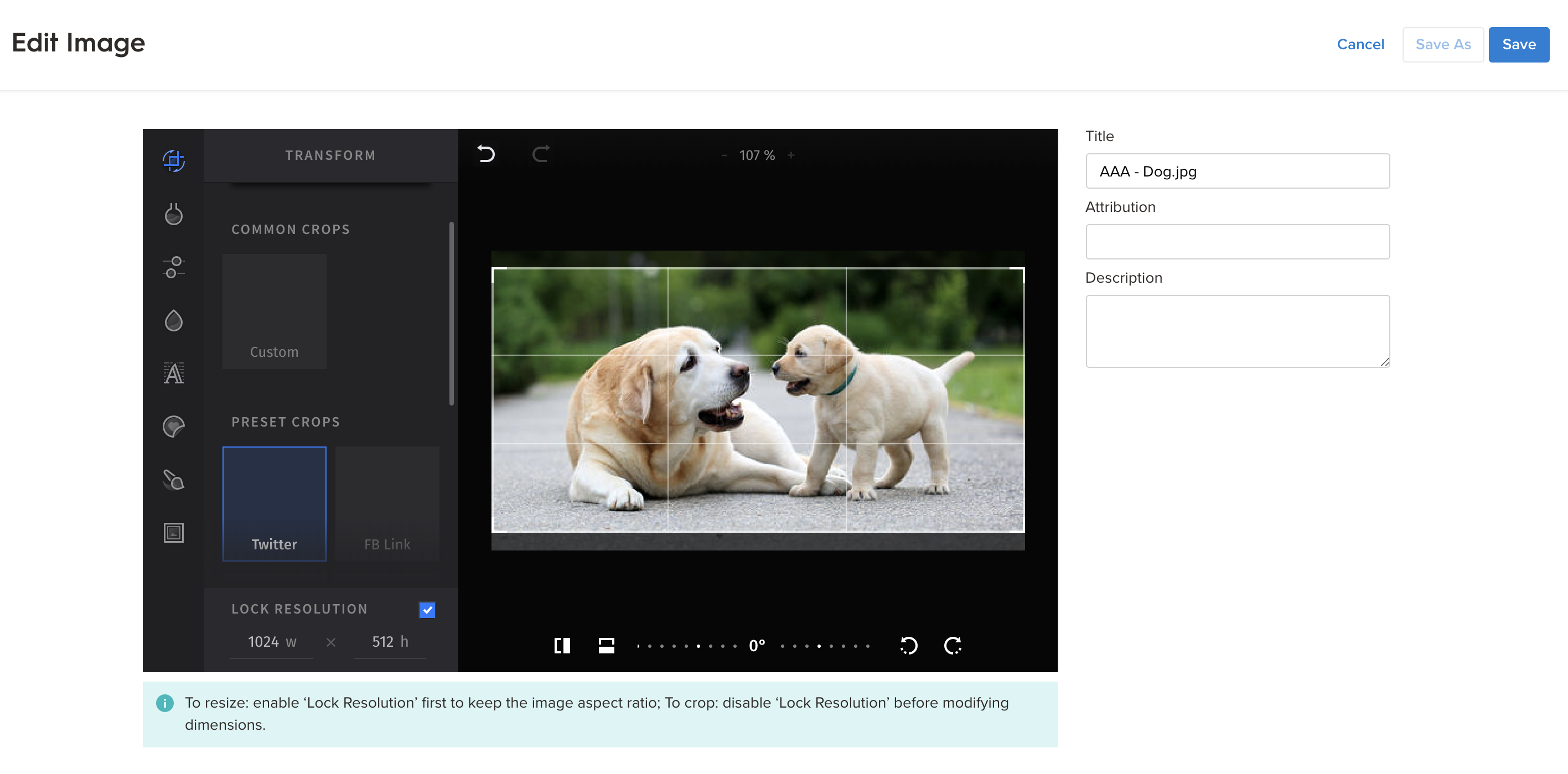 Navigate to the Image Editor
You can find the Image Editor within CMP from a few different locations:
From Library, select an image and expand it to find the edit button at the bottom of the page.
From a task, select an image (from Marketplace or Library) and click on "Choose and Edit" to open the Image Editor
Within in a task, click on the edit button on an image to open up the version editor. Then, click on the edit button in the top left corner for each version. This will open that specific version of the image within the Image Editor.
Using Image Editor Features
Crop & Resize
By cropping and resizing an image, you can ensure your image meets the required criteria and desired quality for each destination, such as, social media, websites, etc.
Cropping Images
To custom crop an image please disable the "Lock Resolution'" before modifying dimensions.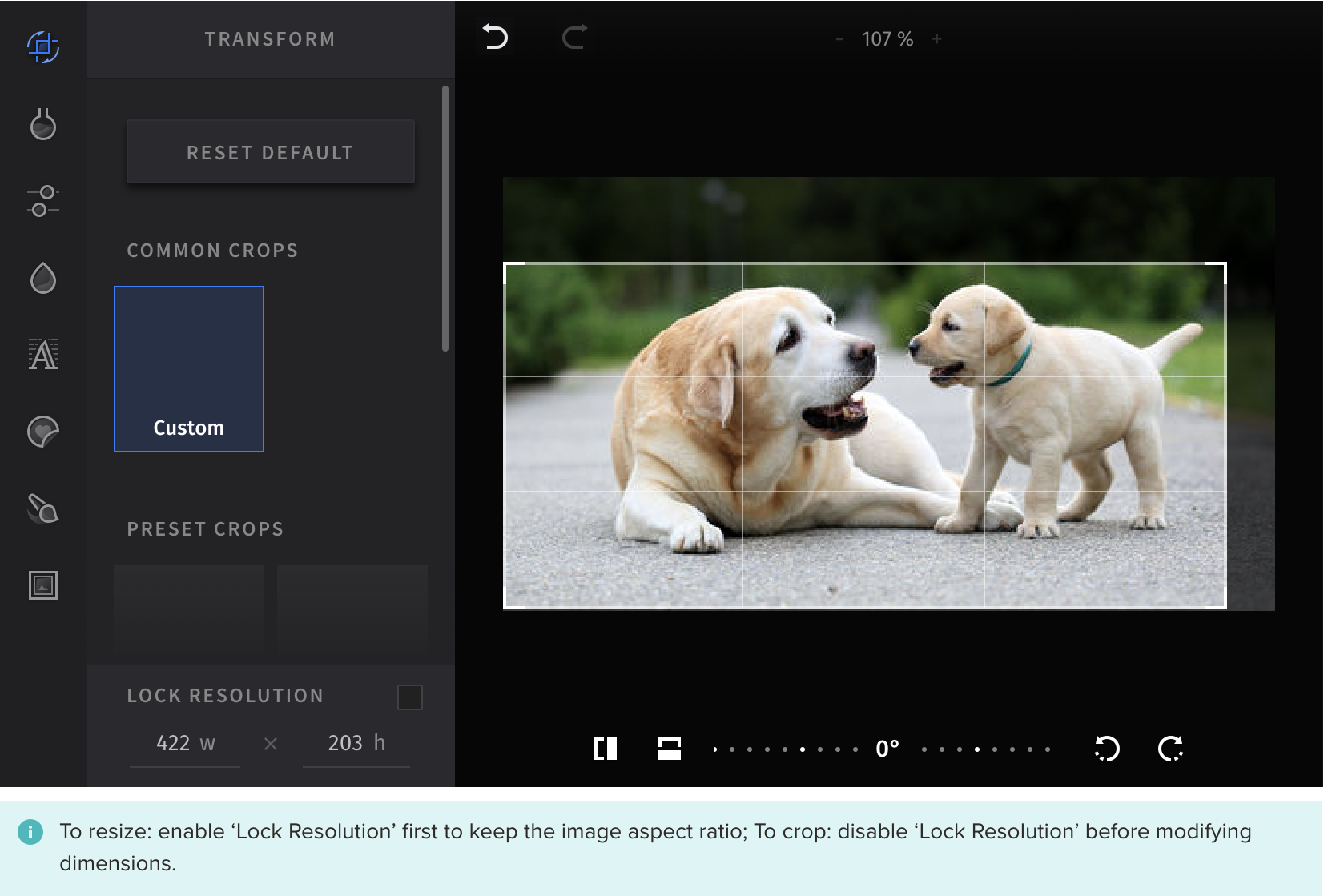 Preset Crops
There are a number of out of the box "Preset Crops" available for social media usage such as, Twitter, FB image, LInkedIn, Instagram, Pinterest, etc.

Organization-Specific Custom Crop
To set your own Preset Crop, please go to your Organization Settings. Then under "Custom Crop points for Images" you can add a new crop point, label it, and set your desired height and width.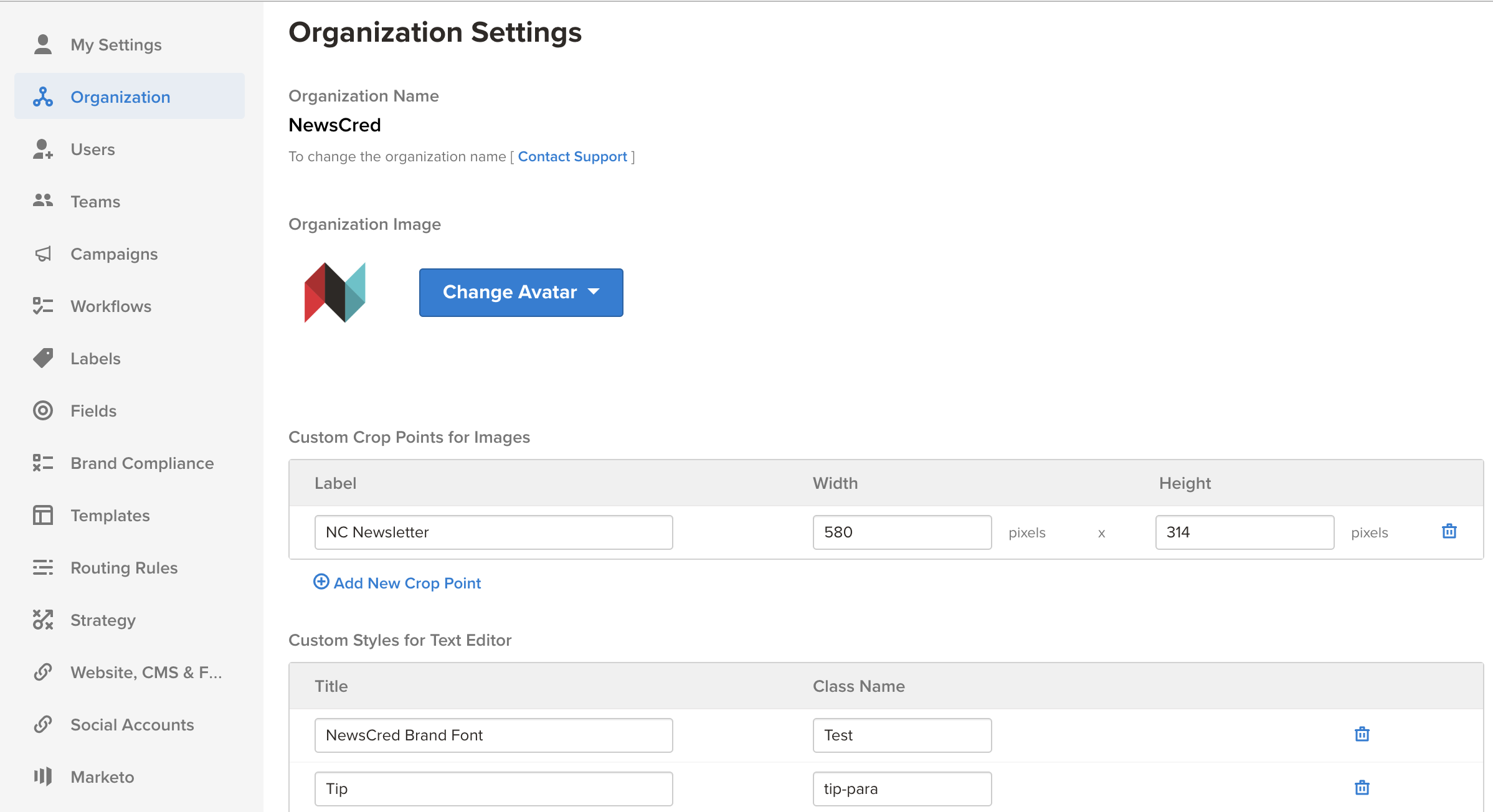 This will then be added to the list of "Preset Crops" for use.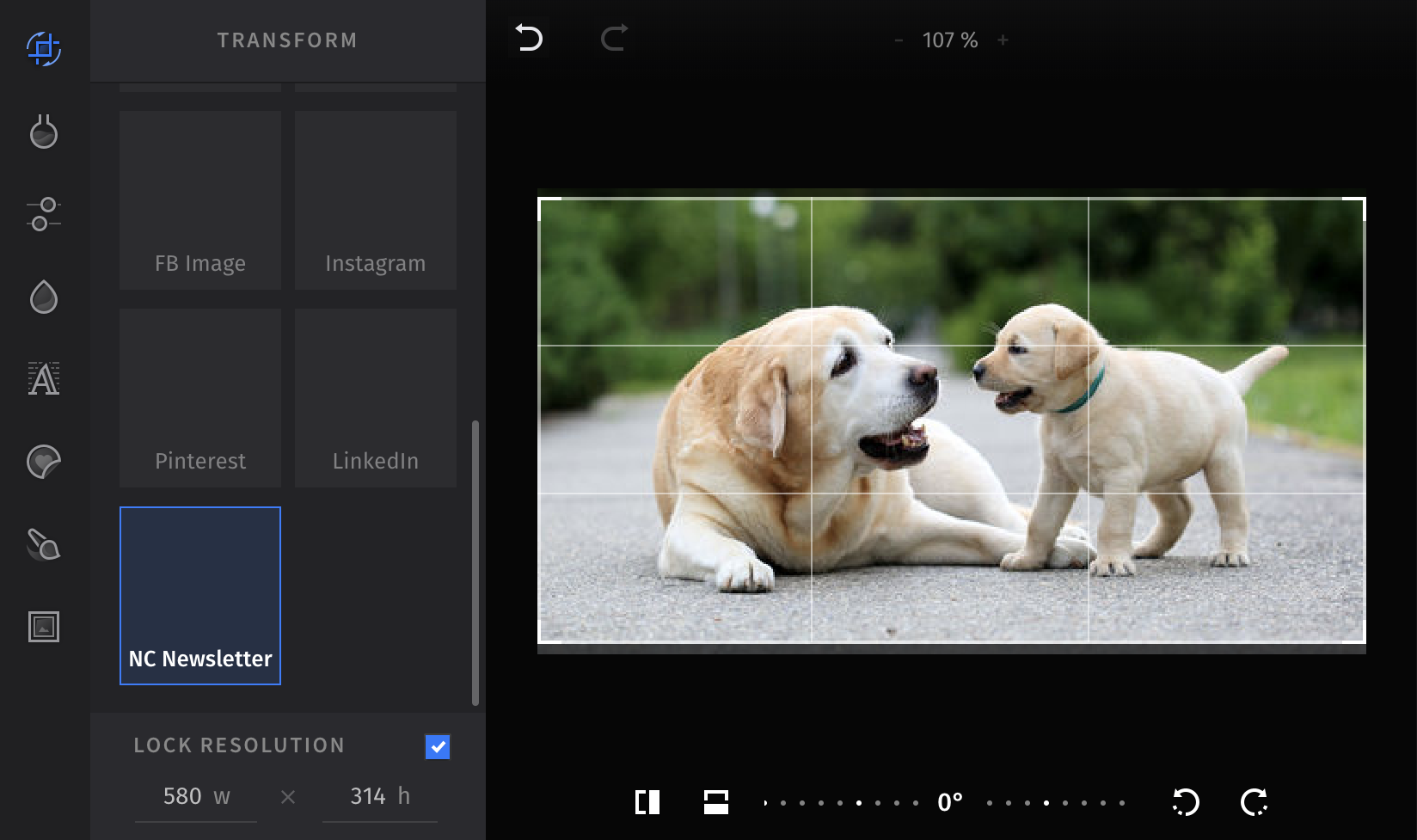 Resizing Images
To resize please enable "Lock Resolution" first to keep the image aspect ratio.

Stickers
There are a set of stickers and shapes readily available to apply to an image. You can also control the level of opacity of the stickers or shapes. More importantly, you can upload custom overlays (e.g. logos, text, etc.) to your Image Editor and customize the image to meet your brand compliance.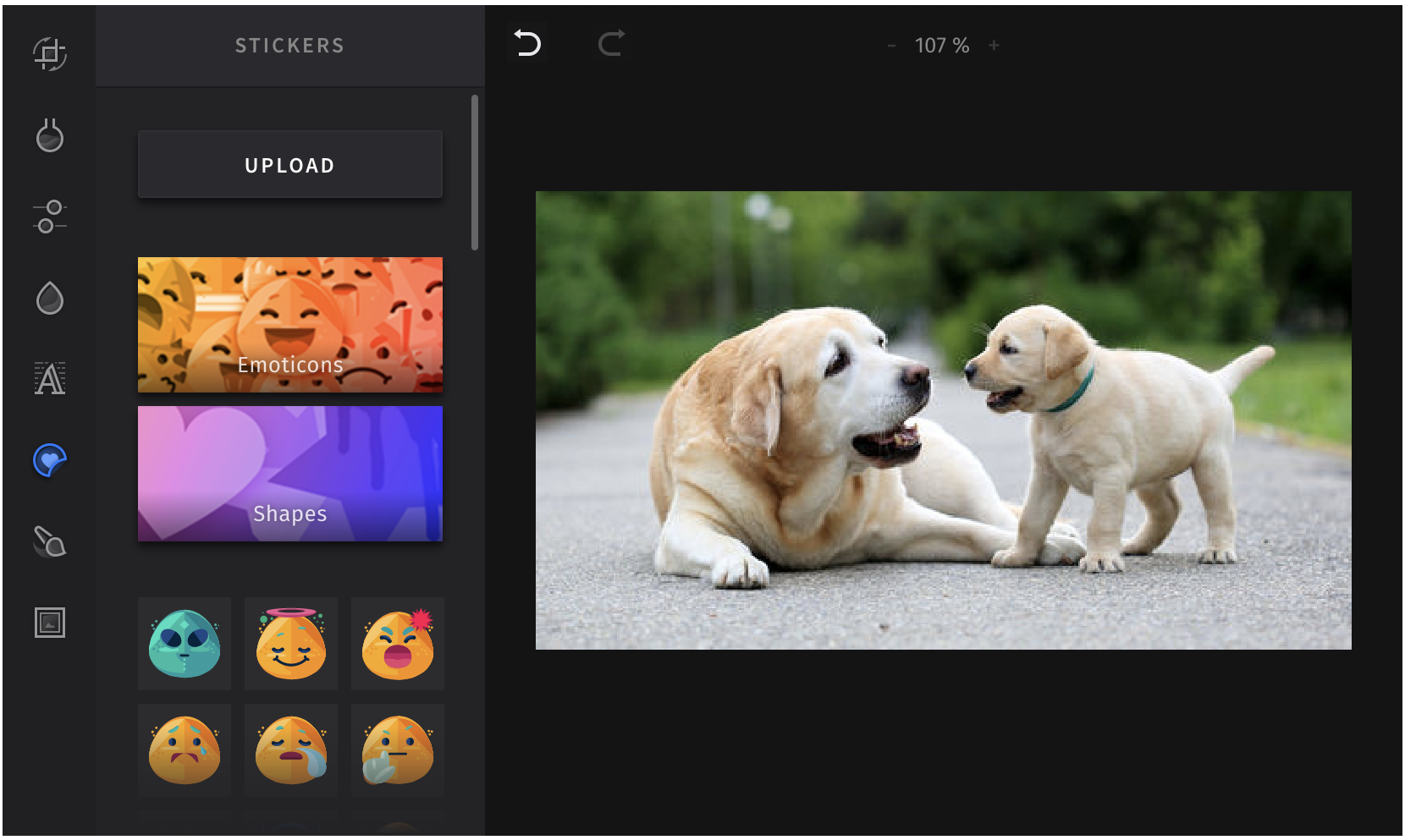 Other Features
There are also a number of other features such as, Filter, Adjust, Focus, Text, Brush, Frames,. etc. to edit your image for a desired outcome.
Saving Edited Images
Depending on how you accessed the editor, you can save the image in a few ways:
When you are editing an image directly from the Library, there are "Save" and "Save As" options available depending on whether you want to save your changes on the same image or create a new copy with the modifications.
Coming from a task, modifying on the go and clicking on "Save" will save the changes on that image. These are only available for that specific task until you complete your task.
Editing an image version on the other hand will create a new version within that task, and after completion of task, the final version will be available in the Library.