Optimizely Content Marketing Platform (CMP) lets you create custom URL tracking parameters directly within your social posts. In this topic, you will learn how to create custom URL tracking parameters.
URL tracking parameters can identify which social channels or variation of a social post drove the most traffic, by letting you filter or segment your data by the parameter text. The URL tracking feature lets you create unique or implement existing custom parameters. Any social post with a URL gets a pop-up message that looks like the following image.
When you add a link in the text field of the social post (such as Linkedin, Facebook, and so on), it is automatically converted into a bit.ly link as shown in the following images that show how the URL appears after pasting and saving the social post.
How it appears when the URL is just pasted:
How it appears in the Publishing tab of the task after you add the URL in the field and click Save.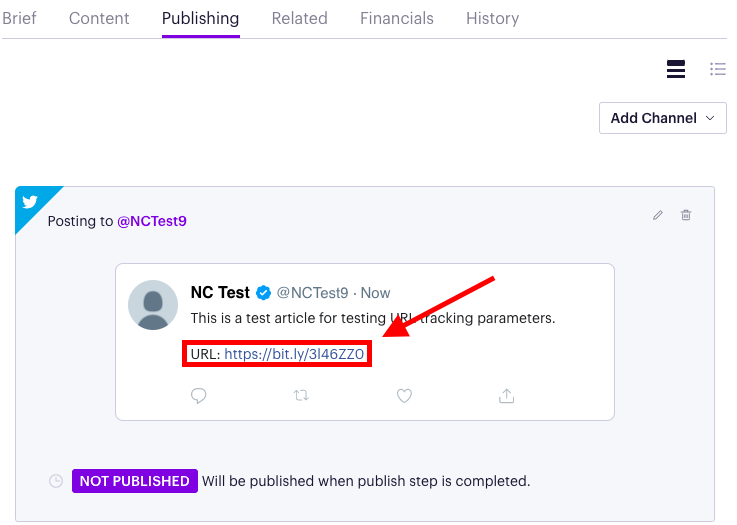 To add the URL tracking parameters to your social posts:
Select URL tracking parameters.

CMP auto-fills the Campaign Source, Campaign Medium, and Campaign Name. You can change these for each post. The following form is targeted at Google Analytics users.

If you use custom UTM parameters, click Custom to use custom parameters and the form changes to the following:

Paste the parameters into the text box.

Click Save and your bit.ly link automatically updates with the new link.

This functionality comes with any social post tied to an article that you have the URL for. If you're publishing to WordPress, Sitecore, Drupal, AEM, the CMS, the Content Marketing Platform (CMP) verifies your URL and lets you post a social post with those parameters attached.