Content Optimizer lets you quantify content quality and ensure that all digital copy — articles, landing pages, newsletters, or other use — is optimized for relevancy, readability, and search ranking. Content Optimizer supports multiple languages, including English, Spanish, Dutch, French, German, Italian, and Russian. Partial language support exists for Portuguese, Catalan, Polish, Swedish and Hungarian.
You must open the text editor to access Content Optimizer feature, then click the Optimizer tab.
If an article was not inserted or added to a task already, then you can access the text editor by selecting the Start Writing option in the Content tab.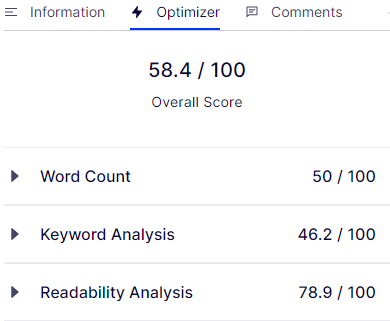 The Overall Score is an aggregated calculation of the other criteria (detailed below) to provide an overall assessment of your content from 0-100.
Calculate and adjust word count
Headline – Default is 60 characters, per SEO best practices.
Body Content – Default is 1000 words, per SEO best practices.
Based on the word count target entered, a progress bar comprised of red, yellow and green, calculated as follows:
Red – 0% to 30%
Yellow – 31% to 69%
Green – 70% and above

Analyze keyword usage
Keyword Analysis lets you add or delete recommended keywords from Idea Lab that are shown based on Targeted Keywords that were set up in the instance and those identified with a high opportunity score. (See Set Targeted Keywords section of Idea Lab.) You can add keywords to the content optimizer which are carried over to WordPress as focus keywords.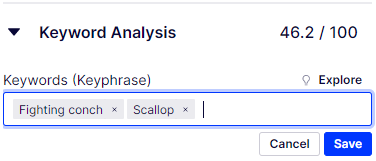 Overall, a score (out of 100) is provided based on keyword usage across the content, meta-information and assessments in the following criteria:
Internal Links
Introduction Keyword
Keyword Distribution
Keyword Length
Keyword Density
Keyword StopWords
Meta Description Keyword
Meta Description Length
Outbound Links
Page Title Width
Subheadings Keyword
Taxonomy Text Length
Text Competing Links
Title Keyword
Url Keyword
Url Length
Text Images
Text Length
Url StopWords
Update the content based on the recommendations and the score is instantly improved.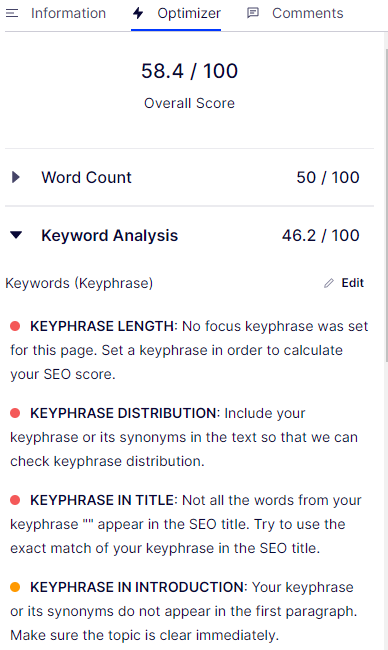 Assess readability
Readability evaluates the ease-of-reading of your content, based on the Flesch-Kincaid readability recommendations. Red, yellow and green indicate critical areas for improvement.
The following criteria are considered for this assessment:
Flesch Reading Ease
Paragraph Length
Passive Voice
Sentence Beginnings
Sentence Length In Description
Sentence Length In Text
Subheading Distribution Too Long
Text Presence
Transition Words
Word Complexity
Update meta-information
The Information tab lets you further optimize the article based on the recommendations from Readability and Keyword Analysis sections of the Optimize tab. This information is passed to the CMS and feeds where the content gets published.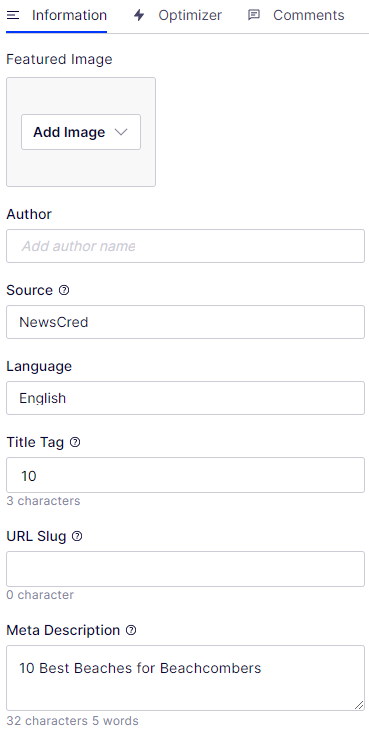 Content Marketing Platform (CMP) provides editable defaults in the following fields:
Title Tag – Displays in a search result. By default, it is populated with the title of the article.
Meta Description – The snippet description of your content displays a search result. By default, it's populated with the first paragraph of the article.
URL Slug – The URL that displays a search result.