If you had access to campaigns prior to April 2023, Optimizely updated the tab name from Campaigns to Activation. All functionality remains the same.
A birthday campaign engages customers throughout the purchase funnel. The campaign celebrates the customer's special occasion, encourages conversion, and fosters their relationship with your brand.
Example
If someone provides their birthday information, use a birthday campaign to celebrate the occasion. They are very effective and are easy to set up and maintain.
Configure the campaign
You must create the birthday campaign from scratch. Optimizely Data Platform (ODP) provides three default fields on every customer profile:
Birthday (Month) – The numeric month (1 - 12)
Birthday (Day) – The numeric day of the month (1 - 31)
Birthday (Year) – The numeric year
These field values populate through submissions to a web modal/embed, a CSV import, the API or the SDK. Using these fields, ODP calculates two customer observations:
Days until Birthday
Calculated Age
Create from scratch
Go to Activation > Engage > Create New Campaign.
Select Behavioral.
If you are presented recipes, select the Create From Scratch.
Under Enrollment, select Create New Segment.
Create a segment using the Days until Birthday observation. The segment expression should be a combination of Customers with an attribute, Days until Birthday, and a timeframe.
Refine your audience a bit further by using the Enrollment Rules to limit the campaign to individuals who have not matched the campaign in the last year. This setting lets customers celebrate the occasion only once a year.
Click Select start time and schedule. In the subsequent prompt, select Recurring and ensure the campaign has a start date, no end date, repeats daily, and sends at an appropriate time.
Click the existing touchpoint to create the campaign's content. Include your brand's header and footer. If you are looking for some inspiration, you can view great examples here.
Click Save.
Preview and test the campaign to ensure it meets your expectations.
Go Live when the campaign is customer ready.
Preview and test the campaign
The preview function allows you to review the touchpoint on-screen, while the test function allows you to send a test through the touchpoint channel instead. Both options are available in the upper-right when viewing a touchpoint within the editor.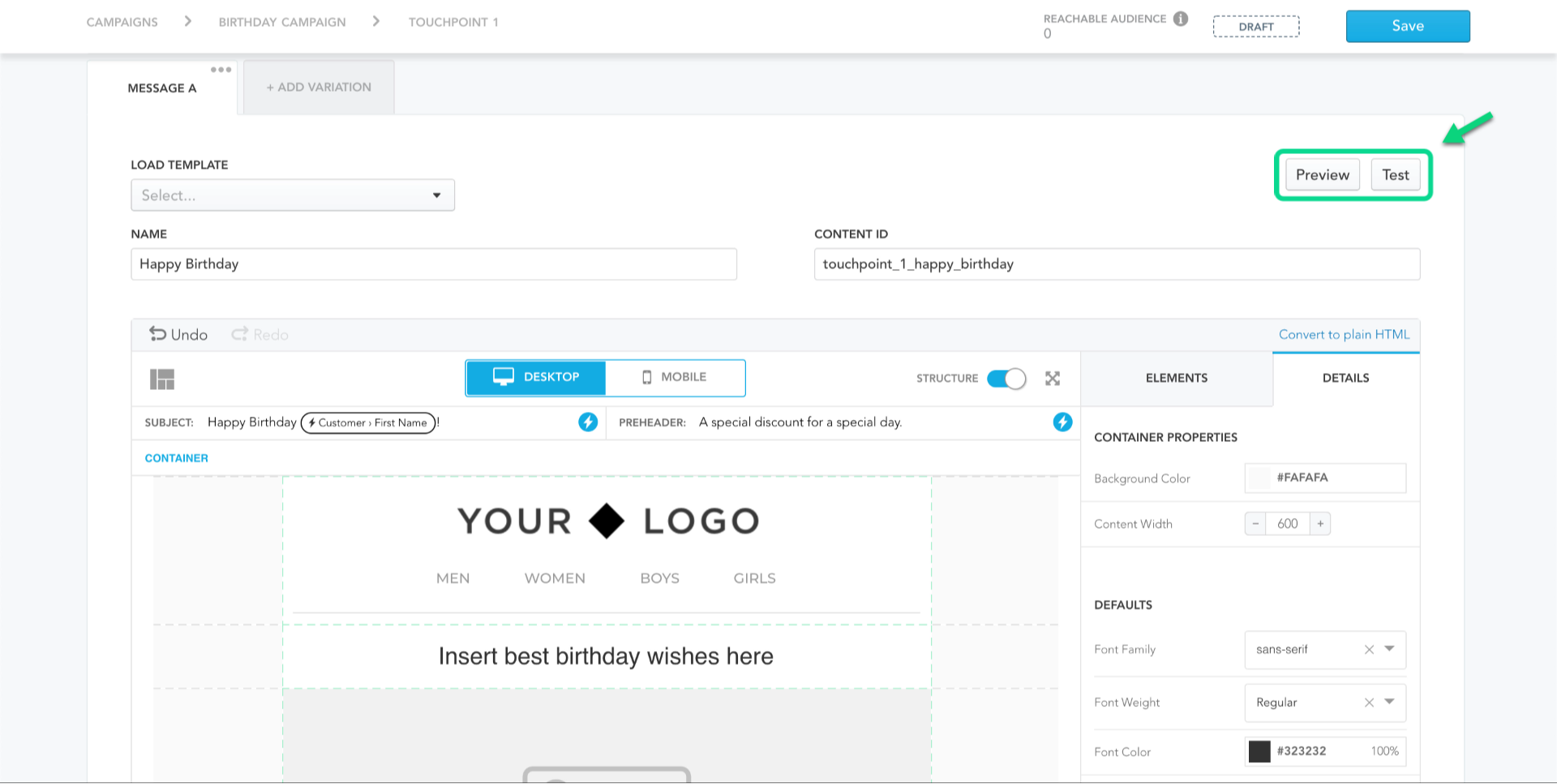 Go Live
Select the campaign's name from the breadcrumb menu.
Click Save to ensure all touchpoints are up-to-date.
Click Go Live.