If you had access to campaigns prior to April 2023, Optimizely updated the tab name from Campaigns to Activation. All functionality remains the same.
A cart abandonment campaign engages customers that are low in the purchase funnel to bring them back into the buying cycle and foster a conversion.
Example
If someone leaves an item in their cart, remind them of what they have left behind. A simple reminder or a small discount often persuades them to make a purchase.
Configure the campaign
If you are using one of our out-of-the-box e-commerce integrations, you can generate a cart abandonment campaign and its associated content with a recipe. If you are not utilizing one of the out-of-the-box solutions, you must create the cart abandonment campaign from scratch.
Use a recipe
Go to Activation > Engage > Create New Campaign.
Select Behavioral.
Select Cart Abandonment if integrated with a compatible third-party app.
Configure the campaign's Enrollment settings and touchpoints.

You must customize the touchpoints

, including design, content, and sender profile.
Save the changes and Go Live when ready.
Create from scratch
Before creating the campaign, you need to create your cart abandonment behavior.
Click the ellipses next to Activation.
Select Behaviors > New Behavior.
Provide a name for the behavior.
Add the desired steps. You can view the default steps used by the Optimizely Data Platform (ODP) recipe below.
Click Save.
Use the following steps to create the cart abandonment campaign:
Go to Activation > Engage > Create New Campaign > Behavioral.
Under Enrollment, select Create New Segment.
Create a cart abandonment segment using the previously created cart abandonment behavior. The segment expression should be a combination of have done something, the cart abandonment behavior, and a timeframe.
Refine your audience further by using the Enrollment Rules to constrain the campaign to individuals who have not been active in the past few hours and have not matched the campaign in the last week.
Click the existing touchpoint to create the campaign's content. Include your brand's header, footer, and a dynamic grid referencing the Products Content Feed and cart abandonment behavior as its source.
Click Save.
You can create a series of messages that encourage the customer to convert. We recommend that you wait at least 24 hours before sending a second email and that the series be no more than three emails long. Each additional touchpoint should create a sense of urgency, such as cart expiration or discount and product availability warnings.
Preview and test the campaign to ensure it meets your expectations.
Go Live when the campaign is ready.
Preview and test the campaign
The preview function allows you to review the touchpoint on-screen, while the test function allows you to send a test through the touchpoint channel. Both options are available when viewing a touchpoint within the editor.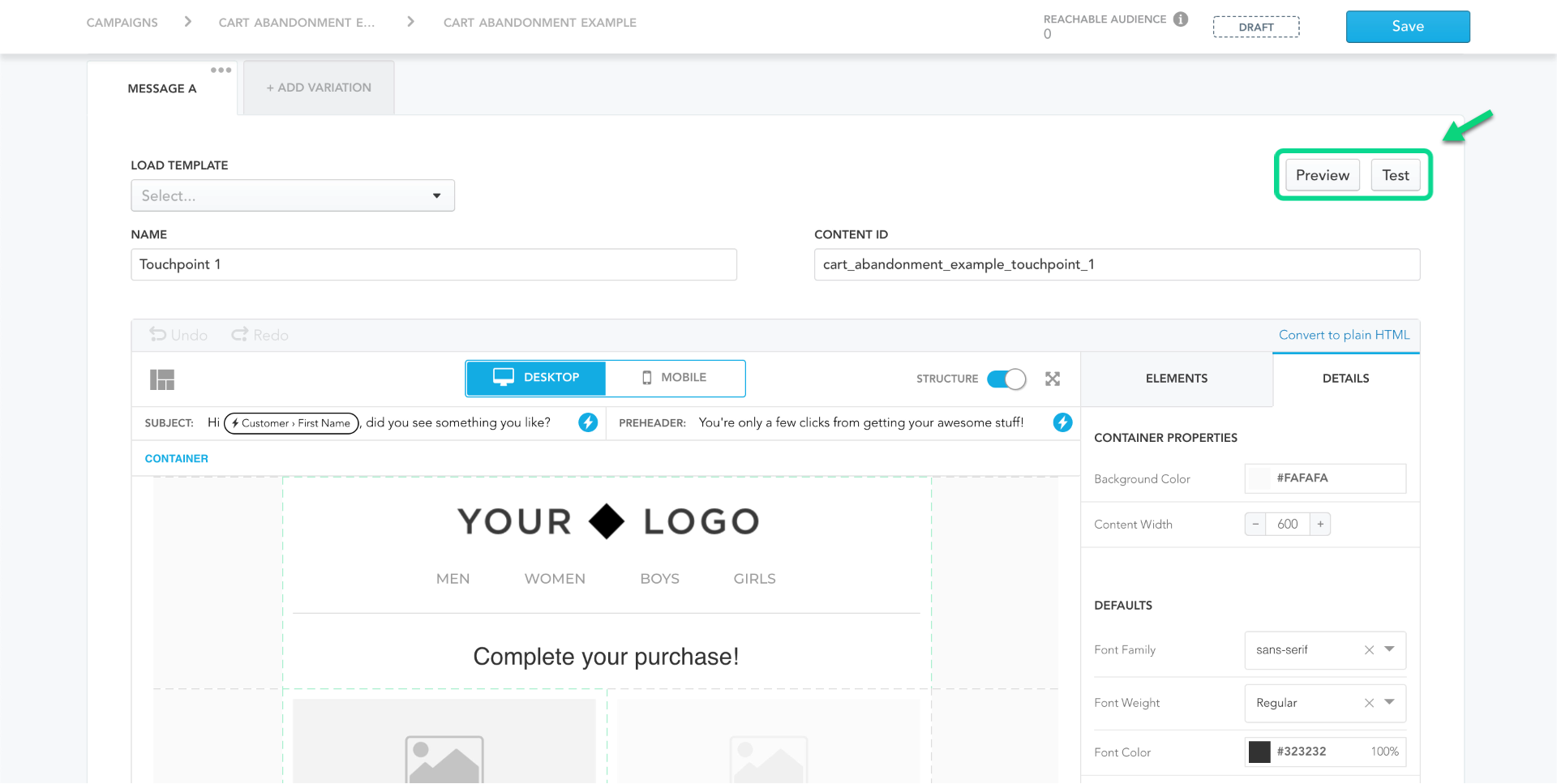 Go Live
Select the campaign's name from the breadcrumb menu.
Click Save to ensure all touchpoints are up-to-date.
Click Go Live.