Asset expiry lets you set an expiration date on assets stored in the library. With that date set, users can search via a date picker, filter for assets that are about to expire (or have already expired), and receive email and in-app expiration notifications.
Set an expiration date
You can set Expiry Dates for assets in the Library from the side panel (Please note, folders are not eligible for the "Asset Expiry" feature). Simply click on the Asset, and on the side panel, press File/Image Information. You will be able to assign the Expiry Date here, as shown below: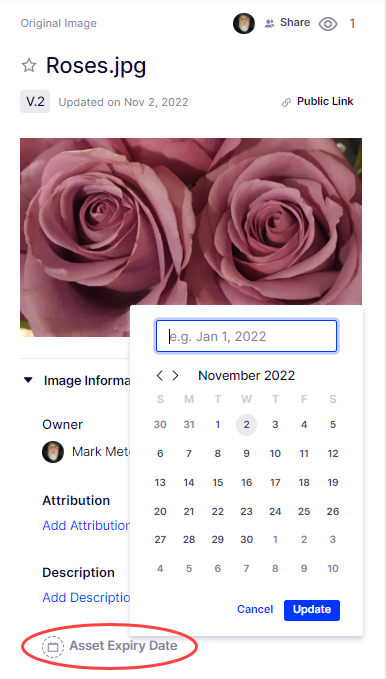 An owner or task owner for an asset is emailed twice (seven days and one day) before the date of expiry regarding the impending expiry date. Expired assets have an Expired tag on them.
When an asset is expired, it is not automatically removed, modified, or made unusable. You can decide on what to do with the asset.
Filter assets by expiry date
Regular assets and expired assets are displayed in the Library by default. You can filter expired assets from the filter panel in the Library as shown in the following image: